Transcending Boundaries: Curating a Digital Exhibition
Isabella Cammarota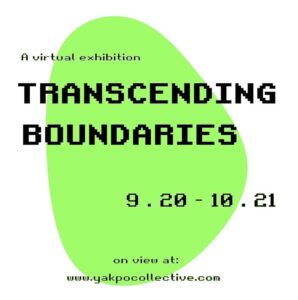 In 2020, like many others, my research project was affected by the pandemic. During this time, the internet was my only tool to access the world outside of my house. I spent a lot of time trawling through Instagram and, in this process, come across numerous social media accounts of Tibetan artists and creatives. At the same time, I was reading Shireen Walton's works on digital ethnography which played a pivotal role in my research methodologies. Her "reconceptualization of the field", in which fieldwork can be conducted beyond geographical space/presence, "with/in a country, community, or society from a location that is physically distant,"[i] pushed me to think about the role of digital media in the current developments of Tibetan contemporary art. In the summer of 2020, I came into contact with the Yakpo Collective, a group of young Tibetan artists and creatives based in New York City, whom I had encountered online. During this time, I collaborated with them as curator and editor in the installation of their digital exhibition "Transcending Boundaries". This paper is a collection of the data I have gathered during my participation in the exhibition and a reflection on the role of digital media in the objectives, methods, and curatorial practices adopted by the Yakpo Collective.
The Yakpo Collective was founded in 2019 by Tsewang Lhamo. As an emerging collective, their mission is to: "provide a platform for Tibetan contemporary artists to exhibit their artwork and present their ideas to a growing audience. Through this mission, we want to promote Tibetans taking back control of their narrative, rather than have other media outlets define and misrepresent our community."[ii] By providing a space for young upcoming Tibetan artists to exhibit and sell their work, the aim of the collective is to engender discussions about on how "immigration, intersectional identity, and generational trauma informs the shared Tibetan experience."[iii]
Their first exhibition "Tibetan Contemporary Art: The New Wave", was held between July 26th and July 28th, 2019 at the Here Now Space in New York City. After this exhibition, the core team of the collective was formed and its members are Tsewang Lhamo, Tsejin Khando, Kunkyi Tsotsong, Pema Dolkar, and TC Andrugtsang. The show had a great turnout and as a result, the collective's Instagram account started to gain a lot of traction. In 2020, the Yakpo Collective further built its social media following with the launch of the Spotlight Series, a series of interviews with Tibetan artists, on their Instagram TV.
Unable to organize their annual summer exhibition in person due to Covid-19 restrictions, the collective decided to experiment with setting up a digital exhibition, the theme being "Transcending Boundaries". Beyond the conceptual interest for the collective of trying out a new format, there were a number of practical reasons to choose to undertake an online exhibition. Without access to funding and other resources, a digital exhibition offered accessibility and flexibility. This is, most practically, due to the low start-up costs of digital technologies. Secondly, digital media offers the potentiality for wider distribution and visibility. For creatives such as Yakpo at the beginning of their careers, these qualities afford a level of autonomy, and potential success, that may permit to circumvent "the conventional route of traditional gallery representation that was paradigmatic of success in the world of contemporary art."[iv] Furthermore, as Walton observes when curating her digital exhibition on Iranian photoblogs, the transnational mobility a digital exhibition affords lent itself to geographically dispersed communities.[v] This struck the collective as one of the main advantages of installing a digital exhibition. The participation of the artists would not be limited geographically, and anyone, regardless of their resources, could submit their artworks online.
As the project started to take shape, a team was put together with collaborators based between New York, Kathmandu, and London. Spread across large distances and with travel restrictions in place, the organization, curation, and promotion of the project had to be held completely online. Each collaborator had a defined role, but during the progression of our Zoom meetings and conversations on the group chat these were dissolved into a fully collaborative enterprise. During the installation of the exhibition, everyone took part in communicating with the artists, selecting the artworks and curating the exhibition, overseeing the development of visual materials for marketing, writing press releases, conducting email marketing campaigns, posting on social media, and planning advertising strategies.
The first step in organizing the show was an open call on social media and inviting some of the artists the collective was already in contact with. The theme for the exhibition "Transcending Boundaries" was chosen. Offering a broad interpretation of the theme, we received a large number of submissions from artists from both inside and outside Tibet. Once we received the submissions, the concept of transcending boundaries took shape. The theme was informed by the conversations taking place among us isolated in our houses during the Covid-19 crisis and how technology has come to substitute physical interactions with the world. Through this exhibition, the collective decided to take advantage of the digital and give space to the artists to transcend notions of geographical boundaries when thinking about the Tibetan experience: "from tangible boundaries of physical touch to personal borders which dictate feelings of identity and belonging, the exhibition surveys the extension of this word."[vi]
The subsequent step was to choose the software for the exhibition. The vision was to create a three-dimensional space that replicated the experience of moving around a physical gallery but also took advantage of its digital nature to generate a space made specifically for the art. Tsewang Lhamo was in charge of this aspect of the curation and settled on the virtual gallery software "kunstmatrix". This tool allows the curator to create one's own personalised architectural exhibition space in three-dimensions and offers its online visitors a simulated version of a visit to the "real" galleries.[vii] However, as McTavish notes for the digital galleries of the Rijksmuseum, these are empty and the digital visitors do not so much "walk" through the space as occupy fixed positions in the centre of galleries and the walls rotate creating the illusion of moving their "head". Visitors can relocate to another fixed location but their experience of the gallery remains constrained by the predetermined viewing positions established by the software designers. The visitor's experience of movement is further restricted as the empty digital gallery is defined in exclusively visual terms.[viii] This is also the case for the "kunstmatrix" software and the space for the "Transcending Boundaries" exhibition was conceptualised as a single room with the artwork hung on its white-washed walls (Fig. 1).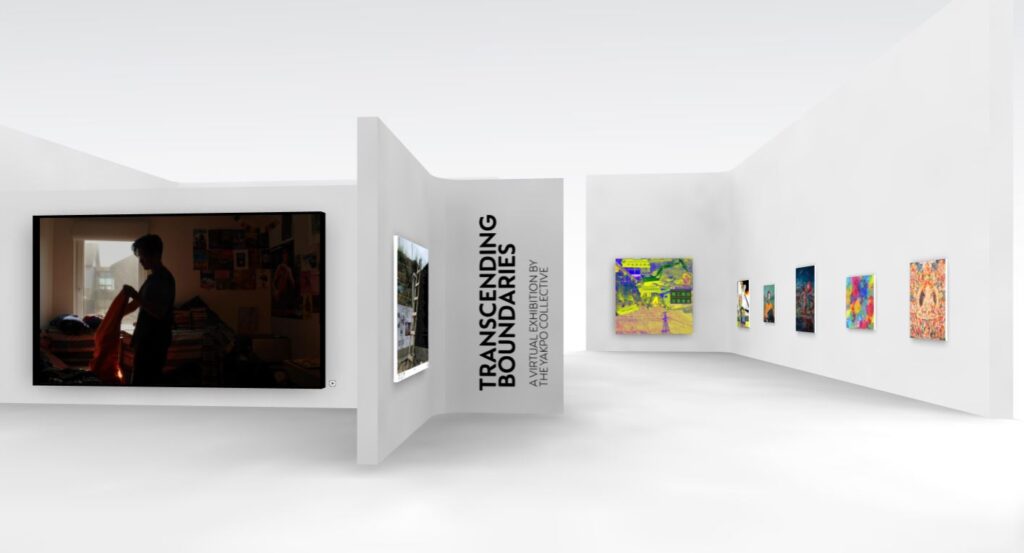 Once the exhibition space had been established, in the following meetings we selected the artworks and discussed how the works could illustrate the narrative of transcending boundaries.
Out of over forty submissions, thirty-one artworks were selected by thirteen artists from the US, Canada, Europe, India, and Tibet: Khenzom Alling, Tsering Nyandak, Kunga Choephel, Yangdzom Lama, Losang Gyatso, Tenzin Dawa (Lettering in Tibet), Phuntsok Lhagyal, Tshedzom Tingkhye, Kalnor, Luguma, Tenzin Kunsel, Tenzin Rabten, and Rigzin Taring. The process of selection aimed to provide a wide range of interpretations of the theme of transcending boundaries from diverse perspectives, methodologies, and aesthetic languages. Furthermore, it was important to the collective to present a variety of mediums, and painting, graphic design, photography, collage, dance, and film were included in the show.
The artworks were inserted in the space in both thematic – societal, personal, geographical barriers – and visual clusters, without being fixed on creating a precise narrative the visitor had to follow. One of the major curatorial concerns when putting together the show was the political nature of the artworks in a Tibetan context. As the digital nature of the exhibition meant it was open to a much wider and international audience, conscious decisions were made about not putting overtly political works next to works produced by artists living in Tibet.
In addition to selecting artists and putting the show together, there were administrative and marketing duties to be fulfilled. After the exhibition was finally set up, the Yakpo Collective was concerned with its promotion and how to get people to visit a virtual exhibition. We circulated a number of promotional emails to museums and organizations related to Tibet. As the collective is still very young and not fully established among the Tibetan community or the contemporary art world, the bulk of its promotion took place on their social media. Two posters were created by the team: one main poster with details on the exhibition (Fig. 2), and a group of posters with the artworks of each exhibiting artist for them to publish and promote on their social media (Fig. 3). Two promotional videos in English and Tibetan were also published which explained the significance of the theme, the general layout of the digital space, and how to navigate it. All of Yakpo's posts were shared by members of the collective, Tibetan, and art-related platforms, and on personal profiles.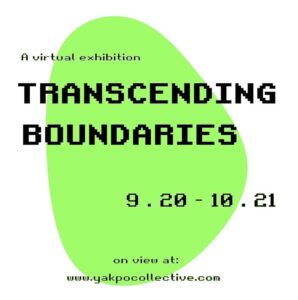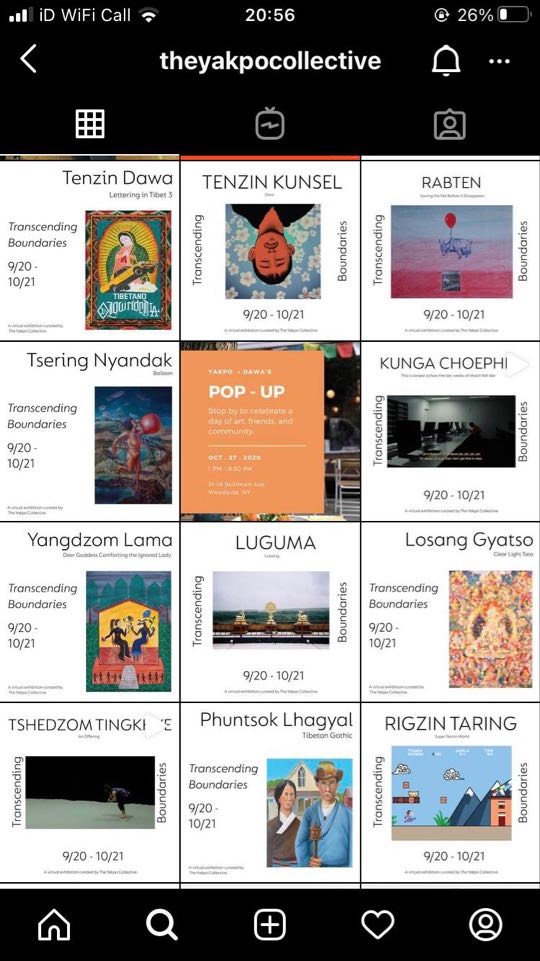 The exhibition was launched on September 20, 2020. As part of my contribution to the exhibition, I wrote a blog post that was published on the Yakpo Collective's website. For this project, I conducted interviews with some of the exhibiting artists to discuss what boundaries mean to them, and their experiences participating in a digital exhibition. Many of the artists, when reflecting on their involvement in the digital exhibition, emphasized how the digital format of the show presented them with the opportunity to transcend physical boundaries of isolation both geographical and mental and feel connected to a Tibetan community of creatives. Thus, the de-centralised nature of the internet permitted geographically dispersed people through social media to be introduced to each other, their work, and their networks.
It was a common feeling among the artists I interviewed that exhibiting beside artists from a diverse range of experiences and backgrounds served to both create a sense of shared identity and community and a place for everyone to reflect and define collaboratively on the development of Tibetan contemporary art. This engendered a distilled, world-creating environment for the Tibetan artists to inhabit. A part of this process is the collective's role in creating a digital archive, a public resource of Tibetan artists and artworks. With the exhibition still visible on the website and I would argue, more importantly, its related posts on its Instagram page, the Yakpo Collective's curatorial practices can control the trajectories of online circulation of Tibetan contemporary art and create a platform for Tibetan creatives to define a canon of their practice.
As shown, the experiences of the digital format of the exhibition revealed many positive aspects. However, in discussions with the members of Yakpo at the end of the exhibition, the digital nature lacked in its interactivity. Its format of an empty gallery meant that vising the exhibition was a solitary experience. McTavish argues that: "this isolation reinforces the notion that viewers should engage in singular encounters with artworks, focusing on them without distraction".[ix] The consensus was that this limitation took away from the personal and emotional experience of visiting the exhibition. The lack of a connection with the physical works also affected the number of sales of the exhibited artworks. Thus, if on one hand, the digital produced a more intimate space for interaction and networking within the Tibetan creative community, on the other it negated an interactive exhibition experience and failed to produce revenue for the artists and the collective. As selling artworks is one of the main concerns of the collective who seek to help young Tibetan artists establish themselves and make an income out of their creative work, this was a major drawback.
To conclude, the data I collected while collaborating with the Yakpo Collective on the "Transcending Boundaries" exhibition raised many questions about digital curation, the role of social media, and the advantages and disadvantages it brings when discussing the art of geographically dislocated communities, such as the Tibetan community. With visitors from over thirty countries according to the analytics, the digital format of the exhibition made it possible for a much bigger and more international audience to come in contact with the Yakpo Collective's project. The collective might still be young and not fully established whether in the Tibetan community or the art world, and it is difficult to ascertain its role in the grand scheme of Tibetan contemporary art however, I suggest that their use of social media is a fundamental step towards a collective storytelling of Tibetan experiences. This takes place through their collaborative approach as a collective. With everyone taking part in the curatorial decisions of the exhibition, the practice expanded and evolved beyond the conventional duties of a curator of selecting, organizing, and presenting artworks. In Yakpo's case, a major component of the curatorial process was their significant employment of social media. Its main purpose might have been promotion, but the archival and public nature of Instagram has engendered the possibility of an explicit site of reconstruction for the Yakpo Collective to collaboratively narrate with the artists they platform their story of Tibetan contemporary art.
Finally, I would like to thank all the members of the Yakpo Collective for not only letting me be a part of this project but also for sharing their time and thoughts with me to discuss together their work and experiences as artists and as members of the collective.
---
Notes:
[i] Walton 2017: 151-152
[ii] https://www.yakpocollective.com/blog/tibetan-contemporary-art-the-new-wave
[iii] Ibid.
[iv] https://anti-materia.org/circumventing-the-white-cube
[v] Walton 2017: 161
[vi] https://www.yakpocollective.com/transcendingboundaries
[vii] https://artspaces.kunstmatrix.com/en
[viii] McTavish 2005: 232-233
[ix] Ibid. 233
Works cited:
McTavish, L. 2005. 'Visiting the virtual museum: art and experience online'. In J.Marstine (ed.) 2005. New Museum Theory and Practice: An Introduction. Oxford: Blackwell's, pp. 203-225. 
Walton, S. 2017. 'Being there where?' Designing Digital-Visual Methods for Moving With/In Iran' in Salazar, N., Elliot, A., and Norum, R., (Eds.), Methodologies of Mobility: Ethnography and Experiment. New York: Berghahn Books, pp. 148-171.
Wallerstein, W., 2018. Circumventing the White Cube https://anti-materia.org/circumventing-the-white-cube. (Accessed 14 February 2021)
The Yakpo Collective website https://www.yakpocollective.com/ (Accessed 14 February 2021)
Kunstmatrix website https://artspaces.kunstmatrix.com/en (Accessed 14 February 2021)
Isabella Cammarota has just completed her MPhil in Tibetan and Himalayan Studies at the University of Oxford.


The Tibet Memory Project: A Photo Essay
Tsering Topgyal and Tsering Choephel
Thousands of black and white family photographs lie hidden in the households of exile Tibetans scattered around India, Nepal, and Bhutan. They echo individual narratives and the dreams, aspirations, and struggles of the first generation of exile Tibetans. Some are neatly framed and occupy a place within the meaningful order of the household, while others are sympathetically tucked into photo albums on top of shelves and inside cabinets as if to rescue them from the decay of time. What stories do these photos speak of? How do various individuals recall these stories or their own past? In what ways do such old family photos create belongingness and a sense of 'home' for Tibetans in exile? Perhaps home is not only found in geographical spaces, but also in the things we 'keep'. We belong to things as much as they belong to us.
The Tibet Memory Project documents stories of the first generation of Tibetans in exile, through their old personal photographs and fading memories, to build individual narratives into a collective history.
In this short photo-essay, we present three family photographs accompanied by their stories. These photographs were taken in photo studios in the 1960s and 1970s and after excavating abandoned negatives or photographs from these studies, we elicited their stories behind these families using the image. Together these images and narratives seek to counter the monolithic narrative of Tibet and Tibetans. Instead, they seek to highlight the diversity of experiences and lived realities of Tibetans in exile as well as the strands that connect us to 'home'.
Sonam Jordhen (Tenzigang, Arunachal Pradesh)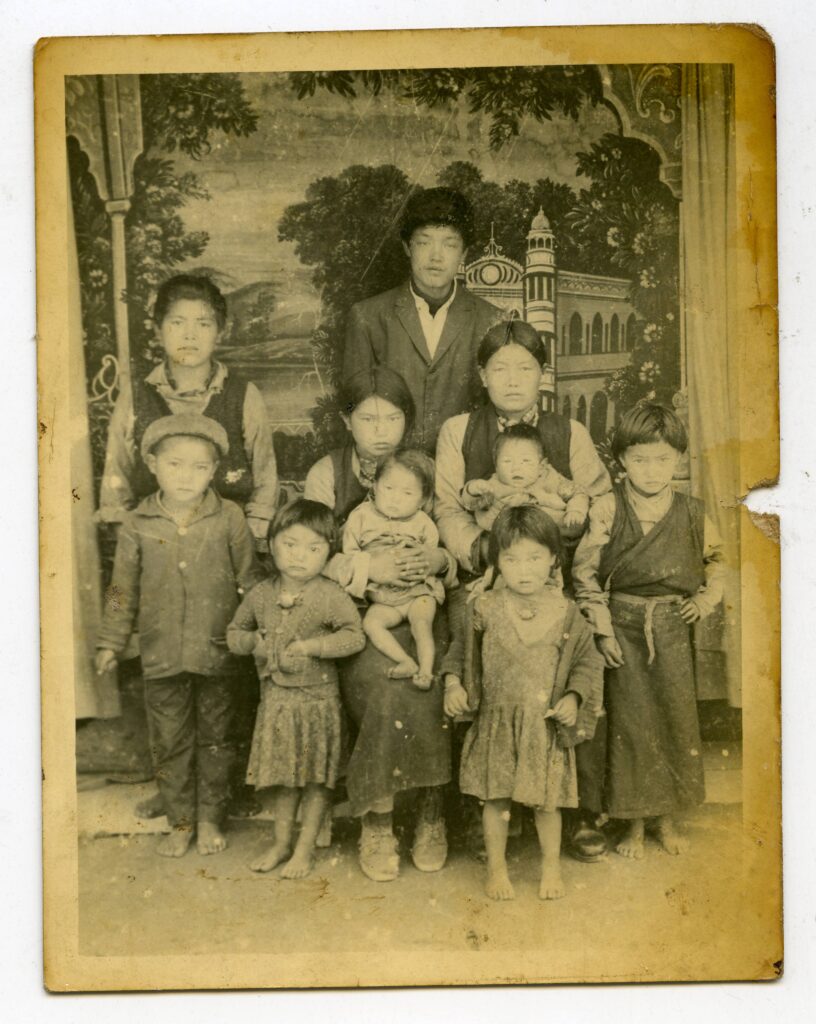 "My elder brother went missing during the 1962 Indo-China war. In the chaos of fleeing, he was separated from us in Tawang. We searched for him for a long time but couldn't find him. Then in 1971, he accidentally found us. When he was separated from us, an officer called Chashoe from the Assam Rifles, who knew my father, found my brother, and took him in. The officer went to our house at the time looking for us, but we had already fled. So, he took care of him. Later he sent my brother to school until 7th or 8th grade. After that, he enrolled him in the Indian army. In 1971, after he had completed his military training, he was passing through Bomdila. By a stroke of luck, he ran into our younger brother. He didn't recognize our younger brother but did however recognize the clothes he was wearing. Our parents used to always dress us all in similar clothes. And upon seeing the same clothes that he used to wear, he asked the boy his name and the name of his parents. He was so happy. That's how we were reunited."
Today, Sonam Jordhen is 70 years old and lives with his wife in Tenzigang Tibetan settlement in Arunachal Pradesh. He was born in Tsona, western Tibet. The family fled into exile, India in 1959 when Sonam Jordhen was only six years old.
Tsering Drolma (Dharamsala, Himachal Pradesh)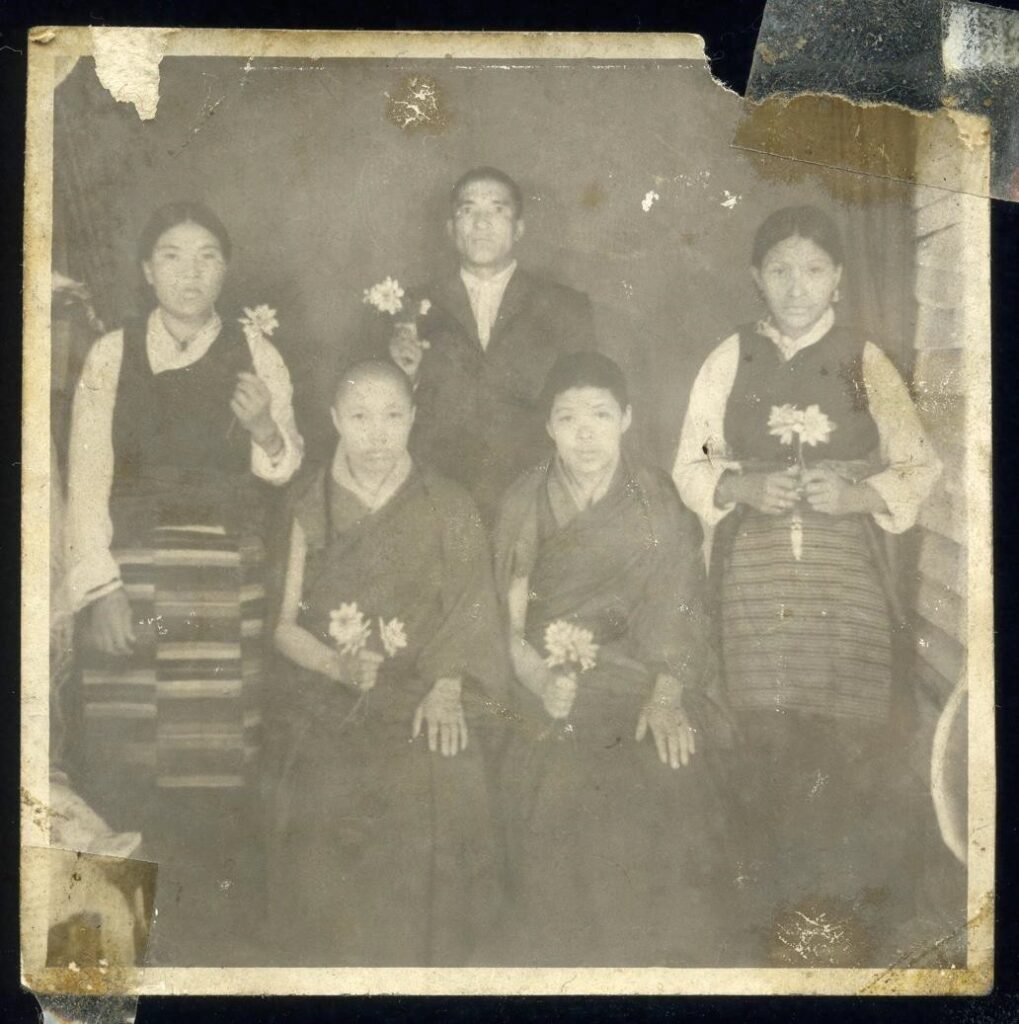 "There were seven households in our village Sima in Kyirong. Our family was the largest one. When we were going to renovate our house, we hired a renowned wood maker from Dra village. He arrived with his son Ngodrup. They lived and worked in our house for over a month. During this time, his son and I began a relationship. After they left our village, I received many marriage proposals, one after another. Four families were asking me to marry their sons. But I wasn't interested. One of the families even came with threats, saying they would force me into marrying their son. When women didn't accept marriage proposals, it was a common practice to force them into marrying. So, one night I ran away from home and to Nepal, where Ngodrup was at a business trip at the time. From there, we travelled to Darjeeling and then to Kalimpong where job prospects were much better. For the first few months, we worked as porters. In Kalimpong, there were a large number of traders from Tibet and Bhutan. One time, we even carried the luggage of mountaineer Sherpa Tenzin Norgay, all the way to Shasingma (Yatung). There were many Chinese at Shasingma, making roads in the area. After some time, a monk gave us the idea that we should try selling chai (tea) at the bus station. So, we set up a small tea stall at the station and sold tea and snacks. It was quite a good business. Months and a year passed by. I was feeling homesick. On many nights I would cry and cry, dearly missing my mother. So, my husband said, "if you miss your mother so much, then let's go back home." So, we left Kalimpong for Nepal. We contacted our family and the Dzong (local administration) in Kyirong. A certain amount of fine was given as punishment, and we were able to return home."
Today, Tsering Drolma is 92 years old and lives in Dharamsala. Her husband passed away many years ago. Following the Chinese occupation of Tibet, she fled to Nepal in 1960 with her husband and in-laws. After spending two years in a large rehabilitation camp in Trisili, a border area between Kyirong and Nepal, they travelled to India and took up road construction in Shimla. The family worked as roadbuilders in Shimla for six years. When the 14th Dalai Lama's main temple in exile, the Tsuglagkhang, his residence, and Namgyal monastery was to be built towards the late 1960s, skilled Tibetan craftsmen, like Mola Tsering Drolma's father-in-law, were called to Dharamsala. Mola Tsering Drolma and the rest of the family followed him and settled down in Dharamsala.

Choephel Tsetan (Darjeeling, West Bengal)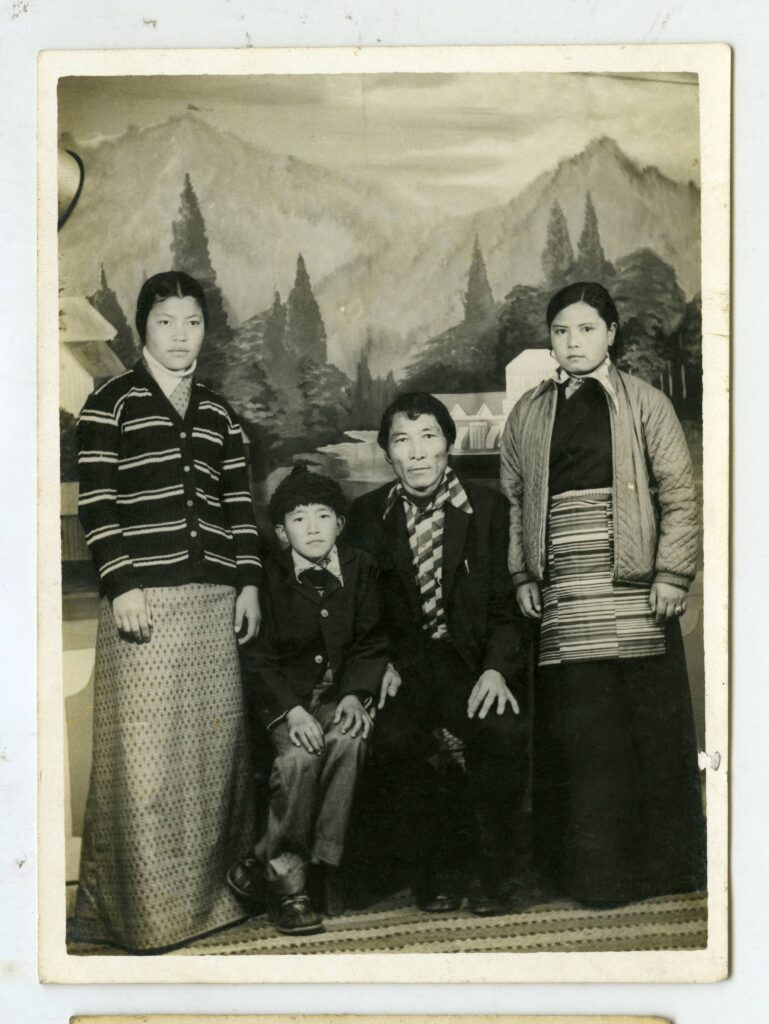 "When I left the army, I was worried about what to do next because I had spent all my life either as a monk, or in the army. I didn't have any experience of farming or of doing business. My command of Hindi was neither good. Following the suggestion of friends, I started doing seasonal sweater business. In the first year, I naively purchased stylish and colorful clothes of my own liking. Forget profit, the business didn't even cover the expenses of that year."
Choephel Tsetan was born in Damchung, central Tibet. He fled into exile in 1959 with fellow monks from Drepung Monastery. Today, he is 86 years old and lives in Darjeeling with his two wives. Together, they have four children. During the seasonal sweater business in the winter months, he runs two shops in two different markets in the state of Gujarat, India. He also owns four shops in Dimapur in Nagaland, which he leases to others.
Tsering Topgyal and Tsering Choephel are independent photographers and storytellers based in New Delhi, India.
Exhibition Review of Performing Tibetan Identities: Photographic Portraits by Nyema Droma
Chukyi Kyaping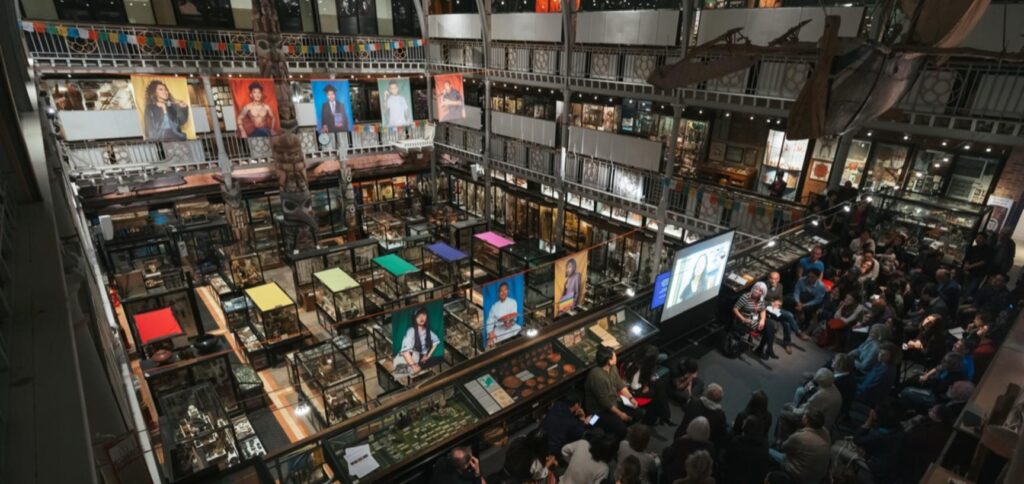 Following the British invasion of Tibet in 1903, trade agents and frontier officers took advantage of their lucrative positions to accumulate vast collections of visual and material culture (McKay 68). Though the empire's physical presence in Tibet became untenable by 1947, Britain "resorted to reconstructing Tibet elsewhere" and these collections were subsequently used to equate territorial control with the capacity to display Tibetan culture in museums (Harris, Photography and Tibet 10). Tsering Shakya duly notes that with the absence of native voices, Tibet has "remained an anachronism [from] the age of imperialism" (22).
In Performing Tibetan Identities, Nyema Droma critically engages with the Pitt Rivers Museum's historic collection through her photographic portraits. The exhibition successfully employs interrogative and indigenous museology to create a visual dialogue between the dynamic (con)temporary exhibition and the taxonomically static permanent displays. With native agency embedded throughout the development process, it is a powerful demonstration of the potential capacity for ethnographic museums to simultaneously learn from its past, represent the present, and imagine its future.
The photographic medium has historically functioned as a tool of imperialism to stage a wide perceived distance between the photograph's subjects (the colonised) and its consumers (the colonisers) as a means to justify cultural and/or biological superiority (Mitchell 297). The ethnographic photographs in the Pitt Rivers collection, as with many other collections in Britain, share a compositional uniformity, which primarily served to highlight physical and cultural variation. This method directly led to the compilation of 'ethnic types', wherein the complexity and individuality of ethnographic subjects came to be viewed as obstacles to an institutional praxis rooted in reduction and simplification (Harris, Museum on the Roof 87).
This is reinforced by the inherent power imbalance between the photographer and those photographed—implicit in the term 'subject.' Photographs simultaneously embody and defy space and time, exhibiting "relentless pastness, yet timelessness" (Edwards 129). Therefore, photographic subjects and their cultural descendants are ascribed to an imagined and constructed past (133). However, instead of simply removing outdated and incorrect information, ethnographic museums stand to gain more from showing how the images have been "perceived, identified, understood and articulated" over time (137).
Supported by the Origins and Futures Fund (Indigenous Researchers and Artists Programme), Nyema Droma studied over 5,000 photographs taken by British officers in Tibet over the first half of the twentieth century. Particularly drawn to a set of glass plates taken in 1920s Lhasa, she immediately noticed that the positive and negative slides of each photograph almost appeared to depict different people. This observation inspired Droma to create double portraits of young Tibetans in their daily wear (polychrome) and in their 'traditional' clothing (monochrome), with the aim to disrupt stereotypes and the erasure of individual identity.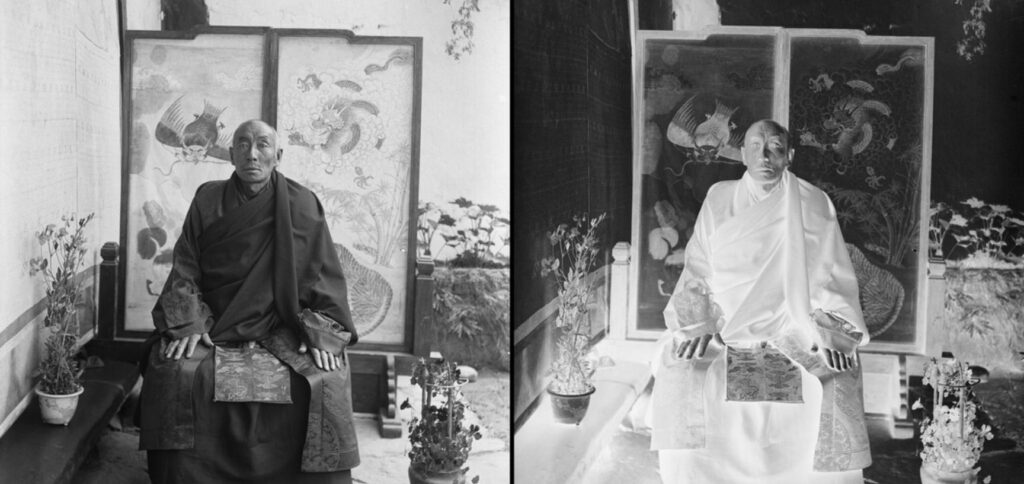 Thupten Kelsang argues that meaningful "engagement between Tibetan material culture and the Tibetan community" must become institutional praxis for museums to successfully decolonise their collections (130). While it is a promising start, the discourse on 'source communities' is still predicated on the term's reduction of these groups to their value as knowledge repositories. Kelsang aptly contends that this leads to Tibetans acting as 'sherpas' for non-Tibetan scholars — referring to the Himalayan ethnic group known to guide Western tourists climbing Mount Everest (130). Therefore, the traditional role of a curator as a scholarly guardian of material culture needs to transform into a more public-facing and people-centered position.
In this vein, Clare Harris and Nyema Droma generally chose to forgo the typical boundaries which distinguish their respective roles as curator and artist-in-residence. Instead, their more equitable dynamic as co-collaborators of the exhibition has resulted in some highly innovative methods to interrogate and reanimate the museum's contentious space. For instance, Harris and Droma took full advantage of the Great Court's hyper-visibility with the bold suspension of eight double-sided banners above the permanent collection. Carefully selected for their relative compositional dynamism, these large portraits immediately catch the eye upon entering the museum.
The exhibition continues into the Long Gallery, where the remaining portraits are paired with a video montage of Droma interviewing her photographic subjects. Directly overlooking the Great Court, a digital screen on the upper level juxtaposes the glass plate slides with the double-sided banners. This orientation visually contextualises the temporary exhibition within the permanent photographic archive—a first for the museum.
Furthermore, the incorporation of indigenous museology serves to bolster the exhibition theme. In the Long Gallery, two pillars frame the portraits against walls of maroon and mustard yellow — a stylised take on the traditional aesthetic found in many Tibetan Buddhist monasteries. In addition, Droma utilises the five primary colours found in Tibetan prayer flags as her portrait backgrounds, and the suspended banners clearly emulate the horizontal flags (lung ta).
However, they do not follow the typical colour arrangement (blue – white – red – green – yellow). The white colour is instead represented on the reverse monochromatic side of the portraits, modelled after the glass plate negatives. This deliberate break can be interpreted as a challenge to the popular perception of Tibetan culture as incompatible with change and innovation. The dual 'performances' in the double-sided banners also function similarly to Tibetan scroll paintings (thangka), where sacred prayers of consecration on the reverse are traditionally hidden from public view. This is echoed in the portraits depicting daily wear on the front side and the seldom worn (and arguably more sacred) Tibetan outfits on the reverse side.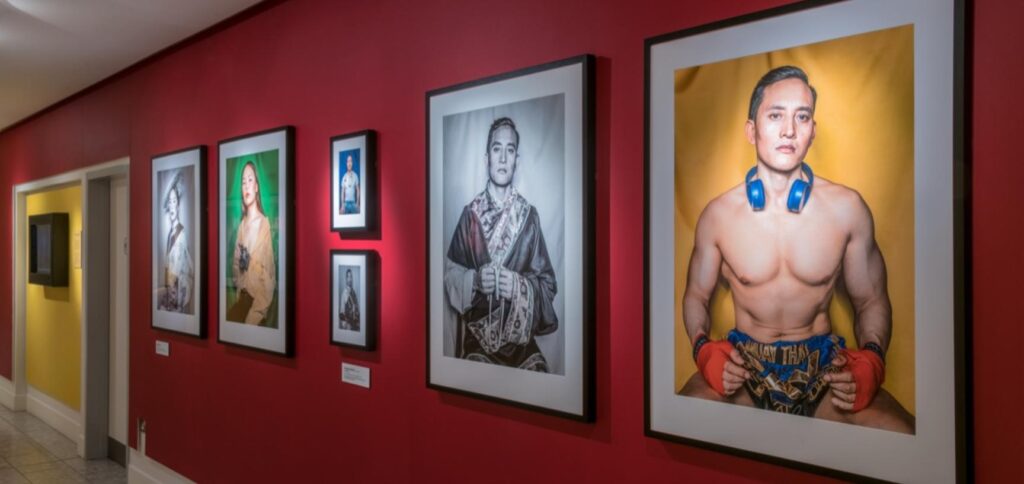 However, the external imposition of cultural legitimacy continues to be an issue for Tibetans who prefer to be seen as global citizens. Clare Harris recalled that some visitors ultimately could not reconcile their own subconscious idea of Tibetans largely remaining incapable of cultural nuance with the cosmopolitan hyper-individuality present in the portraits — a poignant reminder of the enduring colonial gaze.
As emphasized by the title of the exhibition, Droma explores a plurality of Tibetan identities. While those depicted in the glass plates primarily held positions of religious and/or political power, Droma promotes inclusivity of individuals often demographically marginalised by notions of a 'collective Tibetan identity,' such as Tsering Thondrop (a trans woman) and Kesang Ball (of mixed-race heritage). Moreover, the glass plate labels anonymised and dehumanised subjects, reducing them to their societal function. In contrast, the exhibition labels include the subject's name (in both English and Tibetan), occupation, location, and a quote discussing their identity and sense of belonging.
Sonam Tsering: "I don't feel my Tibetan identity is defined by whether I wear traditional clothes or not."
Karma Ermchi: "Being a Tibetan is about culture; a way of living, a language, a custom."
Tashi Namtso: "Tibetan identity for me is about religious beliefs, ties to traditional cultures and land, and a natural warm heartedness."
Kesang Ball: "I actually used to dis-identify myself with Tibet because of the society I lived in."
Droma reflects on her transcultural journey from Lhasa to London and back, remarking that the "people in my photos may be others, but what I perhaps want to really portray is myself" ("Young Tibetan Photographer Nyedron"). In her own portrait, she wears Tibetan men's clothing, to simultaneously mark the fluidity in her cultural identity as well as her gender role, as a female Tibetan photographer in a profession dominated by Western men.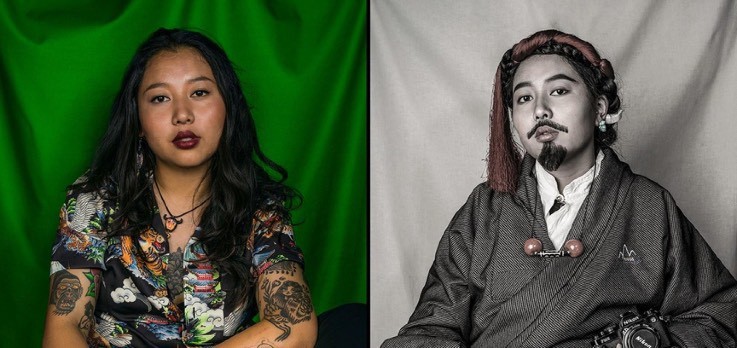 Reciprocating her agency onto the individuals in her portraits, Droma challenged her subjects to experiment with 'self-fashioning' — in other words, the expression of cultural identity through dress and objects ("Performing Tibetan Identities"). While some corroborated popular markers of Tibetan culture, others chose to reject them. As a result, the portraits seem to ask, "which of these versions of myself fits your stereotype best?" (Harris, Museum on the Roof 251). Nyema Droma's portraits ultimately celebrate the creative agency of young Tibetans who refuse to remain perpetual victims of their past representation.
Historically, the "Tibetan body (augmented with objects signifying Tibetanness) bore the brunt of representing the mystique of Tibet" when the land itself was inaccessible (Harris, Museum on the Roof 96). While some museums have entirely removed problematic displays in favour of more socially relevant exhibitions, many ethnographic museums seek to capitalise on their existing collections (Harris and O'Hanlon 10). Focusing on self-reflection and contextualisation, these museums argue that it is imperative to "exhibit the problem, not the solution" (Karp and Kratz 281). But the Pitt Rivers Museum's Performing Tibetan Identities exhibition simply asks: why not both?
The results prove to be positive and fruitful for both the museum and the Tibetan community, as both strive to cement their place in the age of modernity and multiculturalism. Clare Harris and director Michael O'Hanlon argue that museums can be "therapeutic institutions and places where communities that have previously been excluded can gain recognition through representation" (12). Therefore, while the physical repatriation of Tibetan material culture may not yet be possible, this exhibition successfully highlights the potential for visual or representational repatriation.
Works Cited:
Edwards, Elizabeth. "Some Thoughts on Photographs as History." Seeing Lhasa: British Depictions of the Tibetan Capital 1936-1947, edited by Clare Harris and Tsering Shakya, Serindia Publications, 2003, pp. 127-139.
Harris, Clare. Photography and Tibet. Reaktion Books, 2016.
– – -. The Museum on the Roof of the World: Art, Politics, and the Representation of Tibet. University of Chicago Press, 2012.
Harris, Clare, and Michael O'Hanlon. "The Future of the Ethnographic Museum." Anthropology Today, vol. 29, no. 1, 2013, pp. 8-12.
Karp, Ivan, and Corinne A. Kratz. "The Interrogative Museum." Museum as Process: Translating Local and Global Knowledges, edited by Raymond Silverman, Routledge, 2015, pp. 279-298.
Kelsang, Thupten. "Object Lessons from Tibet & the Himalayas." HIMALAYA, vol. 37, no. 2, 2017, pp. 128-130.
McKay, Alex C. "'Truth,' Perception, and Politics: The British Construction of an Image of Tibet." Imagining Tibet: Perceptions, Projections, and Fantasies, edited by Thierry Dodin and Heinz Rather, Wisdom Publications, 2001, pp. 67-89.
Mitchell, Timothy. "Orientalism and the Exhibitionary Order." Colonialism and Culture, edited by Nicholas B. Dirks, University of Michigan Press, 1992, pp. 289-317.
"Performing Tibetan Identities: Photographic Portraits by Nyema Droma." Pitt Rivers Museum, 2018, https://www.prm.ox.ac.uk/event/performing-tibetan-identities
Shakya, Tsering. "Tibet and the Occident: The Myth of Shangri-la." Lungta, 1991, pp. 20-23, https://info-buddhism.com/Myth_of_Shangri-Ia_Tsering_Shakya.html.
"Young Tibetan Photographer Nyedron." High Peaks Pure Earth, 30 Sep. 2018, https://highpeakspureearth.com/young-tibetan-photographer-nyedron-its-not-the- tibet-you-imagine-but-its-just-as-cool/.
Chukyi Kyaping is an art historian and recently completed her MA in Museum Studies from the School of Oriental & African Studies (SOAS).