Another Place
Tsering Wangyal
298 pages, 2020, Rs. 200 (Paperback)
Blackneck Books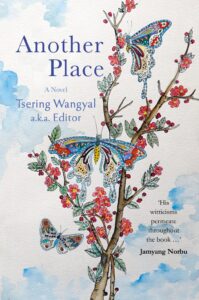 Reviewed by Jyoti Deshwal
Of Survival and Perseverance in the Face of Displacement
One of the incidents in Late Tsering Wangyal's novel Another Place, in which the Tibetan exile administration asks a Tibetan to apologize to an Indian over a fight despite no fault of his, brought me a strong déjà vu feeling. It so happened that in one of the Central Tibetan Schools in India, I reminded a Tibetan, who flung a stone at me, that he was an outsider in my country. I was a class 4 student at that time to understand the snobbery and indifference in our expectation of Tibetans to bear everyday injustices and claim no rights whatsoever because they are refugees. Writing the review of this novel thus comes to me as a personal opportunity of apology and understanding the complex predicament of the Tibetan exile community in India.
Set in Dharamshala, the exile capital of Tibetans in India, late Tsering Wangyal's novel Another Place is first and foremost an attempt to locate, temporally and spatially, the de-territorialized Tibetan community. Before we enter the world of exile Tibetans, the prologue gives us a glimpse of life at Phari in Tibet in the late 1950s through the story of Poor Chok Samten, a young farmer with a disposition of a middle-aged man, who suffers injustice at the hands of Jhangsur, a self-promoted bureaucrat—all in the face of the imminent danger of Communist assumption of Tibet. Thereafter, divided into three parts, progressing linearly with occasional analepsis, the omniscient third-person narrator of Another Place takes the readers through various spaces, that were once at the margins of India, now inhabited by exile Tibetans—Tibetans' political center in the abandoned British hill station McLeodganj (upper Dharamshala) and the Tibetan hub Majnu ka Tilla that grew out of a camp in the periphery of Delhi.
Those familiar with the slim but significant body of Tibetan-English fiction would recognize not only Manju ka Tilla in Thubten Samphel's novel, Falling through the Roof (2008) but also late Wangyal in the character portrayal of Editor. Late Wangyal, who worked as the editor of Tibetan Review from mid-1970 to 1996, had earned the moniker 'Editor' for having turned the magazine into an influential print platform for intellectuals to debate political matters as well as Tibet's cultural and social complexities. It is thus no coincidence that Tsering Wangyal's novel Another Place, published posthumously, represents the generation of Tibetan Review intellectuals, and delves into the recesses of their consciousness, centered around an incident of computer theft, allowing for a narrative style and microscopic view of things, typical to investigative journalism.
Nawang Sutim (Ngawang Tsultrim before he changed the spelling to make it more memorable and pronounceable), popularly known as Frank Lee, is at the center of the narrative with a reticular structure of streets around him abounding in the social and political life of Tibetans in exile. The novel unfolds with him breaking to the paglug (Tibetan card game) club members the news of the theft of his black notebook computer, which he had bought in America. The paglug members work in different departments of the Tibetan Government in exile. Frank Lee himself serves as the deputy secretary of the Department of Information and International relations of the government after his return from the States as a Fulbright fellow. His job definition, however, is that of a clerk and leaves him dissatisfied.
Wangyal, true to the integrity of a writer, exposes the shortcomings of the Tibetan bureaucracy as well as a few self-serving Tibetans in the system. In chapter five, we are introduced to Jhangsur, the man who had bid farewell to Phari years back on learning that the government was sending an investigator in the matter of Chok Samten's disappearance. In India, he had written a letter of apology to the Tibetan cabinet and offered his free service, thus getting the position of assistant director at Tibetan Medical Institute. He, however, tells a western scholar that the exile government has become gradually corrupt with unqualified people working for it.
In the vast canvas that Wangyal maneuvers to portray divergent Tibetan characters, manifesting in them their bountiful political and spiritual experiences, the romantic escapades—Thubten's illicit flirtatious interest in Mrs. Migmar or Frank Lee's shifting romantic interest between Tenzin Lhakyi and Pema Choezom— are quite prominent. In the last chapter, where Pema Choezom takes the narrative voice, she relays her disappointing experiences in love and asserts:
So the only thing I know now for sure is that whoever I marry, it will have to be a Tibetan. He may be old, ugly, or cruel, or someone even more evil than Ali. But he will be a Tibetan. I would be able to understand him. Even the bad things he may do would not be an incomprehensible terror for me. So I could cope with the situation. (293)
Pema's justification of her decision speaks volumes about the chasm of comprehension between the exile Tibetan community and the outside world. But it may also be about the fact that exile Tibetans are expected to avoid assimilation and carry Tibetan culture on their backs in the given bleakness of the political situation back home for them.    
The cultural acculturation of exile Tibetans is, however, inevitable. Frank lee, Pema Choezom, Kardon Tenzin Lhakyi, and Tenzin Bhuti have all been educated at the Tibetan Children Village (TCV) schools, where the curriculum is largely modeled after the Indian schools. Frank Lee and Pema graduate from St. Stephens and Lady Shri Ram colleges of Delhi University respectively. Pema is privileged to have been sent to an expensive boarding school but is made to spend the last two years of her schooling in TCV to improve her Tibetan language proficiency. Khardon and Pema prefer to communicate in Nepali, the lingua franca of the regions where they have lived. Frank Lee, who has an avid interest in English novels and movies, needs Pasang's help in writing the notice of his missing computer in the Tibetan language.
Quite interestingly, the cultural assimilation seen in Another Place is two-way—Raju and Birju, two Indians working at One More Chance, speak fluent Tibetan and have only Tibetan friends. The novel also throws light on how the international traction that Dharamshala receives due to the presence of the Dalai Lama benefits the local economy.
There is no doubt a healthy cultural exchange between Tibetans and Indians, but the world that stands out in Another Place is singularly Tibetan. Places like the One More Chance restaurant, where paglug is played over Tibetan snacks, momos, and butter tea abounds with distinctively Tibetan smells and sounds. Dharamshala, referred to in the novel "the little Lhasa in India," unlike China-towns around the globe, is a place of Tibetans' political resistance and resilience in the face of adversity. Streets and institutions in Dharamshala are given Tibetan names, such as Gangkyi (Gangchen Kyishong) for the area where the main offices and staff quarters of the Tibetan Government are located. Even cultural objects such as the khata, a traditional ceremonial scarf, and chuba and pangden, a colorful apron worn by married women, have greater significance in the novel. Frank Lee, who is also referred to as chuba chaser, despite not wanting to wear the khata on his wedding and farewell chooses to let it remain, which bespeaks his internal conflict and cultural adherence. Mo, a Tibetan form of divination, is also one of the highlights of the novel. Frank Lee acts on the suggestion of getting a mo to find the whereabouts of his missing computer, and surprisingly he finds his computer in Dharamshala within the time period indicated in the mo.
Tibetan fiction in exile is a testimony of Tibetans' constant readjustment to the growing uncertainty of their exile, which from an initial temporary arrangement in 1959 has become a long-lasting condition. For the generation of Tibetans born to refugee parents, exile is their immediate and only lived experience of home, albeit reinforced by the desperate circumstances of their stolen homeland and punctured by the dynamics of their borrowed land, and thus the befitting title Another Place.
Jyoti Deshwal is a scholar on Tibetan literature at the Department of English and Cultural Studies, Panjab University, India.
Pema Tseden, The Master
Interview by Phurwa Tsering and Françoise Robin
(Translated from the French into English by Lamo Dorjee )
Pema Tseden is the leading Tibetan filmmaker. A director who has also published novels and short stories in Tibetan and English, he writes his own screenplays. Among his beautiful and provocative films are The Search, Old Dog, and Tharlo.
In February 2019, Pema Tseden presented his new film Jinpa at the International Asian Film Festival in Vesoul. The movie also launched at theaters in Paris. This interview was conducted in Amdo Tibetan, and edited and subtitled into French for the DVD of Jinpa released in France. It has been edited for clarity and length.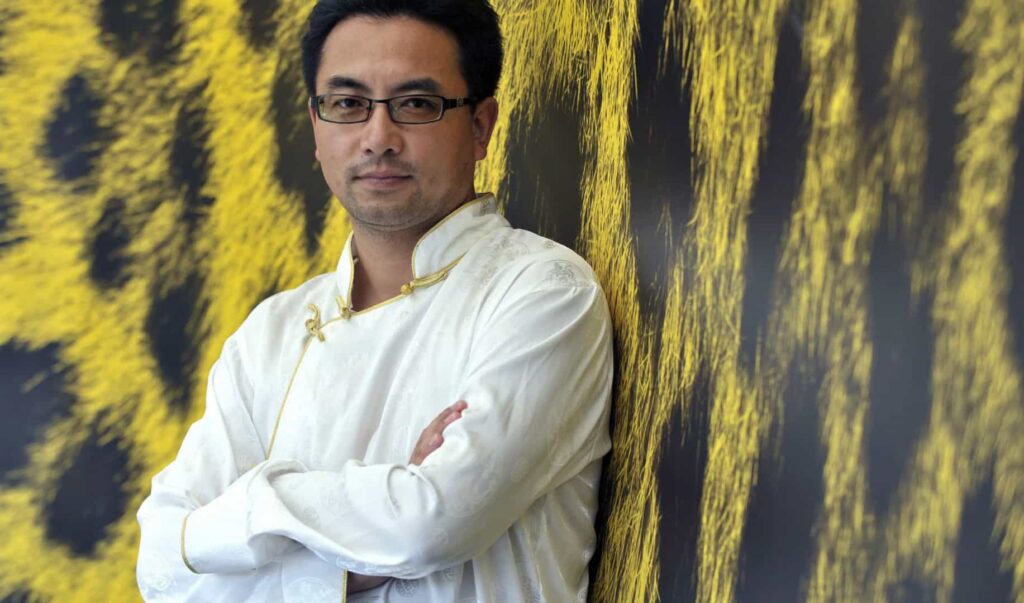 Phurwa Tsering: I'm going to start by asking you a brief background of your life; your early education, and then your film studies, your debut in film, etc. Could you introduce yourself briefly?
Pema Tseden: Well, it will be hard to be brief. I mean, it's a long story. I was born in a small village in Amdo. After Tibetan language primary and middle school, I went to a Tibetan language high school. So I was educated in the Tibetan language from early childhood. Then I went to a teacher's school in the prefectural capital. After graduation, I returned to my village to work as a teacher. That lasted four years. Then I passed the entrance examination of the Tibetan language section of the Northwest University of Nationalities. I got my university degree there and I was hired at Tsolho prefecture in the administration, for 4 years. Then I returned to the same university. I majored in Tibetan-Chinese translation. During my third year, I went to the Beijing Film Academy. This opportunity was given to me by the Trace Foundation which financed my studies. I loved cinema since I was a child. At the Beijing Film Academy, I studied directing and screenwriting for the first two years. Then, after graduation, I directed The Silent Holy Stones, my graduation film. Then I went back to school at the Academy. Back in the directing section, I studied directing. It lasted three years. Since then, I have been professionally involved in the film industry.
I am also a writer. I write short stories in two languages: Tibetan and Chinese. Since 2002, and my time studying at the Beijing Film Academy, I have been studying film. And I also write literature. I pursue both interests at the same time. I have directed six films in the Tibetan language so far. Jinpa is my sixth feature film in the Tibetan language. I am currently finishing the post-production of my seventh film. I continue to write many short stories. And I keep on working as a translator. That's it in a nutshell.
Phurwa Tsering: You are fluent in Tibetan and Chinese. You have expertise in a range of fields. However, you have given up the other fields of expertise. You were a teacher and then a translator. Can you explain the reason why you gave up teaching and translating, and tell us how filmmaking is special for you. How did you get the idea to go to film school? What made you say "I'm going to be a director"? Where did that come from?
Pema Tseden: When you study Tibetan in the Tibetan areas, the choice of specialisation is very limited. I went to school and was educated in Tibetan including during primary school, secondary school, and university. The only specialisation available was the Tibetan language. There were no others. So, at university, it's the same: my major was Tibetan, which only opens up to Tibetan. If you don't study Tibetan, you can study any subject, like literature. If you study literature, or Chinese, or other languages, it's totally different. Afterward, there are a lot of opportunities. In Tibet, there is only one pathway with the Tibetan language. Once you're there, you're stuck in a few fields: astrology, poetry, grammar, and so on. That's all you can study. And once you have graduated from Tibetan, your choice of professional career is extremely limited. For example, once I graduated, I had to work in literature or in translation. That's about it. In my case, and in the case of many graduates like me, you could be an editor for a newspaper and work in publishing, or you could be a translator in the administration. Other fields were out of reach. So, when I was a kid, I loved cinema, but the passion alone did not provide any opportunity to study film. And there is the problem of geographical origin. I come from a tiny village in Qinghai. To go to Beijing, to Shanghai, to study film as a specialty in a professional way, was impossible. It was complicated to even think about it. But this passion for cinema has never left me throughout my life. As a child, I used to go to the movies in the village. In the capital of the prefecture, in the university town, the passion for cinema has never left me in my life. So first of all, there is my passion for cinema.
Moreover, when I was a child, there were many films about Tibet. I have seen many of these films. But these films about Tibet, while I was watching them, left me wanting more. And I am not the only one. Many of my friends feel the same way. These films were about Tibetan life, but the dialogue was in Chinese. Whether it was the clothes, the customs, the manners, every element, even the smallest, was inaccurate. Because of that, at the time, I thought that later on, if someone made films with even a little knowledge of the language of my people, the culture, the traditions of my people, it would be completely different. I remember thinking that I would like to make films later on. These two reasons led me from the Northwest University of Nationalities, in the second year of the "translation" major, to the Beijing Film Academy where I had an opportunity to go. In this institute specialising in film, I learned about cinema, made a short film, and gradually became a professional filmmaker. That's how it happened.
Phurwa Tsering: In the Chinese environment, at the Beijing Film Academy, what were the greatest difficulties you faced? You were a Tibetan student. Arriving for the first time in a big city, studying there, in daily life, customs, etc. what was most challenging?
Pema Tseden: During my studies, I did not encounter any particular difficulties: the subjects, the language used by the teachers… It was in Chinese, but my level of Chinese was decent. Since university, I could write short stories in Tibetan and Chinese. So at the university, books on cinema or lectures in Chinese were not a problem for me. In these areas, I didn't suffer too much. However, in terms of my passion, cinema—I was at the Beijing Film Academy. I had watched a lot of films as a child in the village, in the city, and in the prefectural capital. Then in the city, at the university, I had seen many films. But few of them were "professional", or "real films". I had to learn the history of cinema, the history of Chinese cinema, the history of world cinema, and also the different stages of the history of cinema and the great films that made history. Yes, I had seen almost nothing. The films that I had seen were not good films that count in the history of cinema, nor were they films that were considered classics. They were commercial or comedy films. I had seen very few that belonged in the history of cinema.
At the Academy, in the beginning, when the teacher mentioned a film, when he gave an example: "This film tells this, it symbolises that", "such a film is a classic in the history of cinema…," when he said such things, for me it was very difficult to understand. I had never seen any of these films. So in my first year, I watched a lot of films. The Academy is a very special place. There is a film library. It contained mostly films that were unknown to me. I spent a lot of time there watching a ton of films. You also had to have knowledge about cinema. You always had to watch more. At that time, it was difficult. Then I made films. I've talked about it a bit today. For my first film, The Silent Holy Stones, I didn't have professional actors. I thought that for the plot of the film, for its style, which is realistic, and for other reasons, amateur actors were perfect. So that was one reason to have amateurs. The other reason was that professional actors, especially at that time, especially in Amdo, were very rare. People trained in professional acting, with good filming experience, did not exist. In Lhasa, there were people trained for that. Like the Tibet Autonomous Region theatre group. They have been trained in Shanghai, or elsewhere, in acting. They can act in films, in theatre, and they have a good level.
But in Amdo, we don't have that. So when I shoot my films, I have a lot of difficulties with actors. And then, in Tibet, cinema is something new. Cinema does not exist in Tibetan culture. There is no market, no film industry. So finding funding is very complicated. Making a film is not like writing literature or poetry. You have to have secure funding. But in Tibet, the market and the economy are not very developed. It is very difficult to find funding for film in Tibet, to make quality films in Tibet. So I started by teaming up with some friends. We had to face many difficulties. And also, in China, filmmakers also face the problem of film authorisation. Tibet is filled with brilliant stories. In the beginning, you don't know whether it's a historical film, a fairy tale, a realistic story because Tibet is just full of excellent stories. It's a real reservoir. But not everything is allowed. When you are involved in cinema, you realise that little by little. At first, you think, "there, that's no problem". You can pick your script like that. It's easy. But then problems arise.
Phurwa Tsering: You have already answered my next question. It concerns the difficulties of making films in the Tibetan environment, as a director. And then also, the problems of finding financing. And obtaining the authorisations to make the films. Are there more particular difficulties?
Pema Tseden: I mentioned it—the problem of professionalism. You need professionals. The process involves bringing together a lot of people to work together. This is not an activity that relies on just two people, a director, and a scriptwriter. You have to bring a lot of people together, and they all have to be professionals. In the Tibetan area, the film is a new professional field. So the basics are not there. Chief operator, sound recordist, set designer, actors, etc.—these professionals are extremely rare. They are really very rare. Personally, my initial goal was to bring together people who were familiar with Tibetan culture and customs, who have some skills or background in filmmaking to make films. Maybe we could manage to render Tibetan life with some depth. But it was very difficult. For example, the sound recordist. Every single word of the actors contains various information, feelings, or intonation. Someone who doesn't know Tibetan will find it very difficult to grasp the subtleties and show them. But if he speaks Tibetan, if he knows Tibetan customs, Tibetan manners, he will grasp the subtleties of the dialogue.
So if a sound recordist is professional and speaks Tibetan, if he knows the customs, when he picks up the sounds, the dialogue, everything in the words of the characters, he can appropriate that information. Depending on whether a sound recordist understands Tibetan or not, it is not the same. So for me, the problem is this. In the future, for my next productions, I need film professionals. In all areas: sound, image, set, I want professionals. So, how can I put it? In any profession, and especially in art, you need a predisposition. For example, to learn drawing, you need a gift cultivated since childhood. Without this gift, it is very difficult to succeed in this profession. So we made a plan, with a few passionate people I knew who had a gift, to go together to Beijing, to train each in our own specialty. That's how it worked. For example, with people like Sonthar Gyal, or Dukar Tserang, we went together to Beijing to study at the time with this purpose. And now they are making their own films. They first aimed at a particular specialty, and studied it. And then little by little they acquired film knowledge, filming opportunities, developed solid experience, and they started directing.
Phurwa Tsering: The films you have made, which genre do they belong to? You talked a bit about it, you said you wanted to show the real-life of Tibetans in your films. I have seen a couple of your films (Tharlo and Jinpa). Are most of your films similar in form and content? Are there any differences between them? Are they all the same?
Pema Tseden: There are differences of course, but what do they have in common? The common points are difficult to define. One of them could be the will to show real life. To have a strong link with reality. Before, films did not show reality. My literary writing is quite different. In fiction, the absence of a link with reality, or even magic realism, that is something I have practised a lot. But in cinema, for many reasons, my films so far have all been very linked to reality. Another important feature is to reveal something about the overall situation of Tibetans in this contemporary society. Yes. That is a characteristic of my films. Yes. For example, in The Silent Holy Stones, I show, through one Tibetan, one or two Tibetans, the situation of many Tibetans. The global situation of Tibetans. Between The Silent Holy Stones and Tharlo, what has changed? My films show an individual Tibetan, a single Tibetan, his situation and his status. And then, on the other hand… how can I put it? The individual changes. Indeed, through the destiny of one or two individual characters, I show how the overall situation of Tibetans in this society has changed.
Phurwa Tsering: Thank you. This is my last question. There are all sorts of difficulties in making a film. But funding is one of the biggest. You have made many films. If it is not confidential of course, where does the funding come from? Tibetans like your films and support you, individually or collectively. Do they give you donations? Do organisations help you?
Pema Tseden: Including my current film, I have made seven films. Each film has had its own funding. "The Silent Holy Stones" is my first film, and I was a beginner director at the time. People asked me what the film was about, what my level of cinema experience was. No one knew anything about me. I had very little funding, even though I had previously made a short film that had won many awards and was very much appreciated by professionals. This first short made me known a bit and some people financed my first feature film or were interested in it. So I got some funding from China. And then my friend, a Tibetan, and a few friends also contributed some funds. And I was able to make the film. The second and third films were the same. For The Search or Old Dog, friends helped me: Gangzhun, Dolha, who was associated with us at the time, and who is now a university professor. They all helped me and I was able to make the film. Then my films started to be known. They were well received. And so there were more people willing to finance me. Then, for almost all the following films from Tharlo onwards, the funding came from China. And then… Yes. As far as Tibet is concerned, whether it's organisations or groups, a lot of people offer to support me. But even if they want to, raising funds and capital to finance a film, it's very difficult for a Tibetan or when the funds come from Tibet. To make a film you need funds. But very few people have the money and the courage to do it. That's right. Coming from Tibet, there are not many. Tibetans generally appreciate my work. Take for example Tharlo. In 2016, it was screened in China. Tibetans watched it, they said, "A Tibetan made a film!". It was the first Tibetan film shown on the screens in China. It was an important thing. A matter of pride for the Tibetans who, individually and collectively, had supported me a lot.
Françoise Robin: Your films differ a lot from one another. Sometimes you might say to yourself: "I'm satisfied with this, I'm going to make it again". Do you ever feel that way? Or do you always want to explore a new style, to always be new?
Pema Tseden: I've already talked about it a little. There are many differences between the writing of my films and my fiction. In literature, I rely on my life, the stages of my existence. Whether it's the content or the form, you can see very clearly how I have evolved. What I wrote in the 1980s, the themes I dealt with, or in the 1990s, and the same for the 2000s: it's very clear how my writing and themes have evolved. But in cinema, the possibilities for innovation are reduced. There are many instances, as I said, many instances of authorisation. If you feel like writing something, a short story, you can write it straight away. But if you want to make a film, there's a story you love, you send the script, but you sometimes don't have the power to make it happen. There is the authorisation process and the search for financing. I speak from experience. I've written a lot of scripts. For example, I wrote the script for "Jinpa" before "Tharlo". I had wanted to make this film for a long time. But I didn't get permission to shoot. And I did get permission to shoot "Tharlo". So I shot "Tharlo" before "Jinpa". So it's very difficult to say. In the future, I want to try new things. But whether it's in terms of form or content, I can be innovative within the same genre. I want to make films like that.
Françoise Robin: The film Jinpa is based on two short stories. One written by you, one by another writer. I would like to know the order in which you work. Did you write the short story "The Killer" or the other one "I killed a Sheep"?
Pema Tseden: The other story ["I Killed a Sheep"].
Françoise Robin: When you were writing "I Killed a Sheep", did you have plans to make a film of it? What was the time span between writing the story and making the film? Secondly, when you write short stories, do you think of a possible connection with the cinema?
Pema Tseden: This is how it happened. A long time ago, I had read the short story written by Tsering Norbu, "The Killer" in a literary magazine. I found it very compelling at the time. The story is about an assassin. There are many stories about assassins, but this one is very different. That's why I liked it so much. I thought it would be good to make a film about it later on. Then several years went by. And then I wrote my own short story: "I Killed a Sheep". It's been quite a while too. But when I was writing it, I didn't think that later on, I could make a film out of it. My other short stories are the same. The story came to me, I felt the emotions, and then I wrote it quickly. When I adapted Tsering Norbu's short story "The Killer," the script was too short. It was only 5 or 6,000 characters. For a screenplay, you need 30 to 40,000. So in terms of content or length, it was not enough for a screenplay. I thought of my own short story, "I Killed a Sheep." It has many similarities with Tsering Norbu's story. Both take place on the road. So I mixed the two stories together and wrote the script. It was like that. To write a short story and then say to myself, "I could make a film out of it", I don't think about that. Short stories work in accordance with principles and literary feelings, and that's what guides my writing. But writing while telling myself that later I will adapt it to the cinema, no, I don't operate like that. But perhaps the two influence each other. I've studied a lot of films. I've seen a lot of films. So I guess when I write short stories, it influences me a little bit. In the same way, when I make a film, I am nurtured by my reading. And by my experience as a writer. I have written a lot. And when I shoot, it has an influence. I think it has an influence.
Françoise Robin is a Professor of Tibetan studies at the National Institute for Oriental Languages and Civilisations (INALCO), Paris. Through her studies of the contemporary Tibetan language literary and film scene, complemented by regular fieldwork in Tibet, she investigates social changes in contemporary Tibetan society as well as emerging trends in literature and cinema.
Phurwa Tsering is a Tibetan student at the National Institute for Oriental Languages and Civilisations (INALCO), Paris.
Lamo Dorjee was born in Amdo and was later predominantly educated in France. She has a Masters degree in International Relations from Warwick University (UK) and is currently based in Paris (France).
As Though Seen in a Picture
Tsültrim Zangpo
(Translated from the Tibetan by Chime Lama)
Snow falling on the gray earth,
And like a distant wayward wanderer,
I see from between tree branches,
A little bit of my own home.
I feel compelled to go there,
But a great river obstructs the way.
I see sunlight and redness.
Sadness leaves me behind like a soliloquy.
From between wavering white clouds in the sky,
A flock of little birds flies before me.
Recognizing that we share the same homeland,
A moment of perfect stillness passes.
From the vast deep ocean,
Coming from aboard the ship of beloved relatives,
Not yet seeing their mistaken view,
I cry a channel of grief-stricken tears.
Believing the picture of you brother,
To be one of a human,
And whatever ideas arise from that,
Know it is actually the tale of a vagabond.
(Written about a picture on 13 June 2020)
࿐པར་རིས་ཞིག་ལ་མཐོང་ཚུལ།
ས་གཞི་སྐྱ་ཐིང་ཁ་བ་བབ་པ་བཞིན།།
རྒྱང་རིང་འཁྱམ་པོ་གར་འགྲོ་ངེས་མེད་ངང་།།
ལྗོན་ཤིང་ཐར་ཐུར་བར་ནས་རྒྱང་ལྟ་བྱས།།
རང་ཉིད་འདུག་སའི་ཁང་ཁྱིམ་ཟུར་ཙམ་མཐོང་།།
འགྲོ་ན་འདོད་པའི་སེམས་ཀྱི་འཕེན་པ་མཆིས།།
ཆུ་བོ་ཆེ་བས་འགྲོ་ཐབས་དཀའ་བའི་ཕྱིར།།
ཉི་མའི་འོད་ཀྱང་དམར་པོ་ཉིད་དང་མཐོང་།
སྐྱོ་བའི་སེམས་ཀྱིས་ཁེར་གཏམ་བྱེད་བཞིན་ལུས།།
ཨ་སྔོན་དབྱིངས་ནས་སྤྲིན་དཀར་གཡོ་བའི་བར།།
བྱ་ཕྲན་ཆུ་ཚོགས་མདུན་གྱི་ཕྱོགས་སུ་འཕུར།།
རང་ཡུལ་གཅིག་པའི་ངོ་ཤེས་ཡིན་སྣང་ཤར།།
གཡོ་འགུལ་མེད་པར་ཇ་ཡུན་ཙམ་དུ་ལངས།།
གཏིང་ཟབ་ཆེ་བའི་རྒྱ་མཚོའི་ངོས་ཡངས་ནས།།
སྤུན་ཉེ་དགའ་བོ་གྲུ་གཟིངས་ཞོན་ནས་ཡོང།།
ལྟ་ས་ནོར་བས་ད་དུང་མ་མཐོང་བས།།
སྐྱོ་གདུང་མཆི་མ་ཡུར་ཆུ་བཞིན་དུ་ཤོར།།
མཆེད་པོའི་བསྐུར་བའི་པར་གྱི་རི་མོ་ལ།།
མི་ཞིག་ཡིན་པའི་ཚོར་བ་དངོས་འཛིན་ནས།།
དེ་ཡི་རྣམ་རྟོག་གང་ཤར་འདི་བཀོད་པས།།
འཁྱམ་པོ་ཞིག་གི་གཏམ་རྒྱུད་དངོས་དང་མཚུངས།།
 (༢༠༢༠་༦་༡༣་ཉིན་—— ཚུལ་བཟང་གིས།
པར་རིས་དེ་དང་འབྲེལ་བའི་རྩོམ་ཞིག་ཡིན་པའི་ཁུལ་ཡིན།)
An Offering of Pure Mind
Tsülrim Zangpo
(Translated from the Tibetan by Chime Lama)
Revered lama, revered lama.
Revered Compassionate Lama.
I offer you a white scarf.
I offer you worship from the heart of devotion.
Bestow the ripening blessing of my mind.
Revered parents, revered parents.
Revered gentle loving parents.
I offer you sweet milk tea.
I sincerely pray for your longevity.
There is the fortune of your smiling more widely than ever.
Revered friends, revered friends.
Revered kind friends.
I offer you ambrosia wine.
Let us join our harmonious hands together.
May your ultimate aim expand further than ever before.
(Written on August 2, 2019)
࿐དྭངས་བའི་ཡིད་ཀྱི་མཆོད་པ།
བླ་མ་ལགས་བླ་མ་ལགས།།
ཐུགས་རྗེ་ཅན་གྱི་བླ་མ་ལགས།།
ཁ་བཏགས་དཀར་པོའི་མཆོད་པ་ཁྱེད་ལ་འབུལ།།
མོས་གུས་སྙིང་ནས་གསོལ་བ་ཁྱེད་ལ་འདེབས།།
བྱིན་རླབས་རྒྱུད་ལ་སྨིན་པར་བྱིན་གྱིས་རླབས།།
ཕ་མ་ལགས་ཕ་མ་ལགས།།
བྱམས་བརྩེ་ཅན་གྱི་ཕ་མ་ལགས།།
འོ་ཇ་མངར་མོའི་མཆོད་པ་ཁྱེད་ལ་འབུལ།།
དུང་བའི་སེམས་ཀྱི་ཚེ་ཐག་རིང་བར་སྨོན།།
འཛུམ་མདངས་སྔར་ལས་རྒྱས་པའི་རྟེན་འབྲེལ་ཡོད།།
གྲོགས་པོ་ལགས་གྲོགས་པོ་ལགས།།
བཀའ་དྲིན་ཆེ་བའི་གྲོགས་པོ་ལགས།།
བདུད་རྩིའི་ཆང་གི་མཆོད་པ་ཁྱེད་ལ་འབུལ།།
མཐུན་པའི་ལག་སྡང་གཅིག་ཏུ་བསྒྲིལ་ནས་འགྲོག །
ཕུག་མདུན་བསམ་པ་སྔར་ལས་རྒྱས་པར་ཤོག །
(སྤྱི་ལོ་༢༠༡༩-༨་༢་ཉིན་དད་བརྩོན་ཤེས་རབ་ཀྱིས་བྲིས།།)
Khenpo Tsültrim Zangpo (Tib. ཚུལ་ཁྲིམས་བཟང་པོ།), also known as Détsön Sherab, was born in Tibet in 1985. He moved to India and studied at Palpung Sherabling Monastery for over a decade. Having carried out authentic training, he attained the title of Khenpo. Presently, he resides at the nunnery, Palpung Yeshe Rabgeyling as a lecturing khenpo who also upholds the standard of knowledge. 
Chime Lama is the Poetry Editor of Yeshe and the Co-Editor in Chief of the Brooklyn Review. She received an MA in Divinity with a focus in Buddhist Studies and Tibetan Language from The University of Chicago and an MFA in Poetry from the City University of New York (Brooklyn College) where she teaches as an adjunct lecturer in the English Department.
Transcending Boundaries: Curating a Digital Exhibition
Isabella Cammarota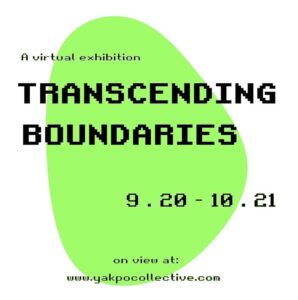 In 2020, like many others, my research project was affected by the pandemic. During this time, the internet was my only tool to access the world outside of my house. I spent a lot of time trawling through Instagram and, in this process, come across numerous social media accounts of Tibetan artists and creatives. At the same time, I was reading Shireen Walton's works on digital ethnography which played a pivotal role in my research methodologies. Her "reconceptualization of the field", in which fieldwork can be conducted beyond geographical space/presence, "with/in a country, community, or society from a location that is physically distant,"[i] pushed me to think about the role of digital media in the current developments of Tibetan contemporary art. In the summer of 2020, I came into contact with the Yakpo Collective, a group of young Tibetan artists and creatives based in New York City, whom I had encountered online. During this time, I collaborated with them as curator and editor in the installation of their digital exhibition "Transcending Boundaries". This paper is a collection of the data I have gathered during my participation in the exhibition and a reflection on the role of digital media in the objectives, methods, and curatorial practices adopted by the Yakpo Collective.
The Yakpo Collective was founded in 2019 by Tsewang Lhamo. As an emerging collective, their mission is to: "provide a platform for Tibetan contemporary artists to exhibit their artwork and present their ideas to a growing audience. Through this mission, we want to promote Tibetans taking back control of their narrative, rather than have other media outlets define and misrepresent our community."[ii] By providing a space for young upcoming Tibetan artists to exhibit and sell their work, the aim of the collective is to engender discussions about on how "immigration, intersectional identity, and generational trauma informs the shared Tibetan experience."[iii]
Their first exhibition "Tibetan Contemporary Art: The New Wave", was held between July 26th and July 28th, 2019 at the Here Now Space in New York City. After this exhibition, the core team of the collective was formed and its members are Tsewang Lhamo, Tsejin Khando, Kunkyi Tsotsong, Pema Dolkar, and TC Andrugtsang. The show had a great turnout and as a result, the collective's Instagram account started to gain a lot of traction. In 2020, the Yakpo Collective further built its social media following with the launch of the Spotlight Series, a series of interviews with Tibetan artists, on their Instagram TV.
Unable to organize their annual summer exhibition in person due to Covid-19 restrictions, the collective decided to experiment with setting up a digital exhibition, the theme being "Transcending Boundaries". Beyond the conceptual interest for the collective of trying out a new format, there were a number of practical reasons to choose to undertake an online exhibition. Without access to funding and other resources, a digital exhibition offered accessibility and flexibility. This is, most practically, due to the low start-up costs of digital technologies. Secondly, digital media offers the potentiality for wider distribution and visibility. For creatives such as Yakpo at the beginning of their careers, these qualities afford a level of autonomy, and potential success, that may permit to circumvent "the conventional route of traditional gallery representation that was paradigmatic of success in the world of contemporary art."[iv] Furthermore, as Walton observes when curating her digital exhibition on Iranian photoblogs, the transnational mobility a digital exhibition affords lent itself to geographically dispersed communities.[v] This struck the collective as one of the main advantages of installing a digital exhibition. The participation of the artists would not be limited geographically, and anyone, regardless of their resources, could submit their artworks online.
As the project started to take shape, a team was put together with collaborators based between New York, Kathmandu, and London. Spread across large distances and with travel restrictions in place, the organization, curation, and promotion of the project had to be held completely online. Each collaborator had a defined role, but during the progression of our Zoom meetings and conversations on the group chat these were dissolved into a fully collaborative enterprise. During the installation of the exhibition, everyone took part in communicating with the artists, selecting the artworks and curating the exhibition, overseeing the development of visual materials for marketing, writing press releases, conducting email marketing campaigns, posting on social media, and planning advertising strategies.
The first step in organizing the show was an open call on social media and inviting some of the artists the collective was already in contact with. The theme for the exhibition "Transcending Boundaries" was chosen. Offering a broad interpretation of the theme, we received a large number of submissions from artists from both inside and outside Tibet. Once we received the submissions, the concept of transcending boundaries took shape. The theme was informed by the conversations taking place among us isolated in our houses during the Covid-19 crisis and how technology has come to substitute physical interactions with the world. Through this exhibition, the collective decided to take advantage of the digital and give space to the artists to transcend notions of geographical boundaries when thinking about the Tibetan experience: "from tangible boundaries of physical touch to personal borders which dictate feelings of identity and belonging, the exhibition surveys the extension of this word."[vi]
The subsequent step was to choose the software for the exhibition. The vision was to create a three-dimensional space that replicated the experience of moving around a physical gallery but also took advantage of its digital nature to generate a space made specifically for the art. Tsewang Lhamo was in charge of this aspect of the curation and settled on the virtual gallery software "kunstmatrix". This tool allows the curator to create one's own personalised architectural exhibition space in three-dimensions and offers its online visitors a simulated version of a visit to the "real" galleries.[vii] However, as McTavish notes for the digital galleries of the Rijksmuseum, these are empty and the digital visitors do not so much "walk" through the space as occupy fixed positions in the centre of galleries and the walls rotate creating the illusion of moving their "head". Visitors can relocate to another fixed location but their experience of the gallery remains constrained by the predetermined viewing positions established by the software designers. The visitor's experience of movement is further restricted as the empty digital gallery is defined in exclusively visual terms.[viii] This is also the case for the "kunstmatrix" software and the space for the "Transcending Boundaries" exhibition was conceptualised as a single room with the artwork hung on its white-washed walls (Fig. 1).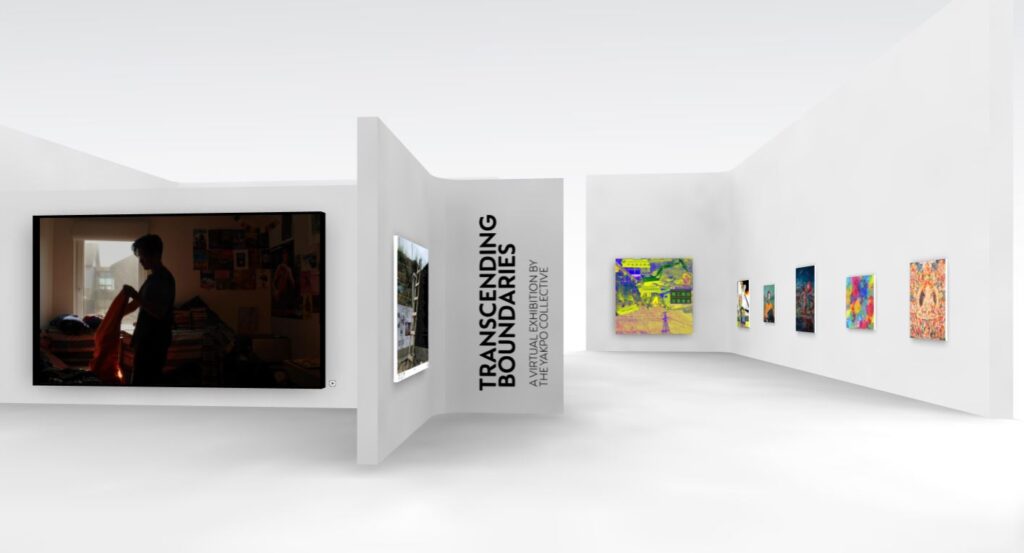 Once the exhibition space had been established, in the following meetings we selected the artworks and discussed how the works could illustrate the narrative of transcending boundaries.
Out of over forty submissions, thirty-one artworks were selected by thirteen artists from the US, Canada, Europe, India, and Tibet: Khenzom Alling, Tsering Nyandak, Kunga Choephel, Yangdzom Lama, Losang Gyatso, Tenzin Dawa (Lettering in Tibet), Phuntsok Lhagyal, Tshedzom Tingkhye, Kalnor, Luguma, Tenzin Kunsel, Tenzin Rabten, and Rigzin Taring. The process of selection aimed to provide a wide range of interpretations of the theme of transcending boundaries from diverse perspectives, methodologies, and aesthetic languages. Furthermore, it was important to the collective to present a variety of mediums, and painting, graphic design, photography, collage, dance, and film were included in the show.
The artworks were inserted in the space in both thematic – societal, personal, geographical barriers – and visual clusters, without being fixed on creating a precise narrative the visitor had to follow. One of the major curatorial concerns when putting together the show was the political nature of the artworks in a Tibetan context. As the digital nature of the exhibition meant it was open to a much wider and international audience, conscious decisions were made about not putting overtly political works next to works produced by artists living in Tibet.
In addition to selecting artists and putting the show together, there were administrative and marketing duties to be fulfilled. After the exhibition was finally set up, the Yakpo Collective was concerned with its promotion and how to get people to visit a virtual exhibition. We circulated a number of promotional emails to museums and organizations related to Tibet. As the collective is still very young and not fully established among the Tibetan community or the contemporary art world, the bulk of its promotion took place on their social media. Two posters were created by the team: one main poster with details on the exhibition (Fig. 2), and a group of posters with the artworks of each exhibiting artist for them to publish and promote on their social media (Fig. 3). Two promotional videos in English and Tibetan were also published which explained the significance of the theme, the general layout of the digital space, and how to navigate it. All of Yakpo's posts were shared by members of the collective, Tibetan, and art-related platforms, and on personal profiles.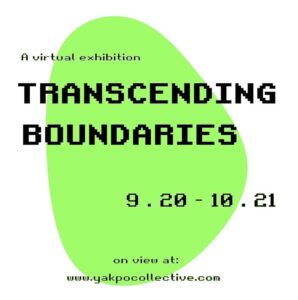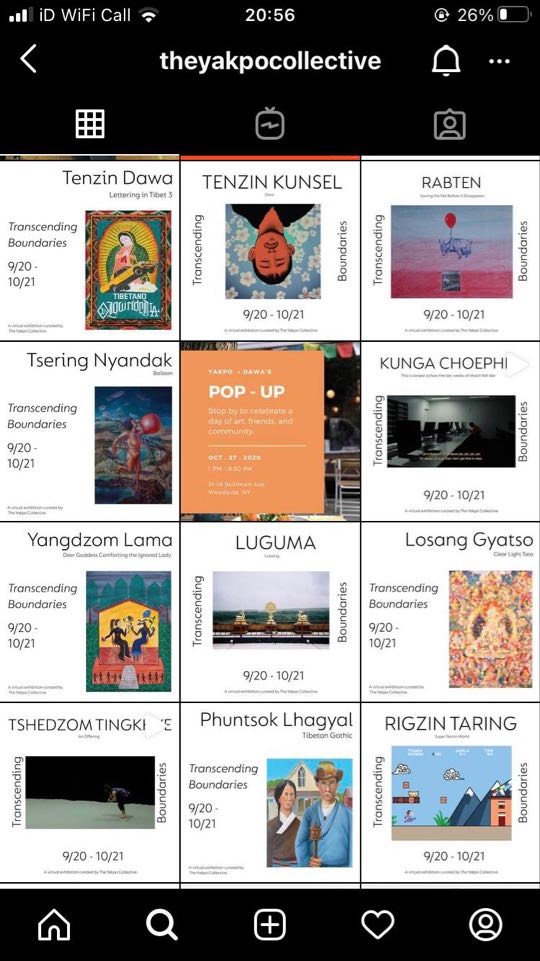 The exhibition was launched on September 20, 2020. As part of my contribution to the exhibition, I wrote a blog post that was published on the Yakpo Collective's website. For this project, I conducted interviews with some of the exhibiting artists to discuss what boundaries mean to them, and their experiences participating in a digital exhibition. Many of the artists, when reflecting on their involvement in the digital exhibition, emphasized how the digital format of the show presented them with the opportunity to transcend physical boundaries of isolation both geographical and mental and feel connected to a Tibetan community of creatives. Thus, the de-centralised nature of the internet permitted geographically dispersed people through social media to be introduced to each other, their work, and their networks.
It was a common feeling among the artists I interviewed that exhibiting beside artists from a diverse range of experiences and backgrounds served to both create a sense of shared identity and community and a place for everyone to reflect and define collaboratively on the development of Tibetan contemporary art. This engendered a distilled, world-creating environment for the Tibetan artists to inhabit. A part of this process is the collective's role in creating a digital archive, a public resource of Tibetan artists and artworks. With the exhibition still visible on the website and I would argue, more importantly, its related posts on its Instagram page, the Yakpo Collective's curatorial practices can control the trajectories of online circulation of Tibetan contemporary art and create a platform for Tibetan creatives to define a canon of their practice.
As shown, the experiences of the digital format of the exhibition revealed many positive aspects. However, in discussions with the members of Yakpo at the end of the exhibition, the digital nature lacked in its interactivity. Its format of an empty gallery meant that vising the exhibition was a solitary experience. McTavish argues that: "this isolation reinforces the notion that viewers should engage in singular encounters with artworks, focusing on them without distraction".[ix] The consensus was that this limitation took away from the personal and emotional experience of visiting the exhibition. The lack of a connection with the physical works also affected the number of sales of the exhibited artworks. Thus, if on one hand, the digital produced a more intimate space for interaction and networking within the Tibetan creative community, on the other it negated an interactive exhibition experience and failed to produce revenue for the artists and the collective. As selling artworks is one of the main concerns of the collective who seek to help young Tibetan artists establish themselves and make an income out of their creative work, this was a major drawback.
To conclude, the data I collected while collaborating with the Yakpo Collective on the "Transcending Boundaries" exhibition raised many questions about digital curation, the role of social media, and the advantages and disadvantages it brings when discussing the art of geographically dislocated communities, such as the Tibetan community. With visitors from over thirty countries according to the analytics, the digital format of the exhibition made it possible for a much bigger and more international audience to come in contact with the Yakpo Collective's project. The collective might still be young and not fully established whether in the Tibetan community or the art world, and it is difficult to ascertain its role in the grand scheme of Tibetan contemporary art however, I suggest that their use of social media is a fundamental step towards a collective storytelling of Tibetan experiences. This takes place through their collaborative approach as a collective. With everyone taking part in the curatorial decisions of the exhibition, the practice expanded and evolved beyond the conventional duties of a curator of selecting, organizing, and presenting artworks. In Yakpo's case, a major component of the curatorial process was their significant employment of social media. Its main purpose might have been promotion, but the archival and public nature of Instagram has engendered the possibility of an explicit site of reconstruction for the Yakpo Collective to collaboratively narrate with the artists they platform their story of Tibetan contemporary art.
Finally, I would like to thank all the members of the Yakpo Collective for not only letting me be a part of this project but also for sharing their time and thoughts with me to discuss together their work and experiences as artists and as members of the collective.
---
Notes:
[i] Walton 2017: 151-152
[ii] https://www.yakpocollective.com/blog/tibetan-contemporary-art-the-new-wave
[iii] Ibid.
[iv] https://anti-materia.org/circumventing-the-white-cube
[v] Walton 2017: 161
[vi] https://www.yakpocollective.com/transcendingboundaries
[vii] https://artspaces.kunstmatrix.com/en
[viii] McTavish 2005: 232-233
[ix] Ibid. 233
Works cited:
McTavish, L. 2005. 'Visiting the virtual museum: art and experience online'. In J.Marstine (ed.) 2005. New Museum Theory and Practice: An Introduction. Oxford: Blackwell's, pp. 203-225. 
Walton, S. 2017. 'Being there where?' Designing Digital-Visual Methods for Moving With/In Iran' in Salazar, N., Elliot, A., and Norum, R., (Eds.), Methodologies of Mobility: Ethnography and Experiment. New York: Berghahn Books, pp. 148-171.
Wallerstein, W., 2018. Circumventing the White Cube https://anti-materia.org/circumventing-the-white-cube. (Accessed 14 February 2021)
The Yakpo Collective website https://www.yakpocollective.com/ (Accessed 14 February 2021)
Kunstmatrix website https://artspaces.kunstmatrix.com/en (Accessed 14 February 2021)
Isabella Cammarota has just completed her MPhil in Tibetan and Himalayan Studies at the University of Oxford.


The Tibet Memory Project: A Photo Essay
Tsering Topgyal and Tsering Choephel
Thousands of black and white family photographs lie hidden in the households of exile Tibetans scattered around India, Nepal, and Bhutan. They echo individual narratives and the dreams, aspirations, and struggles of the first generation of exile Tibetans. Some are neatly framed and occupy a place within the meaningful order of the household, while others are sympathetically tucked into photo albums on top of shelves and inside cabinets as if to rescue them from the decay of time. What stories do these photos speak of? How do various individuals recall these stories or their own past? In what ways do such old family photos create belongingness and a sense of 'home' for Tibetans in exile? Perhaps home is not only found in geographical spaces, but also in the things we 'keep'. We belong to things as much as they belong to us.
The Tibet Memory Project documents stories of the first generation of Tibetans in exile, through their old personal photographs and fading memories, to build individual narratives into a collective history.
In this short photo-essay, we present three family photographs accompanied by their stories. These photographs were taken in photo studios in the 1960s and 1970s and after excavating abandoned negatives or photographs from these studies, we elicited their stories behind these families using the image. Together these images and narratives seek to counter the monolithic narrative of Tibet and Tibetans. Instead, they seek to highlight the diversity of experiences and lived realities of Tibetans in exile as well as the strands that connect us to 'home'.
Sonam Jordhen (Tenzigang, Arunachal Pradesh)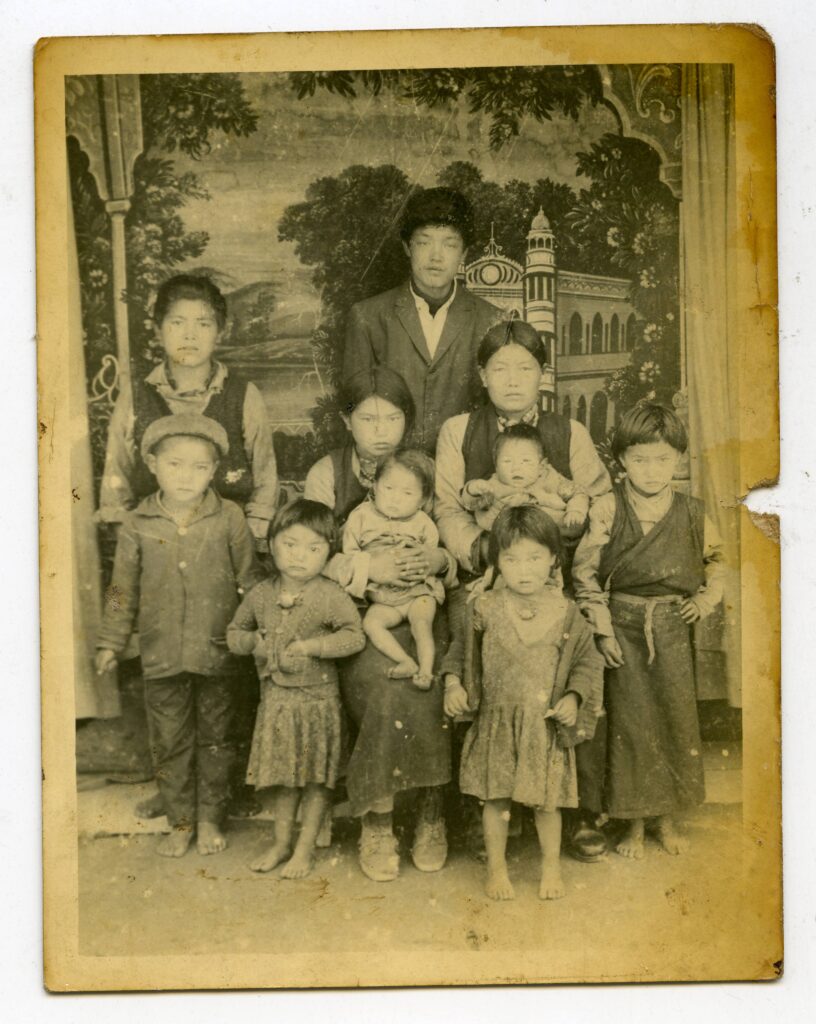 "My elder brother went missing during the 1962 Indo-China war. In the chaos of fleeing, he was separated from us in Tawang. We searched for him for a long time but couldn't find him. Then in 1971, he accidentally found us. When he was separated from us, an officer called Chashoe from the Assam Rifles, who knew my father, found my brother, and took him in. The officer went to our house at the time looking for us, but we had already fled. So, he took care of him. Later he sent my brother to school until 7th or 8th grade. After that, he enrolled him in the Indian army. In 1971, after he had completed his military training, he was passing through Bomdila. By a stroke of luck, he ran into our younger brother. He didn't recognize our younger brother but did however recognize the clothes he was wearing. Our parents used to always dress us all in similar clothes. And upon seeing the same clothes that he used to wear, he asked the boy his name and the name of his parents. He was so happy. That's how we were reunited."
Today, Sonam Jordhen is 70 years old and lives with his wife in Tenzigang Tibetan settlement in Arunachal Pradesh. He was born in Tsona, western Tibet. The family fled into exile, India in 1959 when Sonam Jordhen was only six years old.
Tsering Drolma (Dharamsala, Himachal Pradesh)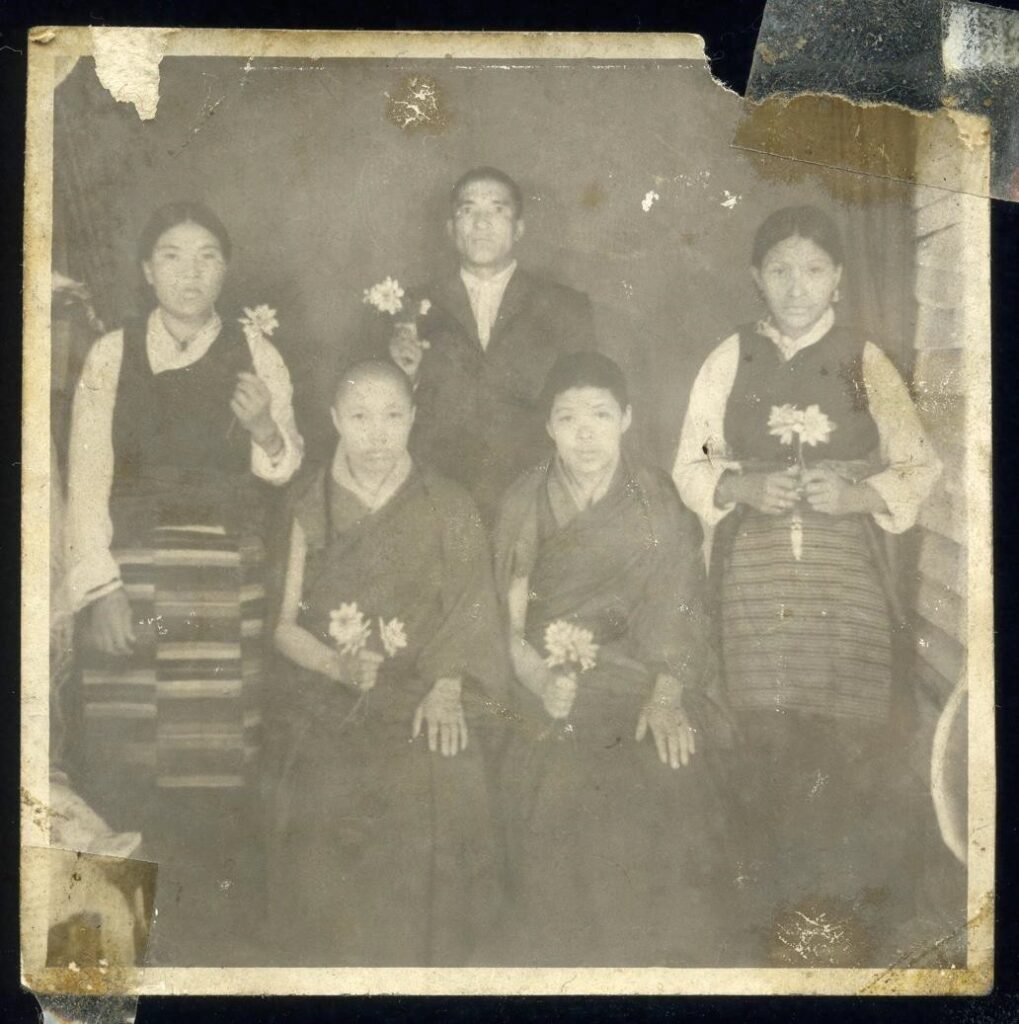 "There were seven households in our village Sima in Kyirong. Our family was the largest one. When we were going to renovate our house, we hired a renowned wood maker from Dra village. He arrived with his son Ngodrup. They lived and worked in our house for over a month. During this time, his son and I began a relationship. After they left our village, I received many marriage proposals, one after another. Four families were asking me to marry their sons. But I wasn't interested. One of the families even came with threats, saying they would force me into marrying their son. When women didn't accept marriage proposals, it was a common practice to force them into marrying. So, one night I ran away from home and to Nepal, where Ngodrup was at a business trip at the time. From there, we travelled to Darjeeling and then to Kalimpong where job prospects were much better. For the first few months, we worked as porters. In Kalimpong, there were a large number of traders from Tibet and Bhutan. One time, we even carried the luggage of mountaineer Sherpa Tenzin Norgay, all the way to Shasingma (Yatung). There were many Chinese at Shasingma, making roads in the area. After some time, a monk gave us the idea that we should try selling chai (tea) at the bus station. So, we set up a small tea stall at the station and sold tea and snacks. It was quite a good business. Months and a year passed by. I was feeling homesick. On many nights I would cry and cry, dearly missing my mother. So, my husband said, "if you miss your mother so much, then let's go back home." So, we left Kalimpong for Nepal. We contacted our family and the Dzong (local administration) in Kyirong. A certain amount of fine was given as punishment, and we were able to return home."
Today, Tsering Drolma is 92 years old and lives in Dharamsala. Her husband passed away many years ago. Following the Chinese occupation of Tibet, she fled to Nepal in 1960 with her husband and in-laws. After spending two years in a large rehabilitation camp in Trisili, a border area between Kyirong and Nepal, they travelled to India and took up road construction in Shimla. The family worked as roadbuilders in Shimla for six years. When the 14th Dalai Lama's main temple in exile, the Tsuglagkhang, his residence, and Namgyal monastery was to be built towards the late 1960s, skilled Tibetan craftsmen, like Mola Tsering Drolma's father-in-law, were called to Dharamsala. Mola Tsering Drolma and the rest of the family followed him and settled down in Dharamsala.

Choephel Tsetan (Darjeeling, West Bengal)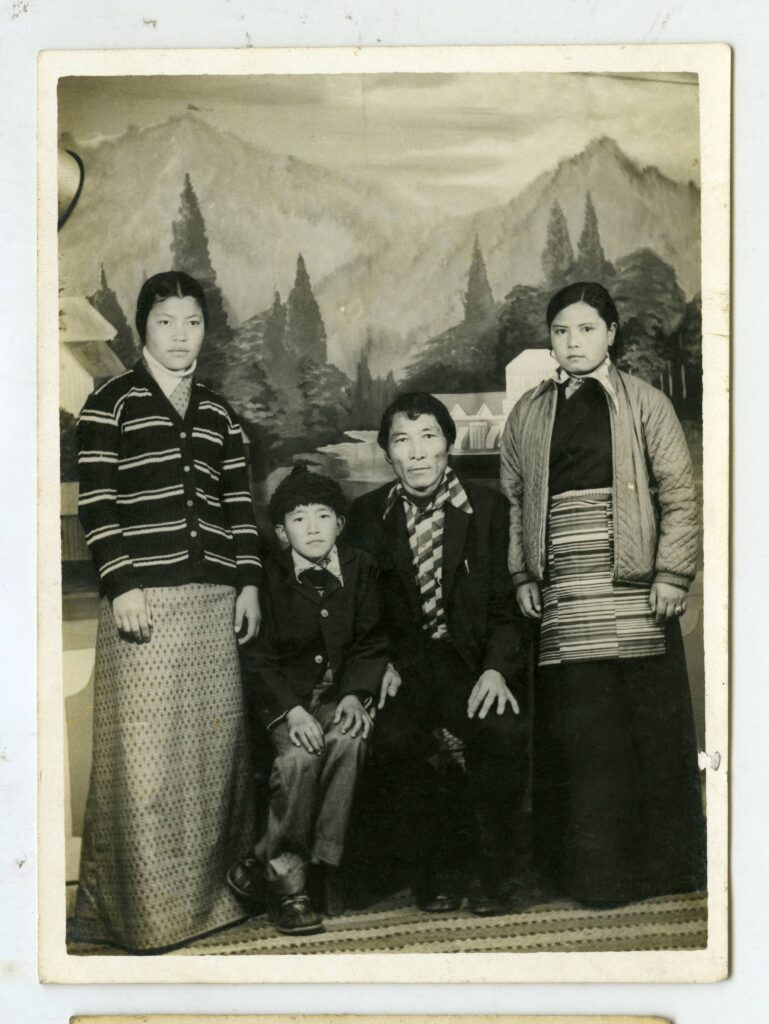 "When I left the army, I was worried about what to do next because I had spent all my life either as a monk, or in the army. I didn't have any experience of farming or of doing business. My command of Hindi was neither good. Following the suggestion of friends, I started doing seasonal sweater business. In the first year, I naively purchased stylish and colorful clothes of my own liking. Forget profit, the business didn't even cover the expenses of that year."
Choephel Tsetan was born in Damchung, central Tibet. He fled into exile in 1959 with fellow monks from Drepung Monastery. Today, he is 86 years old and lives in Darjeeling with his two wives. Together, they have four children. During the seasonal sweater business in the winter months, he runs two shops in two different markets in the state of Gujarat, India. He also owns four shops in Dimapur in Nagaland, which he leases to others.
Tsering Topgyal and Tsering Choephel are independent photographers and storytellers based in New Delhi, India.
Exhibition Review of Performing Tibetan Identities: Photographic Portraits by Nyema Droma
Chukyi Kyaping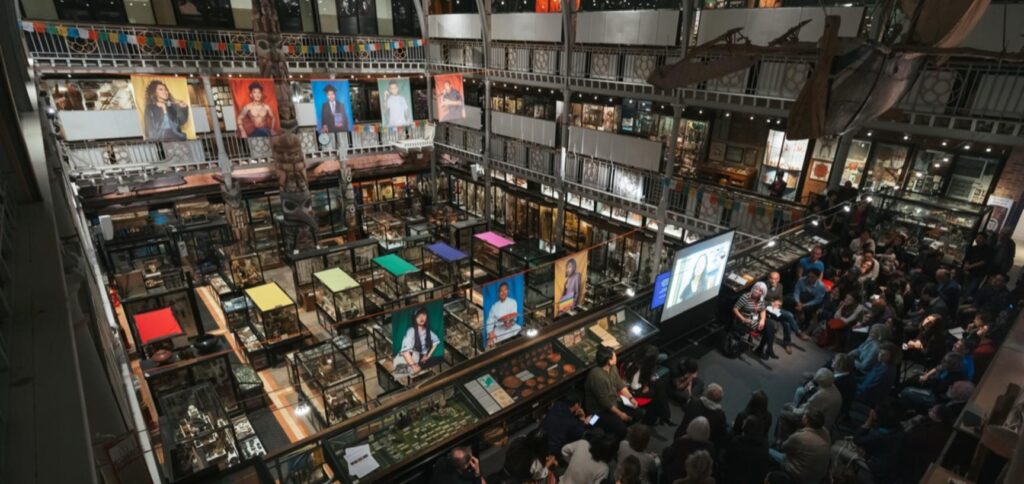 Following the British invasion of Tibet in 1903, trade agents and frontier officers took advantage of their lucrative positions to accumulate vast collections of visual and material culture (McKay 68). Though the empire's physical presence in Tibet became untenable by 1947, Britain "resorted to reconstructing Tibet elsewhere" and these collections were subsequently used to equate territorial control with the capacity to display Tibetan culture in museums (Harris, Photography and Tibet 10). Tsering Shakya duly notes that with the absence of native voices, Tibet has "remained an anachronism [from] the age of imperialism" (22).
In Performing Tibetan Identities, Nyema Droma critically engages with the Pitt Rivers Museum's historic collection through her photographic portraits. The exhibition successfully employs interrogative and indigenous museology to create a visual dialogue between the dynamic (con)temporary exhibition and the taxonomically static permanent displays. With native agency embedded throughout the development process, it is a powerful demonstration of the potential capacity for ethnographic museums to simultaneously learn from its past, represent the present, and imagine its future.
The photographic medium has historically functioned as a tool of imperialism to stage a wide perceived distance between the photograph's subjects (the colonised) and its consumers (the colonisers) as a means to justify cultural and/or biological superiority (Mitchell 297). The ethnographic photographs in the Pitt Rivers collection, as with many other collections in Britain, share a compositional uniformity, which primarily served to highlight physical and cultural variation. This method directly led to the compilation of 'ethnic types', wherein the complexity and individuality of ethnographic subjects came to be viewed as obstacles to an institutional praxis rooted in reduction and simplification (Harris, Museum on the Roof 87).
This is reinforced by the inherent power imbalance between the photographer and those photographed—implicit in the term 'subject.' Photographs simultaneously embody and defy space and time, exhibiting "relentless pastness, yet timelessness" (Edwards 129). Therefore, photographic subjects and their cultural descendants are ascribed to an imagined and constructed past (133). However, instead of simply removing outdated and incorrect information, ethnographic museums stand to gain more from showing how the images have been "perceived, identified, understood and articulated" over time (137).
Supported by the Origins and Futures Fund (Indigenous Researchers and Artists Programme), Nyema Droma studied over 5,000 photographs taken by British officers in Tibet over the first half of the twentieth century. Particularly drawn to a set of glass plates taken in 1920s Lhasa, she immediately noticed that the positive and negative slides of each photograph almost appeared to depict different people. This observation inspired Droma to create double portraits of young Tibetans in their daily wear (polychrome) and in their 'traditional' clothing (monochrome), with the aim to disrupt stereotypes and the erasure of individual identity.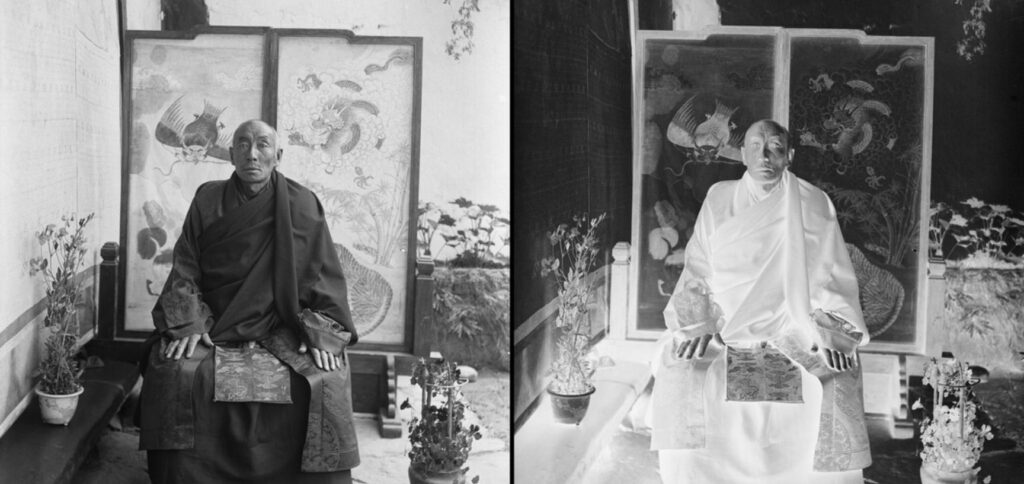 Thupten Kelsang argues that meaningful "engagement between Tibetan material culture and the Tibetan community" must become institutional praxis for museums to successfully decolonise their collections (130). While it is a promising start, the discourse on 'source communities' is still predicated on the term's reduction of these groups to their value as knowledge repositories. Kelsang aptly contends that this leads to Tibetans acting as 'sherpas' for non-Tibetan scholars — referring to the Himalayan ethnic group known to guide Western tourists climbing Mount Everest (130). Therefore, the traditional role of a curator as a scholarly guardian of material culture needs to transform into a more public-facing and people-centered position.
In this vein, Clare Harris and Nyema Droma generally chose to forgo the typical boundaries which distinguish their respective roles as curator and artist-in-residence. Instead, their more equitable dynamic as co-collaborators of the exhibition has resulted in some highly innovative methods to interrogate and reanimate the museum's contentious space. For instance, Harris and Droma took full advantage of the Great Court's hyper-visibility with the bold suspension of eight double-sided banners above the permanent collection. Carefully selected for their relative compositional dynamism, these large portraits immediately catch the eye upon entering the museum.
The exhibition continues into the Long Gallery, where the remaining portraits are paired with a video montage of Droma interviewing her photographic subjects. Directly overlooking the Great Court, a digital screen on the upper level juxtaposes the glass plate slides with the double-sided banners. This orientation visually contextualises the temporary exhibition within the permanent photographic archive—a first for the museum.
Furthermore, the incorporation of indigenous museology serves to bolster the exhibition theme. In the Long Gallery, two pillars frame the portraits against walls of maroon and mustard yellow — a stylised take on the traditional aesthetic found in many Tibetan Buddhist monasteries. In addition, Droma utilises the five primary colours found in Tibetan prayer flags as her portrait backgrounds, and the suspended banners clearly emulate the horizontal flags (lung ta).
However, they do not follow the typical colour arrangement (blue – white – red – green – yellow). The white colour is instead represented on the reverse monochromatic side of the portraits, modelled after the glass plate negatives. This deliberate break can be interpreted as a challenge to the popular perception of Tibetan culture as incompatible with change and innovation. The dual 'performances' in the double-sided banners also function similarly to Tibetan scroll paintings (thangka), where sacred prayers of consecration on the reverse are traditionally hidden from public view. This is echoed in the portraits depicting daily wear on the front side and the seldom worn (and arguably more sacred) Tibetan outfits on the reverse side.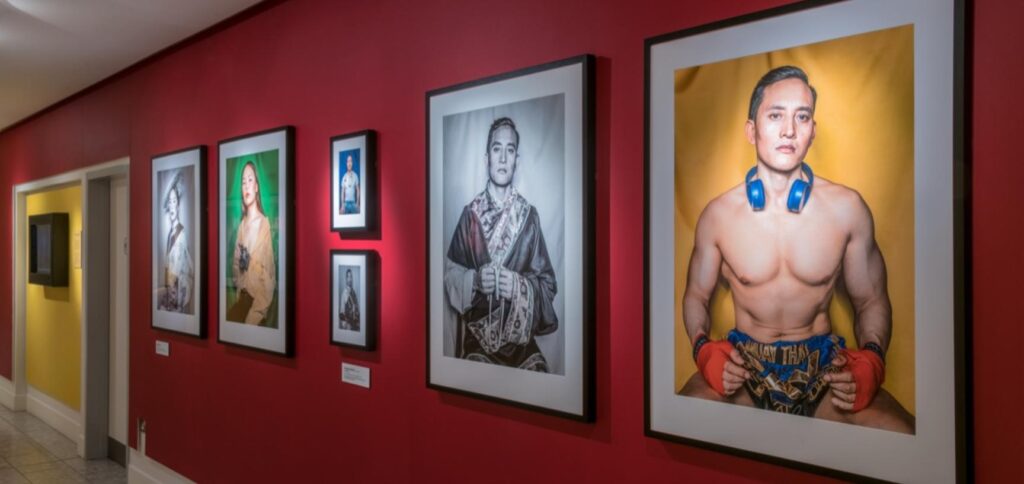 However, the external imposition of cultural legitimacy continues to be an issue for Tibetans who prefer to be seen as global citizens. Clare Harris recalled that some visitors ultimately could not reconcile their own subconscious idea of Tibetans largely remaining incapable of cultural nuance with the cosmopolitan hyper-individuality present in the portraits — a poignant reminder of the enduring colonial gaze.
As emphasized by the title of the exhibition, Droma explores a plurality of Tibetan identities. While those depicted in the glass plates primarily held positions of religious and/or political power, Droma promotes inclusivity of individuals often demographically marginalised by notions of a 'collective Tibetan identity,' such as Tsering Thondrop (a trans woman) and Kesang Ball (of mixed-race heritage). Moreover, the glass plate labels anonymised and dehumanised subjects, reducing them to their societal function. In contrast, the exhibition labels include the subject's name (in both English and Tibetan), occupation, location, and a quote discussing their identity and sense of belonging.
Sonam Tsering: "I don't feel my Tibetan identity is defined by whether I wear traditional clothes or not."
Karma Ermchi: "Being a Tibetan is about culture; a way of living, a language, a custom."
Tashi Namtso: "Tibetan identity for me is about religious beliefs, ties to traditional cultures and land, and a natural warm heartedness."
Kesang Ball: "I actually used to dis-identify myself with Tibet because of the society I lived in."
Droma reflects on her transcultural journey from Lhasa to London and back, remarking that the "people in my photos may be others, but what I perhaps want to really portray is myself" ("Young Tibetan Photographer Nyedron"). In her own portrait, she wears Tibetan men's clothing, to simultaneously mark the fluidity in her cultural identity as well as her gender role, as a female Tibetan photographer in a profession dominated by Western men.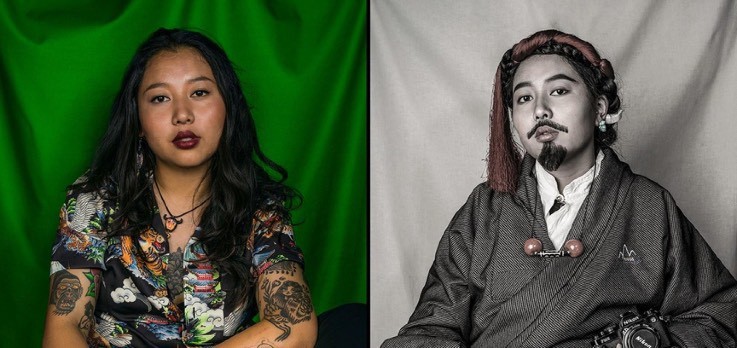 Reciprocating her agency onto the individuals in her portraits, Droma challenged her subjects to experiment with 'self-fashioning' — in other words, the expression of cultural identity through dress and objects ("Performing Tibetan Identities"). While some corroborated popular markers of Tibetan culture, others chose to reject them. As a result, the portraits seem to ask, "which of these versions of myself fits your stereotype best?" (Harris, Museum on the Roof 251). Nyema Droma's portraits ultimately celebrate the creative agency of young Tibetans who refuse to remain perpetual victims of their past representation.
Historically, the "Tibetan body (augmented with objects signifying Tibetanness) bore the brunt of representing the mystique of Tibet" when the land itself was inaccessible (Harris, Museum on the Roof 96). While some museums have entirely removed problematic displays in favour of more socially relevant exhibitions, many ethnographic museums seek to capitalise on their existing collections (Harris and O'Hanlon 10). Focusing on self-reflection and contextualisation, these museums argue that it is imperative to "exhibit the problem, not the solution" (Karp and Kratz 281). But the Pitt Rivers Museum's Performing Tibetan Identities exhibition simply asks: why not both?
The results prove to be positive and fruitful for both the museum and the Tibetan community, as both strive to cement their place in the age of modernity and multiculturalism. Clare Harris and director Michael O'Hanlon argue that museums can be "therapeutic institutions and places where communities that have previously been excluded can gain recognition through representation" (12). Therefore, while the physical repatriation of Tibetan material culture may not yet be possible, this exhibition successfully highlights the potential for visual or representational repatriation.
Works Cited:
Edwards, Elizabeth. "Some Thoughts on Photographs as History." Seeing Lhasa: British Depictions of the Tibetan Capital 1936-1947, edited by Clare Harris and Tsering Shakya, Serindia Publications, 2003, pp. 127-139.
Harris, Clare. Photography and Tibet. Reaktion Books, 2016.
– – -. The Museum on the Roof of the World: Art, Politics, and the Representation of Tibet. University of Chicago Press, 2012.
Harris, Clare, and Michael O'Hanlon. "The Future of the Ethnographic Museum." Anthropology Today, vol. 29, no. 1, 2013, pp. 8-12.
Karp, Ivan, and Corinne A. Kratz. "The Interrogative Museum." Museum as Process: Translating Local and Global Knowledges, edited by Raymond Silverman, Routledge, 2015, pp. 279-298.
Kelsang, Thupten. "Object Lessons from Tibet & the Himalayas." HIMALAYA, vol. 37, no. 2, 2017, pp. 128-130.
McKay, Alex C. "'Truth,' Perception, and Politics: The British Construction of an Image of Tibet." Imagining Tibet: Perceptions, Projections, and Fantasies, edited by Thierry Dodin and Heinz Rather, Wisdom Publications, 2001, pp. 67-89.
Mitchell, Timothy. "Orientalism and the Exhibitionary Order." Colonialism and Culture, edited by Nicholas B. Dirks, University of Michigan Press, 1992, pp. 289-317.
"Performing Tibetan Identities: Photographic Portraits by Nyema Droma." Pitt Rivers Museum, 2018, https://www.prm.ox.ac.uk/event/performing-tibetan-identities
Shakya, Tsering. "Tibet and the Occident: The Myth of Shangri-la." Lungta, 1991, pp. 20-23, https://info-buddhism.com/Myth_of_Shangri-Ia_Tsering_Shakya.html.
"Young Tibetan Photographer Nyedron." High Peaks Pure Earth, 30 Sep. 2018, https://highpeakspureearth.com/young-tibetan-photographer-nyedron-its-not-the- tibet-you-imagine-but-its-just-as-cool/.
Chukyi Kyaping is an art historian and recently completed her MA in Museum Studies from the School of Oriental & African Studies (SOAS).
Editorial
Conceived and founded less than a year ago after the first wave of the pandemic, we are delighted to bring from our quarantine caves the inaugural issue of Yeshe: A Journal of Tibetan Literature, Arts and Humanities.
This journal is a natural outcome of the expanding field of Tibetan literature and arts in terms of both its production and growing scholarly interest in the area in the last two decades. Yeshe is thus divided into two broad sections—literary and academic—with an equal emphasis on each, and a nexus between Tibetan writers/artists and dedicated scholars/translators. While the content in the academic section is sieved through the rigorous process of double-blind peer review, the literary sections are carefully curated by our seasoned editors, who have also gone the extra mile in translating into English some of the meritorious Tibetophone and Sinophone submissions we received.
Tsering Wagmo Dhompa's essay "Against the Grain of History: Mutiny at the Ockenden School" is the first study of an important but forgotten incident at Ockenden School in India. Through an analysis of newspaper reports, letters, and pamphlets from the mid-1960s, the paper delves into the inner life of the Tibetan exile community with its own center/margin political space. Included in the article section is also the first-ever English translation of Chimay's celebrated autobiographical verse poem "The Ring," which Lama Jabb presents in his essay "The Immortal Ring of Samsara and Poetry." Alongside his translation, Lama Jabb offers a critical appreciation of the poem's imagery, its lyrical and technical aspects, its emotional and intellectual intensity, and the way it employs a figurative use of language to transcend suffering and counter forgetting. An enduring concern of modern Tibetan literature—how Tibet and its traditions ought to engage with the modern world—is investigated by Christopher Peacock in his essay "From the Yeti to the Ape-Man," in which he examines the juxtaposition of scientism and superstition in Döndrup Gyel's translation of Tong Enzheng's "The Magic Flute of the Snow Mountains." Placing Döndrup Gyel's own works alongside Tong Enzheng's story, Peacock considers what interest a seemingly obscure work of Chinese science fiction may have held for one of modern Tibet's most influential writers.
In the art section, Chukyi Kyaping provides a critical review of Nyema Drolma's exhibition titled Performing Tibetan Identities and explores larger issues around museum representations of Tibet. Isabella Cammarota's "Transcending Boundaries: Curating A Digital Exhibition" takes us behind the scenes of the Yakpo Collective's first group exhibition and the process of its curation. Delhi-based photographers and storytellers Tsering Topgyal and Tsering Choephel share a photo essay with commentary on the premise of the Tibet Memory Project while providing examples of the stories they collect and record.
Our book review section is yet another affirmation of the increasing expansion of Tibet Studies and the crucial role that publications like Yeshe can play in amplifying new works in the field. Sample from the latest releases Ruth Gamble's The Third Karmapa Rangjung Dorje: Master of Mahāmudra, praised by Matilda Perks for its "compact, erudite introduction" to Rangjung Dorje, or Lucia Galli and Franz Xaver Erhard's edited volume The Selfless Ego: Configurations of Identity in Tibetan Life Writing, which Jed Forman hails for its "Durkheimian methodology that conceptualizes the biography as providing some functional purpose within the Tibetan sociological context." Kamila Hladíková highly recommends Tsering Woeser's Forbidden Memory: Tibet During the Cultural Revolution for its "rare photographic material along with hardly available archivalia and oral testimonies." Kati Fitzergald ferrets out, for the attention of readers, sections previously unpublished in Donald S. Lopez's Gendun Chopel: Tibet's Modern Visionary. Jyoti Deshwal discusses the late Tsering Wangyal's posthumously published novel Another Place for its "attempt to locate, temporally and spatially, the de-territorialized Tibetan community." Finally, Kalsang Yangzom highlights how Tenzin Tseyang Gonsar's Dogs of TCV: A Collection of Stories recreates through fiction the experiences of the exile-born generation of Tibetans.
The prolific exile Tibetan writer Tsering Wangmo Dhompa speaks candidly about her writings and how the pandemic has felt strangely familiar to her: "the kind of solitariness and aloneness that some of my friends feel during the pandemic, I have always felt that." We also hear from Pema Tseden about the trajectory of his filmmaking career, with occasional references to how it differs from writing, in a fascinating interview with Phurwa Tsering and Françoise Robin.
Pema Tseden also appears in the fiction section with one of, what our interview and fiction editor Tenzin Dickie calls, his "on-the-road stories." Titled "I Killed a Sheep" and translated by Riga Shakya, this is a strange and irony-laden piece in which a truck driver takes a sheep that he accidentally killed to a lama for its last rites as a form of penance only to leave us wondering about the sincerity of that penance. Human irrationality and irony also surface in Akyab Dhargye's "The Black Yak," the story of a Tibetan herder trying to sell his prized yak on the black market in the dead of night. This piece, translated from the Tibetan by Holly Gayley and Tsewang Dorjee, is a sharp commentary on the Serta monastery's ethical reform movement, which seeks to encourage vegetarianism among Tibetan nomads. Sangdor's "Popping Over One Hundred Painkillers All at Once," translated from the Tibetan by Lowell Cook, foregrounds disillusionment with life itself as the narrator looks back at the life of a monk-turned-macho friend who committed suicide, leaving his friends speculating if AIDS played a role in his death. Adding to the linguistic variety of Tibetan fiction, N. Dhargyal's Anglophone story "The Tarzan of Kham Kathok" takes us to a small Tibetan settlement at a remote location in India. Chocho Dawa, who claims to have seen the popular Bollywood film Tarzan at least ten times, begins to act out the story for the children—but his dramatic re-enactment does not end well.
The incongruities between Tibetan and non-Tibetan worlds that we see in N. Dhargyal's story are further highlighted in Huatse Gyal's "XXX or FNU? Musings on Tibetan Names Abroad," included in the prose section edited by Christopher Peacock. Huatse Gyal's essay concerns all those "names that are being torn apart, degraded, and erased" due to the necessity of uniform documentation in the modern world. The essay, at once personal and political, offers us a humorous, painful, and deeply insightful take on the ways in which Tibetans are constantly forced to adapt themselves to the major culture—whether in China or the West. In an equally contemplative but philosophical mood, Long Rinchen's "A Singer in Simple Clothing," translated from the Chinese by Brantley Collins, reflects on the author's upbringing in the grasslands and ponders what we humans can learn from the natural world. The essay, accompanied by Long's own accomplished photographs, imbues the reader with the author's passion for birds and life on the grasslands while leaving us with a bittersweet sense of how much is lost when the country is traded for the city.
The poetry section, expertly curated by Chime Lama, brings us right up to the present with new poetry and sketches byJangbu. The poet wrestles with the frustrating quietude of pandemic-living and asks, "Why is it that the darkness is darker than before, in the aftermath of the light?" The haunting spirit of darkness is also seen casting its shadow in other poems: we have the dizzying onomatopoeic lines of Sangdor's Tibetophone poem "Liquor Bottle (Dizzy in a Karaoke Bar)," and the resistant silence in Nangsa Söyang's Sinophone poem "In Tibet, Just Be a Stone." Two other sensational Sinophone Tibetan poets—Pema Nordrön and Pema Yangchen—search for the female archetype and the ever-elusive Tibetan song in their respective poems. Chen Bhang and Sinpo take us from heartache to intense yearning for love, and Tsültrim Zanpo and Zhabkar Tsokdruk Rangdröl transport the readers to the subtle shades of nature. In Chal's "Impressions," one feels the slow but sure movement of time as home begins to grow on the poet. Tsa's "Time in Broken Branches" also foregrounds the potency of time with the trigger of memory and consciousness by "a reddish light" that "flickers in one of Dechen Dabdrön's eyes." And in Da Tsenpo's "Scribbles between Shanghai and Hangzhou," where the poet moves between things, places, and people to finally arrive at the poem, one gets to know what is popularly called Tibet's Third Generation Poetry. The work of these Tibetophone and Sinophone Tibetan poets was translated for Yeshe by Lowell Cook, Peter Woods, Lama Jabb, and our in-house editors. Turning to those who write Tibet from the Anglophone world, Lekey S. Leidecker's two poems in English echo the concerns of poets in Tibet by moving between the uncertain future of Tibetans in the West and the necessity to prepare for the arrival of the impossible moment in the lives of the exiles.
Yeshe, along with its parent organization the Tibetan Arts and Literature Initiative (TALI), is an independent journal and wouldn't be possible without our passion-driven, self-motivated, and dedicated team of editors and webmaster. Our advisory board members also brainstormed with us on the journal's title, logo, and other aspects of its production. We are grateful to the peer reviewers, whose names must remain anonymous, for giving us their precious time and critical feedback. Gratitude is also due to Nortse and Rossi & Rossi Gallery for the cover image, selected by our art editor Thupten Kelsang.
Finally, we wish to thank each contributor for trusting our journal to house their respective works. We truly hope this debut issue of Yeshe will encourage and facilitate scholars in the field of Tibet Studies as well as Tibetan artists and authors in showcasing their meaningful works.
Patricia Schiaffini-Vedani and Shelly Bhoil
Founding editors
 Against the Grain of History: Mutiny at the Ockenden School
Tsering Wangmo Dhompa
Abstract: The question of whether Tibet was independent of China has shaped the construction of the national subject for both China and Tibet. This essay turns to newspaper reports, letters, and pamphlets produced by Tibetan refugees and Tibet supporters in the mid-1960s to tell the story of a revolt by thirty Tibetan students at Ockenden School in Dharwar, India––among the first schools established in exile–– for being taught the wrong kind of national history. The story enters the inner space of Tibetan exile life and demonstrates how the formation of the exile government produced its own center/margin political space.
Keywords: Bon, Ockenden School, alternate histories, national narrative, unity
Malcolm Dexter and Sangye Tenzin, teachers at Ockenden School in Dharwar, Karnataka (India), did not realize when they set off on an excursion to the bazaar on 29 April 1966 that their students were planning a surprise for them. Two days after the incident, Dexter, who was the headmaster, wrote a letter to the school's founder Joyce Pearce in Surrey, England, describing it as the most difficult and important letter he had ever written. Twenty-five students had abruptly left the school with their bedding, uniforms, and even textbooks! "Sangye and I were absolutely heart-broken," Dexter writes (May 1). Recalling the incident after their return from the bazaar, he mentions that several students had refused to do their afternoon garden duties and held a meeting in the evening to discuss their complaints against the school. Dexter had decided to expel the ringleaders—six students in all—and suspected that they were abetted and led to this revolt by one of the two Tibetan teachers, Gyaltsen Choden and Kelsang Liushar, at the school.[1] Hinting at the play of complex religious and political machinations, Dexter explains to Pearce in the same letter on May 1 that what it boiled down to was Sangye Tenzin's Bonpo identity (from the Bon religious practice that pre-dated Buddhism in Tibet and had been long relegated to the margins in Tibetan society).
The Ockenden School was set up in 1965 by the Ockenden Venture, a charity organization founded by three schoolteachers from Surrey. Established under the 1940 War Charities Act, the organization's first humanitarian aid was focused on young East European refugees following World War II. The charity's scope was amended in 1962 to support displaced children beyond Europe after one of its founders, Joyce Pearce, advocated to assist Tibetan refugees in India. Ockenden's goal was to provide young Tibetan refugees a sound Western education while still grounding them in Tibetan cultural traditions. Ockenden students were to be among the first generation of Tibetan refugees receiving education in India. The organization hoped that the students, upon graduation, would be of value to the Tibetan community as translators and liaison officers.
Ockenden Venture hired two instructors—Malcolm Dexter and Sangye Tenzin, both scholars of Bon—to educate the thirty boys in the school.[2] Sangye Tenzin­, who was awarded a Geshe degree in Tibet, had returned to India after teaching and studying at the School of Oriental Studies (SOAS) in London.[3] Two additional teachers, Gyaltsen Choden, a Tibetan instructor, and Kelsang Liushar, a steward, had been appointed by the Council for Tibetan Education, a new wing under the Department of Education of the Tibetan exile government in Dharamsala, India.
The Chinese invasion and occupation of Tibet had led to cataclysmic changes in the lives of Tibetans whether they remained inside Tibet or fled in 1959 to the neighboring countries of India, Nepal, and Bhutan. For those abruptly rendered refugees, the past became the means not only to make sense of the present but more importantly, to prepare the groundwork for a return to an independent Tibet.
The recently established Tibetan Government-in-Exile had insisted on creating separate Tibetan schools, instead of sending Tibetan children to existing Indian schools, even though Tibetans had little managerial experience and lacked material resources to run institutions (Rigzin 367). The dual objective–preservation of the Tibetan language and culture as well as preparation for a modern future–was at the heart of the Tibetan education policy. A customized Tibetan education would help answer questions such as "Who am I? Where have I come from and from where did my parents come from?" (Shiromany 317).[4] Education was central to promoting the development of ideal Tibetans in exile.
The Council for Tibetan Education's task was to prepare the curricula in Tibetan schools according to the guidelines of the exile government. The Council had formed a publication section consisting of a team of renowned religious teachers—Dudjom Rinpoche, Zemey Rinpoche, and Ngor Thartse Rinpoche—to help write textbooks for the schools (Tibet Documentation 87). The first Tibetan school, called the Tibetan Refugee Educational Institute, in Mussoorie, in the Indian state of Uttarakhand, had fifty students ranging in age from thirteen to thirty-five (Rigzin 267). By 1962, there were two more residential schools, one in Shimla, Himachal Pradesh, and the other in Darjeeling, West Bengal.
The events of the boys' revolt came to light for exile Tibetans on 2 June 1966 when the newspaper Tibetan Freedom (Bhod-mi Rangwang) published the first of several testimonials by the two Tibetan teachers and the students, alleging Dexter and Sangye Tenzin armed the young students with knowledge that had the potential to create strife among Tibetans and hurt national sentiments. The publication of the testimonials in Tibetan Freedom, the only Tibetan newspaper in exile in 1966, was significant. Run by Gyalo Thondup, the Dalai Lama's older brother, the paper's goal was primarily to inform Tibetans of national and international events related to the Tibetan struggle. It was taken under the fold of the exile establishment after a few years, becoming the first newspaper to be published and managed by the Tibetan exile government. The content published in Tibetan Freedom merits a close study because it had traction in times when media sources were exiguous in the Tibetan community.
The revolt at Ockenden School was brought to my attention by a Bonpo Khenpo in 2013. In the Khenpo's version of the story, the focus was not so much on the revolt itself but on what the students protected as Tibetan history, how the story was represented in Tibetan Freedom, and the emphasis on national unity in the Tibetan exile community.
I was intrigued that young boys with no memory of Tibet were wounded after learning some facts or historical details that went against the dominant discourse or narratives about the Tibetan nation. That young students were stirred to revolt against their teachers and even left the school is an uncommon occurence in Tibetan society given the importance of the teacher in student-teacher relationships in Tibetan Buddhist traditions. That this was in the early days of Tibetan exilic life, when dissent against authority was scarce or unprecedented, was even more surprising.[5]
I was raised in Tibetan refugee communities where the majority identified themselves as followers of the Gelug, Kagyu, Sakya, or Nyingma traditions. Bon was often described as an aberration from Buddhism: bonpos walked around the stupa anticlockwise; bonpos believed in magic; bonpos were responsible for the demise of Buddhism in Tibet in the ninth century. I did not hear Tibetan Buddhists talk about Bon as an organized monastic system with similarities to other Buddhist schools, or that Bon was integral to Tibetan identity and history. It never occurred to me that Bon was the indigenous religion of Tibet before the official entry of Buddhism in the seventh and eighth centuries.
The Ockenden School revolt took place at a crucial moment when Tibetan exile officials, cultural institutions of society, and community members were beginning the work of creating, preserving, and promoting a stable narrative about Tibetan history. The construction of an official historical narrative, as it has been elsewhere, is a process that is social, cultural, as well as political (McGranahan, Arrested 3). It is a process that legitimizes selective events or versions of events over others as being acceptable or true (3)[6], which can further shift perspectives on the past and alter the meaning of concepts such as nation and identity. As a result, certain people, events, and cultures belong to the official history of the place while certain people, events, and cultures are elided.[7]
The questions raised by the students allow insights into what constituted history, what shaped collective identity, what worldview shaped this narrative, and how history fits into Tibetan education, storytelling, and nationalism. The students' response is also illustrative of the dominant opinion and attitude towards Bon history and figures. Likewise, the exile government's decision to act on behalf of the aggrieved students indicates what those in power regarded as the historical tradition and how they would deal with alternate traditions or narratives. The Ockenden School was after all meant to produce future bureaucrats for the exile government.
In the following sections of this article, I refer to the revolt as represented in four sources: 1) the Tibetan newspaper Bhod-mi Rangwang or Tibetan Freedom; 2) letters and testimonials in the archives of the Surrey History Center (UK), exchanged between Joyce Pearce in Surrey and Malcom Dexter, the headmaster of the school 3) letters sent by the Bureau of the Dalai Lama to Joyce Pearce, also in the Surrey archives; and 4) additional letters written by third party observers (friends of Dexter) and volunteer teachers who attempted to make sense of the incident.[8]
Not many Tibetans I spoke to outside of the Bonpo community remembered the Ockenden student revolt of 1966, and the handful of individuals who did, turned the story into a lesson about the dark time in Tibetan exile history when some Tibetans were against Tibetan unity.
Letters from the Field
In a collective letter to Pearce, twenty-five students explain that they left Ockenden because of their uncongenial relationship with Malcolm Dexter and Sangye Tenzin. They list twelve reasons—religion being the first reason behind the discord. The students were all followers of Buddha, but the teachers spoke about a religion that came to Tibet before Buddhism. They write that the two teachers neglected the "holy doctrine" of Buddha, which the students cherished. The teachers were also accused of holding negative views against the Dalai Lama-led Tibetan government. Furthermore, they complain that Dexter was trying to divide Tibetans by speaking about Amdo as being separate from Tibet. The students suspected that the two teachers had a hidden motive of turning Ockenden into a Bonpo center. They end the letter with a plea to Pearce to replace the two teachers (Woodard 1).
The follow-up letter is signed by thirty boys.[9] The students inform Pearce that they were heading to Dharamsala to report the events to the Dalai Lama (Woodall 4).[10] Pearce was also sent a letter from the Bureau of the Dalai Lama, dated May 5, informing her about the thirty boys who had been "expelled" from Ockenden School. The Bureau asks for her clarification on the event (Tara May 4).
In her response to Dexter on 4 May 1966, Pearce advises him not to punish the boys for writing to her. She suggests that Dexter pursue the first complaint in the students' letter: religion. "Is it not likely that, as you have explained to me, the Bompos [sic] are of a different sect from the Dalai Lama that they may feel Sangye has a different approach in the matter of religious instruction?" she asks Dexter. She wonders if hiring Mr. Phalla (who had been the Head of the Dalai Lama's Secretariat in the Tibetan Government in Lhasa), who was of a "different sect," would be the answer to keeping the "balance" in the school.
Dexter's letter to Pearce on May 10 intimates he had read the students' letter (perhaps shared by Pearce). He states that the complaints were not worthy to be refuted. Sangye Tenzin neither taught the Bonpo doctrine nor made an issue of religion. The reverse was true: the students began their day with thirty minutes of prayers to the Dalai Lama and Buddha. Dexter clarifies that both he and Sangye Tenzin preached tolerance in the school and treated students from all religious sects and provinces with respect.
Dexter also addresses Pearce's point regarding the balance between religious leanings in the school by drawing her attention to the appointment of Kelsang Liushar and the "Dharamsala teacher" (referring to Gyaltsen Choden), which had proven to be the cause of the problem.[11]  He indicates he would ask Dr. David. L. Snellgrove, a professor of the Tibetan language at the School of Oriental and African Studies in the University of London, to provide Pearce with essential details regarding the "religious strife" that complicated political and social life in Tibet for centuries. He hints that such tensions persisted within the exile community in India. Snellgrove was among the first Western scholars to study Bon and work with Tibetan Bonpo scholars, such as Sangye Tenzin, in the 1960s. This new scholarship on Bon was not easily accessible to Tibetan refugees in India. Even Western scholars up until the 1960s viewed Bon the way Tibetans did, either as a form of folk religion preceding Buddhism in Tibet, as a religion that developed alongside Buddhism in Tibet, or as a shamanistic practice full of superstitions and divination. These representations were challenged by Bon scholars and scholars such as Snellgrove who, unlike Tibetan Buddhists, saw Bon as a form of Buddhism and not the opposite of Buddhism. "Do we go on? Or do we, abandon the project and cut our losses?" Dexter asks Pearce (May 10).
Right and Wrong History
Tibetan Freedom's first report on the boys' revolt, titled "A Report by Gyaltsen Choden, a Tibetan language teacher at Ockenden School" was published on 2 June 1966.[12] Written in the first person, and in the Tibetan language, Gyaltsen Choden describes Dexter and Sangye Tenzin's teaching pedagogy as inconsistent and their relationship with the students as disrespectful (varying between playfulness and harshness to the extent of beating students and calling them names such as "wild Tibetans" and "pigs"). Gyaltsen Choden accuses the two teachers of advising him to follow their strict disciplinary method with the pupils and portrays himself as someone who preferred maintaining discipline through guidance and advice. He further writes:
I knew the reasons for these beatings, i.e. because the students did not agree to engage in studying Bon religion. Buddhism, monks and lamas were disparaged and they [the teachers] stated that the Tibetan government did not exist. The students did not follow their erroneous paths to break the bond between His Holiness and the Tibetan people by criticizing Tibetan government officers and stating that eastern Tibet was not a part of Tibet.[13]
As per Gyaltsen Choden's version, Dexter and Sangye Tenzin were engaged in activities that undermined the achievements of the Tibetan exile community in religion and politics. He also took offense to these two teachers' use of Chinese terms, such as chopsticks, to describe food and utensils in front of foreign and Indian dignitaries, for doing so gave the impression that Chinese and Tibetan traditions were similar. He felt that the two teachers were manipulating the Dalai Lama's name and the goodwill that donors and sponsors held towards Tibet.
Gyaltsen Choden interprets Dexter and Sangye Tenzin's ordinary and individual actions in relation to their service or disservice to the nation. He was so troubled that he had written to the Department of Education about the two teachers and threatened to leave the school if the two were not dismissed. He also admits to having sent a letter to the founders of the school, but it is not clear when he wrote this letter.
Kelsang Liushar's testimony, published on 6 June 1966, under the title "The Reason Why Kelsang Left Ockenden," speculates that moving the school from its former site in Mussoorie to the more remote location of Dharwar in South India made it possible for Dexter and Sangye Tenzin to turn the students away from Buddhism and create dissension among them. The testimony also accuses the two teachers of favoring Bonpo students.
On 7 June 1966, Tibetan Freedom published testimonies by five students on their reasons for leaving the school, and on June 8, it published three additional student testimonies. A fourteen-year-old student states that he was compelled to revolt because he felt the teachers intended to do away with Buddhism and wanted to convert the students to Bon. He testified that Sangye Tenzin cast King Lang Darma, the forty-first King of Tibet who is commonly held responsible for the persecution of Buddhism in Tibet during his reign, in a positive light. Another student testified that although he had been at Ockenden for only two weeks, he had witnessed the two teachers make disparaging remarks against Buddhism and the exile government. He wrote that Sangye Tenzin referred to there being two distinct dialects in Tibet. Additional testimonies from six students were printed on 7 and 8 June.[14] Read together, the complaints in the testimonies fall under three main categories:
Amdo and Kham as separate political entities independent from the Tibetan government in Lhasa
The students express in different ways that Dexter and Sangye Tenzin emphasized Amdo and Kham's political autonomy from Central Tibet. One student singles out Sangye Tenzin for saying his birthplace and the Gyalrong area were fully independent and did not pay any tax to the Gaden Phodrang Government under the Dalai Lama. Another student testimony emphasizes that Amdo was one of the three provinces of Tibet, and he was shocked at being taught otherwise.
Representing Lang Darma as a decent person
The students complain that the teachers idealized Lang Darma, Tibet's most vilified king. This was one of the reasons why they suspected that the teachers wanted to promote Bon in the school and convert the younger boys to Bon.
Suggesting Thonmi Sambhota was not the inventor of the Tibetan script
The students allege that Dexter and Tenzin emphasized in class that Thonmi Sambhota was not the inventor of the Tibetan script and that an earlier script had existed. Such information contradicted what the students accepted as an established fact about the invention of the first Tibetan script.
The student testimonies, published in Tibetan Freedom (these complaints are also expressed in their letter to Joyce Pearce), indicate that they were hurt that the narratives they held as truth were challenged by the two teachers. The students were responding to the contradictions between what they were purportedly learning or unlearning in the classroom and the hegemonic narratives they understood to be true. After all, Tibetan songs, opera, and stories determined that Lang Darma was a villain, that Thonmi Sambhota transformed Tibetans from barbarians into modern people (even though literacy was mostly concentrated in the monasteries and among the elite), and that Tibet comprised the regions of U-Tsang, Kham, and Amdo. Their confusion, even anger, is understandable. However, the power these students gave to alternative historical narratives, such as those related to Bon in the case here or their (mis)interpretation of these narratives challenging the Tibetan government and creating disharmony among Tibetans, seems remarkable.
 The testimonies allow the revolt to be read as an interesting case of what Prasenjit Duara describes as the "repressive connection" (Rescuing 4) between the nation and the subject of history,­ which is religion in the context here.[15] In reading and retelling this event as a story within a story about national history and cultural memory, I am illustrating a way to think about the borders between national histories and the heterogeneous nature of communities and clans. The Ockenden School revolt illustrates how the hegemonic narratives of history and culture were already sedimented into the social and cultural life of Tibetans.
Disrupting Unity
In her letter to Tenzin N. Takla, the Assistant Director of the Council for Tibetan Education, dated 13 May 1966, Joyce Pearce writes that there are always two sides to a question. She suggests that moving from the comfortable mountain climate in Mussoorie to the scorching heat of South India had made the boys unhappy. She wonders why they waited so long to ask questions on religious pedagogy when they had ample and easier opportunities to do so in Mussoorie. 
Tenzin Takla agrees that there are two sides, but he explains that Dexter's accusations against Kelsang Liushar and Gyaltsen Choden were refuted by the students' admissions that they had left the school of their own volition (Takla, May 25). The Council had closely examined the reports made by the students and concluded that Dexter and Sangye Tenzin carried at heart the intention to "strike discord among Tibetans" and "disrupt the national pride and cultural values" cherished by the students (3). The students had responded defiantly because of their loyalty to the Tibetan culture and nation. Tenzin Takla expresses his disappointment, explaining that he had regarded the students as potential leaders for the community and nation. He offers two suggestions for the way forward: to dismiss Dexter and Sangye Tenzin, and to run the school under the Dalai Lama's direction or jointly with the Tibetan Schools Society.
The event, he repeats, had endangered the community's peace.  It is unclear, from both the articles in Tibetan Freedomand the letters, how the community would have been endangered. One of the most unsettling facts is that the Tibetan committee members arrived at their decision without speaking with the accused teachers. They relied on the letters from the students and the testimonies from Gyaltsen Choden and Kelsang Liushar.
The Ockenden Venture sent Peter Woodard to investigate the incident.[16] Woodard's exhaustive eighty-nine-page report, "A Report on the Mutiny at the Ockenden School Dharwar Mysore," contains copies of letters exchanged between different parties involved in the Ockenden School revolt, transcripts of Woodard's interviews with thirty students and teachers, and minutes of his meetings with the Dalai Lama and Tibetan government officials. The contents of the interviews echo the sentiments expressed in the testimonies that were already made public to Tibetan refugees in Tibetan Freedom.
Woodard's meeting with the Dalai Lama, Tenzin N. Takla, and T.C. Tara on 1 June 1966 at Swarg Ashram in Dharamsala did not go well judging by the meeting's minutes. This was largely due to Woodard's refusal to accept the Council's decision that Dexter and Sangye Tenzin had deliberately sowed dissension. Instead, he insinuated the revolt was a plot hatched by the Tibetan teachers under instructions from Gyalo Thondup, the Dalai Lama's brother. The two parties—representative of the Ockenden Venture and the Tibetan exile establishment—stood behind the respective teachers each had hired for the school. Woodard suggested the school retain Dexter and Sangye Tenzin with closer input from the Council, while the Council suggested the school continue its work without the two accused teachers. Woodard implied that it was important to make the right decision because European donors were watching this incident unfold: a big appeal for Tibetans had been planned in Europe. Tenzin Takla retorted that it was equally important to Tibetans as a "matter of principle." He reiterated how Sangye Tenzin and Dexter had deliberately undermined Tibetan authorities and religion.
In a follow-up letter to Pearce on June 5, the private secretary to the Dalai Lama, T.C. Tara, expressed his disappointment with the "unhappy incident," as well as with Woodard's allegation that Gyalo Thondup was behind the whole incident. Tibetans felt that Woodard's unwillingness to fire Dexter and Sangye Tenzin left them with no other option than to shut down the school.
Pearce suggests to Dexter that he had been unwise in handling the situation. Discipline, she explains in a letter on June 16, is maintained on two grounds. One, the personal "relationship between individuals and his staff and the boys and secondly the external pressure of the society in which the school exists." Dexter's relationship with the students had broken down (he was accused of beating the students), and the boys had felt the "external society" would support them (June 16). She writes that Ockenden was not prepared to be involved in Tibetan politics and intrigues. She thought that the exile government was justified in looking into Ockenden's intentions if they felt the school was not supporting the policies of the Dalai Lama.
In a letter dated 17 June 1966, Pearce is equally direct with Woodard in expressing her concern that he was accusing Gyalo Thondup without any proof. She expresses the same concern in a letter to a colleague in the Tibetan Refugee Aid Society in Canada. She shares that the Ockenden School could only stay open if it was to be run by the exile government. She wonders if the conflict was the outcome of trying to bring a Western education system in line with Tibetan culture. She explains the situation might be analogous to the experience that progressive thinkers of the Middle Ages faced when they offended the Church. A school seeking to align Tibetan education with Western requirements while preserving fundamental elements of Tibetan faith would have to move forward carefully if it aimed to succeed in both goals, she concludes. Pearce's assessment recognizes that teaching a revised history came into conflict with traditional authority.
Snellgrove's response to Pearce dated 26 May 1966 provides a context to the study of history. Snellgrove explains that the Western interpretation of Tibetan history was based on critical evaluation and differed in some respects from the history that Tibetans were accustomed to. While new scholarship did not undermine Tibetan belief in Buddhism, Tibetans were understandably reacting against the new ideas, such as studies on the military success of pre-Buddhist Tibet, as anti-traditional. Snellgrove felt that talking about religion with Tibetans from different religious orders was a delicate problem (Woodard 41). He pointed out that it was hard to avoid conflicts with traditional attitudes; he did not think this was unique to Tibetans. He pointed to the disputes in India in choosing between Indian traditional history and history as understood by the West.
What Snellgrove seems to be suggesting is that alternate histories challenge traditionally held realities. Take, for example, the figure of Lang Darma. Of all the Tibetan historical figures, no one is more maligned in Tibetan history than the ninth-century monarch Lang Darma, be it in popular culture or canonical texts. Tsepon Shakabpa's Tibet: A Political History (1984) was among the first available published political accounts of Tibet written in a somewhat modern-styled format of history and translated into English. His was also among the only available history books written in English covering the events of the Chinese invasion in 1950 till Tsering Shakya's important account of modern Tibet. Shakabpa writes that Lang Darma was put on the throne by ministers who leaned towards Bon and that they designed laws to destroy Buddhism in Tibet (51). He also writes that Darma's ministers sealed up Buddhist temples, ordered Buddhist monks to either marry, take up arms, become huntsmen, or convert to Bon. Individuals who refused were killed (52). Similarly, the Dalai Lama writes in his memoir that Lang Darma's reign was marked by undoing everything that had come before him (My Land 71). The same view is held in Geshe Lhundup Sopa's Tibetan language text, Lectures on Tibetan Religious Culture, a popular book used to teach the Tibetan language to new learners. Chapter Six of Sopa's text points out that Lang Darma managed to destroy the teaching of the Vinaya in Central Tibet in his brief reign (129). Lang Darma's association with Bon meant that Bon became synonymous with the decline of the Tibetan empire and Buddhism.[17]
Tibetan attitudes towards Bon had not yet shifted in the 1960s and 70s to relieve Lang Darma of bearing the burden of responsibility for the demise of the Tibetan empire. Nor was there acceptance of a Tibetan script prior to Thonmi Sambhota's script. In most Tibetan texts, including the Dalai Lama's memoir My Land and My People, the decision of the thirty-third king, Songtsen Gampo, to send his minister Thonmi Sambhota to study Buddhism in India, which also resulted in the import of the Gupta script that was used to draft the Tibetan alphabet, is identified as among the most significant events in Tibet (70).
This historiographical portrait of Lang Darma has rarely been questioned by ordinary Buddhist Tibetans (Karmay, "King" 15). More recent scholarship argues that pre-eleventh century sources might offer a different and closer view of the rule of Lang Darma than sources written after or during the eleventh century (29). Samten Karmay challenges sources that give the impression that the king was a follower of the Bon religion and proposes that the conflict that led to the persecution of Buddhism during the reign of Lang Darma could have been related to political struggles between the ecclesiastical leaders and the secular authority, and not necessarily to a "struggle between the two religious establishments" (28). Later Buddhist sources also neglect the Tibetan military administration of the territories under Lang Darma's reign and focus instead on depicting the King in a "degrading manner" (24).
Similarly, Tibetan historical accounts narrate the invention of the Tibetan script by Thonmi Sambhota as having brought "light" to the benighted land of Tibet, and accordingly, nothing is known about the period before the establishment of the Tibetan empire, for example, the Zhang-Zhung supremacy in the first century mentioned in Bon narratives (Norbu, N "Tibetan" 39). Bon scholars argue that the existence of a Tibetan script before the third century is proven by Bonpo historical documents of the second century (39). Ongoing study of Bonpo manuscripts might reveal more about the first and second centuries of indigenous Tibetan history (39). But doing so would entail shifting hegemonic views and narratives of Tibet and Tibetan identity.
The Tibetan exile administration's attitudes towards Amdo and Kham's relation with the Ganden Phodrang government in Lhasa is also a response to the political standoff between the Chinese Government and the Tibetan administration. The political and social autonomy of the Tibetan areas of Kham and Amdo prior to 1950 did not indicate the absence of a larger Tibetan ethos, for there existed across the Tibetan plateau strong forms that could be defined as "supra-local" and some political "proto-national" bonds of collective belonging firmly held together by a religious legacy.[18] A shared religion, historical memory including origin myths, a single writing system, and shared imagination of a geographical territory kept alive a common social system and feeling consistent with a nation or a nationality. The new vocabulary of the nation-state, however, did not accommodate the various political formations of pre-1950 Tibet. To admit that Kham and Amdo had not been under the Gaden Phodrang Government at the time of the Chinese invasion ran the risk of undermining the sovereignty of the Dalai Lama and his government in exile in addition to endangering the national goal of Tibetan independence from Chinese rule. Likewise, suggesting that Thonmi Sambhota was not the first Tibetan to invent the Tibetan script challenged the unity of the Tibetan culture and identity based on shared language and traditions. Finally, recasting Lang Darma as an important historical person undercuts a fundamental plot and periodization of Tibetan history that was formulated on the rise and fall of Buddhism.
Snellgrove believed that the Dalai Lama was keen that Tibetans have the education that would prepare them for the modern world. In a separate letter dated 29 May 1966, Snellgrove speaks to the rivalries and jealousies within the Tibetan community, especially with regard to religious and political beliefs. He reminds Pearce that in 1961, a total of twenty-one guest scholars had been invited to the West as part of a larger program sponsored by the universities from Seattle, London, Paris, Rome, Munich, Copenhagen, Leiden, and Tokyo. There had been seventeen Gelugs, three Sakyas, one Nyingma, and three Bonpos, one of whom had been Sangye Tenzin. Among all those scholars, only Sangye Tenzin had offered to teach young Tibetans on his return to India (Woodard, 43-4).
The student revolt caught the attention of readers of Tibetan Freedom from 1 June 1966 through 8 June 1966. The timing of the articles coincides with Woodard's private meeting with the Dalai Lama. Tibetan Freedom did not present Dexter or Sangye Tenzin's side of the story, nor did it analyze the contents of the "untruths" that Sangye Tenzin was alleged to have taught. Instead, the articles emphasized the point that the two men had concocted historical lies, undermined the Dalai Lama's position, impaired unity among Tibetans, and hurt national sentiments.
The event was followed closely by aid organizations and volunteers helping Tibetans, as indicated by Woodard. Pat Brewster, who worked on several rehabilitation projects in India in his capacity as the director of the Tibetan Refugee Programme of the National Christian Council of India, wrote in his letter to his colleague in Geneva on 2 June 1966 that he had spoken with Malcolm Dexter and with the students, as well as with administrators in Dharamsala. He got the idea that Tibetans suspected that Dexter and Sangye Tenzin were teaching ideas that were contrary to their religious and national feeling. He feared that the matter could not be "patched up" (Brewster, Wiederkehr 1).
Brewster was convinced it was "religion and politics" that had come into the matter, and he thought it had been a silly idea to get a Bonpo lama to be the chief teacher at the school in the first place (3). Brewster's analysis that "religion and politics" were at the heart of the problem indicates that Sangye Tenzin's Bon background was viewed as a problem by exile bureaucrats. Bon practitioners, who were a minority in exile, did not fit into any existing Buddhist group, nor did they fall into collectives that were built around geographical regions. They were at the margins of the community.[19]
The letters exchanged between the International Aid Agencies and between the Tibetan government officials offer a glimpse into the delicate balance of authority that the Tibetan officials were attempting to maintain over the external struggle for international recognition of the Tibetan Government-in-Exile­­–– "a territory-less entity that behaves like a state"[20]––and the internal struggle to command loyalty within the Tibetan refugee community. While the exile government did not want to alienate its Western aid partners on whom it relied so heavily, it also did not want to upset its efforts to consolidate a culturally, linguistically, and socially united Tibetan political order in exile.[21]
The Tibetan exilic consciousness was, on the one hand, defined by terms compounded largely from the deep and long history of Buddhism, and on the other hand, by the feeling of being "permanently at risk" because the majority of Tibetans were under the Chinese colonial rule (Boyarins 4).[22] In other words, the Tibetan exile effort was directed to bringing diverse groups of Tibetan people together to create a homogeneous people whose identity was "simultaneously cultural and political" in a unique stateless nation-state polity (4). The exile government's claims for legitimation and identity demanded the rhetoric of unity. However, this rhetoric framed culture and identity as immanent and not the product of political struggle and power. So too was the case with history.
The fact is that the exile government shut down a much-needed school and dismissed two accomplished and trained scholars at a time when there were only a handful of teachers who had been trained to teach. Nobody in power in the community questioned why Dexter and Sangye Tenzin were not given the chance to present their side of the story. Nor did they consider the possibility that the "untruths" they were critiqued for teaching were, in fact, historically relevant and necessary to an education in Tibetan history and identity. Instead, the two teachers were seen as harmful to Tibetan unity. 
After Ockenden
Almost a decade after the Ockenden incident, Sangye Tenzin was nominated to represent the Amdo constituents in the Tibetan Parliament, then known as the Assembly of Tibetan People's Deputies (ATPD). The Standing Committee of the ATPD held an extra session at the request of the Election Commission to discuss his nomination along with that of Gonpo Tseten, who was an Amdowa from Clementown. The committee discussed Sangye Tenzin's role in Ockenden School and stated that the incident had been well documented in Tibetan Freedom.
The majority of the members agreed that the propagation of the Bon religion and the fight for religious rights and equal representation of Bonpos was a duty of a person of the Bon faith, so there was no basis for disqualifying Sangye Tenzin for his personal beliefs. Such a response indicates a shift from earlier perspectives and attitudes towards Bon in the community. The shift in Tibetan attitudes towards Sangye Tenzin and Bon was not, however, reflected in the vote conducted on 21 October 1975 to decide if there should be Bon representation, alongside four religious schools of Tibet, in the Parliament. There was only one vote from a total of fifteen representatives in support of Bon representation in the Parliament; that vote came from a single mother who was representing Kham.
The Bon religion was finally acknowledged, and a religious representative was elected to the sixth Assembly of the Tibetan Parliament-in-Exile in 1977 alongside representatives from the Gelug, Kagyu, Nyingma, and Sakya schools.[23] This move came more than a decade after the establishment of the Tibetan constitution promising equality to all Tibetans. The textbooks on Tibetan history and Buddhism in existing Tibetan schools have undergone some changes, but these changes are not yet sufficient to give Bon its rightful place as integral to understanding "the depth" of "Tibetan mind and civilization" (Gyalpo 68).[24]
In 1968, Sangye Tenzin was appointed as the thirty-third abbot of Menri and received his new name, Lungtok Tenpai Nyima Palzang po. He was recognized as the head of Yungdrung Bon tradition by the Tibetan Government-in-Exile in 1978. Sangye Tenzin served as the leader of exiled Bonpos as well as the spiritual head of Bonpo monasteries in Tibet and Nepal for over twenty years. No apology is known to have been offered to him for the events at Ockenden. Today, his photo hangs in the shrines of the halls of the Tibetan exile government.
[1] In his letter to the Bureau of the Dalai Lama on 6 May 1966, Dexter explains that Kelsang Liushar and Choden had strangely gone off to see a movie at the height of events. This letter is also documented in Woodard's Report (8-10).
[2] According to Dexter's and Dr. Snellgrove's respective letters on 29 May 1966, Tenzin and Dexter had met with the Dalai Lama before taking the responsibility to run the school.
[3] I refer to Geshe Sangye Tenzin Jongdong as Sangye Tenzin in this article since all documents related to Ockenden refer to him as such. He was already an acclaimed scholar, teacher, and practitioner at the time of this incident. In 1968, as the thirty-third Abbot of Menri, he was named Lungtok Tenpai Nyima Rinpoche.
[4] In his address at an education conference in Dharmsala on 5 May 1994, the Dalai Lama pointed out the importance of the Tibetan language in the education of Tibetan children. See Shiromany, 317.
[5] The education set-up in exile has been successful in creating grateful new refugee-citizens with allegiance to the government.
[6] See Carole McGranahan's Arrested Histories: Tibet, The CIA, and Memories of a Forgotten War.
[7] See Prasenjit Duara's Rescuing History. In his analysis of the relationship between the nation-state and nationalism, on one hand, and the linear "evolutionary history," on the other, in early twentieth-century China, Prasenjit Duara suggests that national history secures "the nation as a subject of History" (5). This means that national histories transform views of the past as well as the meaning of the nation and the world, particularly by establishing "which peoples and cultures belonged to the time of History and who and what had to be eliminated" (5).
[8] A more detailed article on this event in my forthcoming book includes interviews with a few of the students who were present at Ockdenden at the time of the revolt. In the scope of this article, I have chosen to focus on the documents.
[9] Perhaps those who wrote the first letter to Pearce were reunited with five of the younger students from the school who had been escorted by Gyaltsen Choden.
[10] Thirty boys signed the letter. It is not dated.
[11] Dexter also expresses this suspicion in his letters to Gyalo Thondup on May 5, and to Mrs. Taring, who was running the Tibetan Homes Foundation in Mussoorie, on May 7. Letters to Pearce written by Diana Maclehose and Per Kvaerne, both working as teachers in Ockenden, also express their suspicion of the role the two Tibetan teachers played in organizing the revolt. They also mention that the students threatened to physically harm Dexter and Tenzin.
[12] In his memoir, Tibet: A History of Tibet and a Stainless Truthful Biography, Gyaltsen Choden writes that he worked briefly for the newspaper Tibetan Freedom around 1960 at the invitation of Gyalo Thondup. He writes briefly on Ockenden School and suggests the students and school's head did not get along (368). He recalls that he had refused to sign a letter with the decision to expel ten students and that he suggested instead the students be sent to a training course. His suggestion was dismissed, the students were beaten, and all but five students rebelled against Dexter, according to Gyaltsen Choden (368).
[13] Translated from the Tibetan by Bhuchung D. Sonam.
[14] These six students were Ugyen, Tsering Dorjee, Penpa, Jamdak, Wangdu, and Tsering.
[15] See Rescuing History, Prasenjit Duara's study of history's role in securing the "mystique of the nation" and its claim to what Duara calls an "evolving, monistic subjecthood" (5).
[16] A source remembered he was Pearce's boyfriend.
[17] The term nangpa, translated as the insider, but used synonymously to mean a Buddhist, could have travelled from India to Tibet. It is possible that its use as a reference to Tibetan to create a Tibetan identity with predominantly homogenous Buddhist features came much later. The term nangpa also implies its counterpart, silwa or chipa, and suggests outsider, minoritized visions, experiences, and struggles in its differentiation of the outsider's stance toward the insider.
By the fourteenth century, the identification of nangpa or insider, cemented by religious institutions, ideology, and practices, provided a sense of integration to Tibetans scattered across the Tibetan plateau and a sense of loyalty to shared origin stories and heritage. Buddhism was a status that provided values, aspirations, and codes of behavior to Tibetans, and it was exercised and enacted through religious practices and vows made to religious institutions and figures, both in the human and non-human realms. Those who did not adhere to the centrality of the Buddhist canon or who produced their own work, such as Tibetans of the Bon religion, were considered silwa or chipa, "outsiders" of the Buddhist framework, and as a result, were excluded or marginalized from the majority national Buddhist sentiment and community.
[18] Eric Hobsbawm, Nations and Nationalisms since 1780 (Cambridge: Cambridge University Press, Second Edition 1990s): 46-7.
[19] Brewster himself was already struggling to keep out of trouble with the exile government. He was heading Tibetan Industrial Rehabilitation (TIRS), a relief agency with the purpose of advancing industrial programs for Tibetans. TIRS hoped to help Tibetans become self-sufficient. He had helped several of the Tsho Khag bcu Gsum (Organization of the Thirteen)­ to build their settlements. Another volunteer working with Tsultrim to build the settlement in Clementown expresses his suspicion about an "underground turbulence" spreading across the Tibetan political body in a letter to Pearce dated 23 July 1966. He refers to similar crises in places such as Mainpat, Rajpur, Dalhousie, the locations where members of the Thirteen were living, who were being named as running dogs of the Chinese.
[20] See Fiona McConnell, Rehearsing the State.
[21] See Dawa Norbu, China's Tibet. The shared systems of religion, writing system, and historical memory that existed on the Tibetan plateau made it "coterminous with a nation or at least a nationality" (342).
[22] See Jonathan and Daniel Boyarin, Powers of Diaspora. The Boyarins use the term "permanently at risk" to explain the diasporic consciousness as one composed of "contingency and genealogy" (4). They propose that the diaspora's egocentrism offers an "alternate 'ground' to that of the territorial state for the intricate and always contentious linkage between cultural identity and political organization" (10). They explain that this alternate ground might help states avoid insistence on purity or permanence (10).
[23] Yungdrung Namgyal served as the first Bon representative.
[24] Gyalpo writes that Bon and Buddhism are two "inalienable paths analogous to method and wisdom aspects of Vajrayana teaching to understand the depth and essence of Tibetan mind and civilization" (68). He suggests Bon is the foundation of Tibetan socio-cultural identity and that Tibetans should learn to appreciate this heritage.
Works Cited
Files on the Ockenden International, Formerly the Ockenden Venture, Refugee Charity of Woking: Records, including papers of Joyce Pearce OBE (1915-1985), Founder, SHC      Reference 7155/8/1/11-4, Surrey History Centre, Woking, Surrey.
Letter to Joyce Pearce. (Personal and confidential). 11 July 1966, pp.1-3, Files on the Ockenden International, SHC Reference 7155/8/1/13.
Dalai Lama. Letter to Joyce Pearce. nd, Files on the Ockenden International, SHC Reference 7155/8/1/12.
—. Letter to Joyce Pearce. 1 May 1996, pp.1-4, Files on the Ockenden International, Reference 7155/8/1/11, MRWD/DM.
Dexter, Malcolm. Letter to Joyce Pearce. 13 May 1965, Files on the Ockenden International, SHC Reference 7155/8/1/12.
—. Letter to Joyce Pearce. 10 May 1966, pp.1-2, Files on the Ockenden International, Reference 7155/8/1/13, Ref. no. MRWD/DM.
—. Letter to the Dalai Lama. 1 May 1966, Files on the Ockenden International, SHC Reference 7155/8/1/13, Ref. no. MRWD/DM.
Hardy, W. John. "Confidential Letter to Joyce Pearce." 20 August 1966, pp.1-4, Files on the Ockenden International, SHC Reference, 7155/8/1/13.
Pearce, Joyce. Letter to G. Woodcock. 21 June 1966. Files on the Ockenden International, SHC   Reference 7155/8/1/13.
—. Letter to Peter Woodard. 17 June 1966, Files on the Ockenden International, SHC Reference 7155/8/1/13.
—. Letter to Tenzin. N. Takla. 13 May 1966, Files on the Ockenden International, SHC Reference 7155/8/1/13.
—. Letter to the Dalai Lama. 11 May 1966, Files on the Ockenden International, SHC Reference 7155/8/1/13.
—. Letter to Malcolm Dexter. 4 May 1966, pp. 1-2, Files on the Ockenden International, SHC Reference 7155/8/1/11.
Maclehose, Diana. Letter to Joyce Pearse. 24 November 1965, Files on the Ockenden International, SHC Reference 7155/8/1/12.
Snellgrove, D.L. Letter to Joyce Pearce. 29 May 1966, Files on the Ockenden International, SHC Reference 7155/8/1/13.
—. Letter to Joyce Pearce. 26 May 1966, pp. 1-3, Files on the Ockenden International, SHC Reference 7155/8/1/13.
1st Student Letter. Handwritten letter to Joyce Pearce. nd, pp. 1-5, Files on the Ockenden International, SHC Reference 7155/8/1/11.
2nd Student Letter. Files on the Ockenden International, SHC Reference 7155/8/1/11.
Takla, T.N. Letter to Joyce Pearce. 25 May 1966, Files on the Ockenden International, SHC Reference 7155/8/1/13, Ref. no. MRWD/DM.
Tara. T.C. Letter to Joyce Pearce. 5 June 1966, pp.1-7, Files on the Ockenden International, SHC Reference 7155/8/1/13.
Unknown. Letter to Joyce Pearce. 23 July 1966, Files on the Ockenden International, SHC Reference 7155/8/1/13.
Woodard, Peter. "A Report on the Mutiny at the Ockenden School." pp.1-89, Files on the Ockenden International, SHC Reference 7155/8/1/11-4.
World Council of Churches, Geneva Archives, Geneva, Switzerland.
Brewster. G. Letter to Dr. Ernest Wiederkehr, Swiss Aid to Tibetans. June 2, 1966, Ref. 012085.
Anglophone Sources
Arya, Tsewang Gyalpo. "Yungdrung-bon, the Religion of Eternal Truth in the Land of Snow: A Note to dispel the misunderstanding and misinterpretation of the religion." The Tibet Journal, Vol. 41, No. 2. Autumn/Winter 2016, pp.63-71
Bernstorff, Dagmar and Hubertus von Welck, editors. Exile as Challenge: The Tibetan Diaspora. Hyderabad, Orient Longman Private Ltd., 2004. First published in German by Nomos Verlagsgesellscraft, Baden-Baden, 2002.
Blondeau, Ann-Marie and Katia Buffetrille, editors. Authenticating Tibet: Answers to China's "100 Questions." University of California Press, 2008.
Boyarin, Jonathan and Daniel Boyarin. Powers of Diaspora. University of Minnesota Press, 2002.
Choden, Gyaltsen. A History of Tibet and a Stainless Truthful Biography. Self-published, Karnataka, India, 2016.
Dalai Lama. My Land and My People. Potala Corporation, 1977, Reprint. First published in 1962 by McGraw-Hill Book Company, Inc.
Dalai Lama. Freedom in Exile. Hodder and Stoughton Ltd., 1990.
Das, Veena. Critical Events: An Anthropological Perspective on Contemporary India. Oxford University Press, 1995.
Duara, Prasenjit. Rescuing History from the Nation. The University of Chicago Press, 1995.
Geshe Lhundup Sopa. Lectures on Tibetan Religious Culture. vol. 1. Delhi, Library of Tibetan Works and Archives, na.
Karmay, Samten G. The Arrow and the Spindle: Studies in History, Myths, Rituals and Beliefs in Tibet, Vol. III, Kathmandu, Mandala Books, 2014.
—. "A Historical Overview of the Bon Religion." Bon: The Magic Word, edited by Samten G. Karmay and Jeff Watt, Rubin Museum of Art, 2007, pp. 55-82.
—. "King Glang Dar-ma and His Rule." The Arrow and the Spindle: Studies in History, Myths, Rituals and Beliefs in Tibet. Vol. II. Kathmandu, Mandala Publications, 2005, pp. 15-29.
McConnell, Fiona. Rehearsing the State: The Political Practices of the Tibetan Government-in-Exile. John Wiley & Sons, Ltd., 2016.
McGranahan, Carole. "On Social Death: The Spang mda' tsang Family and 20th Century Tibetan History." Vitali, 2014.
McGranahan, Carole. Arrested Histories: Tibet, The CIA, and Memories of a Forgotten War. Duke University Press, 2010.
Norbu, Namkhai and K. Dhondup. "Tibetan Culture." The Tibet Journal, vol. 3, no. 3, Autumn 1978, pp. 38-40.
Rigzin, Tsepak. "The Tibetan Schools in the Diaspora," Exile as Challenge: The Tibetan Diaspora (Hyderabad: Orient Longman Private Ltd., 2004) Edited by Dagmar Bernstorff and Hubertus von Welck pp. 266-78.
Shakabpa, W.D. Tibet: A Political History. Potala Publications, 1967.
Shakya, Tsering. The Dragon in the Land of Snows. New York, Penguin, 1999.
Shiromany, A.A, editor. The Spirit of Tibet: Universal Heritage. Selected Speeches and    Writings of HH The Dalai Lama XIV, New Delhi, Allied Publishers Ltd. and Tibetan Parliamentary and Policy Research Center, First published 1995. 
Vitali Roberto, editor. Trails of the Tibetan Tradition. Dharamsala, Amyen Machen Institute, 2014.
Dr. Tsering Wangmo Dhompa is the author of the poetry books Revolute (Albion Books), My Rice Tastes Like the Lake, In the Absent Everyday, and Rules of the House (from Apogee Press, Berkeley). Dhompa's first non-fiction book, Coming Home to Tibet, was published in the US by Shambhala Publications in 2016 and by Penguin, India in 2014. She teaches in the English Department at Villanova University. 
The Third Karmapa Rangjung Dorje: Master of Mahāmudra. Lives of Masters Series
Ruth Gamble
296 pages, 2020, $21.06 (Paperback)
Shambhala Publications

Reviewed by Matilda Perks
Ruth Gamble's The Third Karmapa Rangjung Dorje: Master of Mahāmudra is the newest volume in Shambhala Publication's Lives of the Masters series edited by Kurtis Schaeffer. Gamble's introduction to Rangjung Dorje (1284–1339 C.E.), his life and work, represents a significant contribution to the field and will likely appeal to scholars and seasoned practitioners.
The book is divided into two main sections: a biography, followed by a translation of selected works. Rangjung Dorje, born into poverty, was the first person to be recognized as a third in a line of reincarnations. Readers who are interested not just in the events of Rangjung Dorje's life but in his role in the history of reincarnation lineages, the Tibetan assimilation of Buddhism, the sacralization of the Tibetan landscape, the remapping of sacred sites from India onto Tibet, the close relationship between dzogchen and mahāmudra, the political rivalry between the early Kagyupas and the powerful Sakya school, and the relationship between these schools and Mongol court, will find much to delight in here.
Gamble's expertise on the subject is foremost in the field (readers interested in the subject will also benefit from her book: Reincarnation in Tibetan Buddhism: The Third Karmapa and the invention of a tradition, Oxford University Press, 2018). She handpicks and concisely presents knowledge-gems gleaned from years of research. She corrects, for instance, the anachronistic assertion that Rangjung Dorje was an early advocate of the shentong over the rangtong views on ultimate reality; clarifies his relationship with the Nyingma tradition; discusses his influence on the Rimé movement of the nineteenth century; and briefly touches on the under-examined history of the terma tradition at Tsurpu Monastery.
The book's second part, the selected works, include Rangjung Dorje's writings on mahāmudra and meditation (which Gamble translates as "cultivation" to good effect) along with some rarities from his Collected Works. One such treasure is a seldom-told story about one of the Buddha's previous lives as a woman and a dancer named Jagatī Śrī (167). The story is extraordinary both for its elevation of a marginalized figure and for the lessons it conveys. For, in this life, the "Buddha-to-be" (to use the author's term) takes the form of a beautiful young woman in order to impress upon her audience the ephemerality of beauty and youth. She provokes desire in order to subvert it.
Another surprising yet delightful group of short texts that are included are of a genre that might be best described as medical and/or botanical. In these texts, Rangjung Dorje details how to extract the essences of various regional plants in order to use their properties both for bodily health and to aid spiritual accomplishment.
As the author notes, the life and works of Rangjung Dorje are vast and this book serves as a compact, erudite introduction to his immense world.
But, in keeping with an enduring truism, this work's greatest strength—its robust scholarship — from another point of view, could also be considered something of a drawback. The book assumes a knowledgeable audience and therefore spills little ink bringing readers up to speed on niche topics well-known to scholars and experts in the field. For example, a footnote on the Samye debate (c. 792–794 C.E.) between Indian and Chinese Buddhists that resulted in the censuring of Chan Buddhism in Tibet does not elaborate on the topic; it sends readers elsewhere when even a brief summary of the event could orient readers who are unfamiliar with it (n. 260, p. 231). Similarly, an introduction of the "five poisons, the three poisons" (163), the "ten grounds and five paths" (165) is left unelaborated. The reader may be left wishing there were footnotes to clarify these categories. These are only small points in the larger context of this wonderful work. Still, the concern is whether there may have been a missed opportunity to appeal to a wider audience here. 
For me, the shining moments of this book are quiet ones; moments when Rangjung Dorje, the human, comes into focus. A potter's son, his mother gave birth to him at night without shelter, exposed to the elements. The story goes that when he was born, he saw the moon and felt happy. As Gamble notes, his connection with the moon is symbolic, auspicious, transcendent, but it also points in the other direction to his parents' meager material means, to his subaltern status at birth (38–9).
When Rangjung Dorje is around thirty years of age, after a period of intense retreat and a year-and-a-half gap in his archive, he begins to write again. He is ill and concerned for his life. He laments his inability to overcome his doubts, despite receiving dharma from the best teachers of his day. He resolves to redouble his efforts to help others and also to let himself rely on others more (86).
Life-writing at its best is fundamentally egalitarian in spirit. In its finest moments, the genre reveals how humans struggle to construct meaningful lives for themselves—a struggle that we can all relate to despite our circumstances. I am confident that scholars and experienced practitioners will delight in this important new offering, and I hope that curious newcomers might give it a try too. 
Matilda Perks is a Ph.D. student at McGill University who studies the history of Buddhist modernism(s) and Tibetan Buddhism outside of Tibet with a focus on the life and works of Tibetan lama, Chögyam Trungpa (1940-1987), and the development of the Vajradhatu community. 
The Selfless Ego: Configurations of Identity in Tibetan Life Writing
Lucia Galli, Franz Xaver Erhard
284 pages, 2021, $160 (Hardcover)

Reviewed by Jed Forman
Stories of the Ego's Struggle with Selflessness
The title Selfless Ego immediately suggests a juxtaposition or paradox. The conflict implied in the pairing, however, is deeper than its seeming self-contradiction. Rather, it describes the presence of a real Tibetan cultural tension, one this eponymous volume takes as topical. On one side, "selfless (bdag med)" denotes the antidote to self-fixation (bdag gces 'dzin pa), one of the primary culprits of suffering per Tibetan spirituality.i On the other hand, "ego" suggests a psychoanalytic framework, where the ego emerges between the pressures of societal mores (the superego) and the urgings of individual desire (the id). "Selfless ego" thus conveys the especially vexed ego-conflict unique to a Tibetan ethos that not only prizes altruism but sees any preoccupation with self—even the individual pursuit of happiness—as ultimately a cause of the eudemonic decline. While the Tibetan religio-cultural spirit implores a type of self-effacement, psycho-sociological forces reassert the ego at the intersection of the individual and society. "Selfless ego" thus does not denote a resolution of this tension. Rather, it reaffirms that conflict, the difficulties of navigating an ego-generative society that also glorifies ego death.
From the viewpoint of literary analysis, the biography is the preeminent battleground between selflessness and the ego. Because the biography is essentially an exercise in identity construction, one can anticipate how Tibetan spiritual proclivities might problematize it from the outset. The biography seeks to build up exactly what Tibetan religious sentiments seem compelled to tear down: morally corrosive valorizations of self. Nevertheless, Tibetan literature does not eschew the biography, and the endurance of the Tibetan biographical genre itself bespeaks the durability of this tension between selflessness and the ego. 
The chapters of The Selfless Ego: Configurations of Identity in Tibetan Life Writing therefore all exam this endemically Tibetan ambivalence around self through the broad heuristic of the biography. Through conceptualizing the biography as a literary device for identity construction, rather than as a genre simpliciter, this volume gives an excellent structural-functional analysis of how biography functions within Tibetan literature. Selfless Ego thus succeeds in offering an analysis of Tibetan biography far more compelling than, perhaps, a loosely topical anthology on biography. Most chapters speak to this genre's use toward certain ends—be they religious, political, sociological, historiographical, etc.—with particular sensitivity to the unique precariousness of the biographical enterprise within a Tibetan milieu suspicious of identity.  
Selfless Ego is divided into two parts, the first concerned with religious biographies and the second culling from secular sources. The editors wisely set the groundwork for their project by leading with Ulrike Roesler's chapter, which is the most theoretical of the group. Roesler construes "Tibetan Reflections on Autobiographical Writing" as a self-conscious recognition of the need to "balance between the norms of humility and self-confidence" (171)—between the humility indicative of selflessness and the self-confidence of a strong ego. Several chapters tackle the particularly volatile role of autobiographies in Tibetan literature, which, thanks to their self-referentiality, must walk the thinnest line between humility and self-confidence. Franz Xaver Erhard's chapter examines Doring Tenzin Penjor's (b. 1750) autobiography, which serves as a paragon of the tension surrounding identity construction. Erhard notes that while autobiographies were "not well-received in the Tibetan Buddhist climate which required a style of diffidence and self-effacement," that the autobiography cum "narrative strategy" was undeniably beneficial in "legitimising the Doring family's but first of all Tenzin Penjor's claim to power and wealth" (329). Rachael Griffiths' account of Sumpa Khenpo Yeshe Peljor's (1704-1788) autobiography chronicling the Lhasa civil war of 1727 reveals how the genre can be marshalled toward political ends. Using his narrative account of the devastation of war, Sumpa Khenpo entreats his readers to seek peaceful solutions in the future. We can anticipate that his proclaimed peaceful motivation may have buffered against any suspicion that Sumpa Khenpo was engaging in braggadocio by writing about himself.
Lucia Galli also explores a compelling subgenre of the autobiography: the diary (nyin tho or nyin theb). Even here we see both of these modes: self-construction and self-effacement. Giving an analysis of Tibetan diary writing through the longue durée up to the present, Galli notes that in traditional Tibetan diaries, "the writer rarely writes exclusively for his or her own eyes" (349). Thus, while the 8th Situ Paṇchen Chökyi Jungne (1700–1744) used the diary to express his passion for Sanskrit and thereby "place him among the great Tibetan lotsāwas (lo tsā bas, 'translators')," his persona was also marshalled in an attempt to recenter Sanskrit studies at the heart of Tibetan scholasticism (348). As Galli notes, such efforts reveal the use of "personal annotations" toward "the creation of a common memory and identity" (349), again valorizing the personal insofar as it aids the group.
Selfless Ego also explores these issues from the standpoint of women's studies. Isabella Ofner examines two contemporary works by female Tibetans in exile, Dorje Yudon Yuthok (19121998) and Diki Tsering (1901-1981), mother of the current Dalai Lama. Using post-colonial feminism, Ofner foregrounds the issue of ego qua tension with society, demonstrating how Yuthok and Tsering's memoirs provide alternate histories in order to combat restrictive Tibetan cultural expectations that permit only a monolithic image of femininity. Hannah Havnevik's chapter examines a similar conflict. Rather than exploring how women struggle to find their voice in a patriarchal society, Havnevik notes how men in that same society ventriloquize female biographical voices in order to support patriarchy. Specifically, she focuses on the depiction ofTrülzhik Tongdröl Dorje's (1862–1922) mother, Tashi Tsomo, in the former's biography, demonstrating that female adherents "achieved praise and recognition as advanced bodhisattvas" via their support of male spiritual practitioners, highlighting a "submission to androcentric norms" (268).
We also read of similar selfless-ego tensions in the lives of prominent spiritual figures. David Templeman offers a fascinating analysis of a short autobiography from Tāranātha (1575– 1634), whose introductory section serves almost as a metanarrative on autobiography. Here, Tāranātha discusses his own ambivalence in writing about himself, insisting that while "stories about suffering and [eventual] decrepitude bring me no joy whatsoever" that he has recounted them at the "insistence of other people, even though there is nothing of great importance in it." Templeman remarks that Tāranātha's demurring here reflects "fear of being seen as either a flatterer or boastful," which "sets a precedent for his further writing" following "a literary model commonly found in Tibetan literature" (191). Thus, we see Tāranātha as emblematic of the type of precarious balance demanded by the biography as identified in Roesler's chapter. Cathy Cantwell's article focuses on the Dudjom lineage and demonstrates how the use of biographies toward identity construction can be a double-edged sword. Sometimes, it reinforces the validity of a reincarnation lineage, especially when there is clear identity continuity and a new incarnation "displays all the anticipated qualities and appears to take up his predecessor's work with zest" (240). However, when there are discontinuities, these can be marshalled by dissenters who may compare "unfavourably the current incumbent's character and qualities with those of the previous lama" (239). Again, we see how identity construction holds a tenuous position in the Tibetan religiopolitical sphere, both able to reinforce and deteriorate the institutional status quo. Sangseraima Ujeed's chapter on Khalkha Dzaya Paṇḍita Lobsang Trinle's (1642 1715) biography gives a similar account of the role of the biography in lineage formation, specifically their "ability to link together masters from the past, present, and future" (236).
There are several other excellent chapters on which there is insufficient space to elaborate, including Sarah Shaw's on the biographical tradition of Ajahn Mun, Cécile Ducher's use of songs (gur) in Marpa's biography, Lama Jabb's on the songs of Dubhe (1966/7-2016), and Charles Ramble's fascinating take on Tibetan biography cum material culture. There is little here to say in the way of criticism. But if pressed, I gesture back to my construal of this volume as primarily structural-functionalist, that is, as a type of Durkheimian methodology that conceptualizes the biography as providing some functional purpose within the Tibetan sociological context. This harbors no prima facie error, but I wonder to what degree it bespeaks a certain hermeneutic of suspicion, a desire to look behind the curtain and see what biographies are really about, as if life narratives are not in and of themselves compelling enough to explain their existence. Suspicion that the biography is not self-justifying may be warranted; biographies always seem for something. But perhaps there are other possible explicans in lieu of religio-poltico-sociological function. Inspiration? Nostalgia? A coping mechanism? Maybe. In any event, Selfless Ego is undeniably a worthy addition for anyone interested in Tibetan literature and a valuable contribution to scholarship on the unique Tibetan formulation of the biography.
Work cited
Śāntideva. "Byang chub sems dpa'i spyod pa la 'jug pa." Bstan 'gyur (sde dge), TBRC W23703, Dbu ma la, edited by Tshul khrims Rin chen, Gyalwae sungrab partun khang, 1985, pp. 1b40a.
Notes
While many readers may associate selflessness (bdag med) with Buddhism writ large, it is important to remember it is equally important in Bön, Tibet's other primary religious tradition.
For example, see the immensely impactful verse, oft-cited in Tibetan literature, from Śāntideva: "All the happiness in the world comes from wanting others to be happy, and all suffering comes from wanting happiness for oneself" (28B).
Jed Forman is a doctoral candidate in University of California Santa Barbara. His research interests include area of Buddhist epistemology, the cognitive science approach to religion, and their intersections with Western phenomenology. His forthcoming publications include a monograph with the Yakherds concerning the epistemology of Taktsang Lotsāwa to be published by Oxford. He also works also as translator for 84000: Translating the Words of theBuddha.