Another Place
Tsering Wangyal
298 pages, 2020, Rs. 200 (Paperback)
Blackneck Books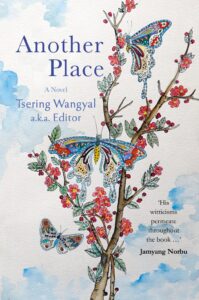 Reviewed by Jyoti Deshwal
Of Survival and Perseverance in the Face of Displacement
One of the incidents in Late Tsering Wangyal's novel Another Place, in which the Tibetan exile administration asks a Tibetan to apologize to an Indian over a fight despite no fault of his, brought me a strong déjà vu feeling. It so happened that in one of the Central Tibetan Schools in India, I reminded a Tibetan, who flung a stone at me, that he was an outsider in my country. I was a class 4 student at that time to understand the snobbery and indifference in our expectation of Tibetans to bear everyday injustices and claim no rights whatsoever because they are refugees. Writing the review of this novel thus comes to me as a personal opportunity of apology and understanding the complex predicament of the Tibetan exile community in India.
Set in Dharamshala, the exile capital of Tibetans in India, late Tsering Wangyal's novel Another Place is first and foremost an attempt to locate, temporally and spatially, the de-territorialized Tibetan community. Before we enter the world of exile Tibetans, the prologue gives us a glimpse of life at Phari in Tibet in the late 1950s through the story of Poor Chok Samten, a young farmer with a disposition of a middle-aged man, who suffers injustice at the hands of Jhangsur, a self-promoted bureaucrat—all in the face of the imminent danger of Communist assumption of Tibet. Thereafter, divided into three parts, progressing linearly with occasional analepsis, the omniscient third-person narrator of Another Place takes the readers through various spaces, that were once at the margins of India, now inhabited by exile Tibetans—Tibetans' political center in the abandoned British hill station McLeodganj (upper Dharamshala) and the Tibetan hub Majnu ka Tilla that grew out of a camp in the periphery of Delhi.
Those familiar with the slim but significant body of Tibetan-English fiction would recognize not only Manju ka Tilla in Thubten Samphel's novel, Falling through the Roof (2008) but also late Wangyal in the character portrayal of Editor. Late Wangyal, who worked as the editor of Tibetan Review from mid-1970 to 1996, had earned the moniker 'Editor' for having turned the magazine into an influential print platform for intellectuals to debate political matters as well as Tibet's cultural and social complexities. It is thus no coincidence that Tsering Wangyal's novel Another Place, published posthumously, represents the generation of Tibetan Review intellectuals, and delves into the recesses of their consciousness, centered around an incident of computer theft, allowing for a narrative style and microscopic view of things, typical to investigative journalism.
Nawang Sutim (Ngawang Tsultrim before he changed the spelling to make it more memorable and pronounceable), popularly known as Frank Lee, is at the center of the narrative with a reticular structure of streets around him abounding in the social and political life of Tibetans in exile. The novel unfolds with him breaking to the paglug (Tibetan card game) club members the news of the theft of his black notebook computer, which he had bought in America. The paglug members work in different departments of the Tibetan Government in exile. Frank Lee himself serves as the deputy secretary of the Department of Information and International relations of the government after his return from the States as a Fulbright fellow. His job definition, however, is that of a clerk and leaves him dissatisfied.
Wangyal, true to the integrity of a writer, exposes the shortcomings of the Tibetan bureaucracy as well as a few self-serving Tibetans in the system. In chapter five, we are introduced to Jhangsur, the man who had bid farewell to Phari years back on learning that the government was sending an investigator in the matter of Chok Samten's disappearance. In India, he had written a letter of apology to the Tibetan cabinet and offered his free service, thus getting the position of assistant director at Tibetan Medical Institute. He, however, tells a western scholar that the exile government has become gradually corrupt with unqualified people working for it.
In the vast canvas that Wangyal maneuvers to portray divergent Tibetan characters, manifesting in them their bountiful political and spiritual experiences, the romantic escapades—Thubten's illicit flirtatious interest in Mrs. Migmar or Frank Lee's shifting romantic interest between Tenzin Lhakyi and Pema Choezom— are quite prominent. In the last chapter, where Pema Choezom takes the narrative voice, she relays her disappointing experiences in love and asserts:
So the only thing I know now for sure is that whoever I marry, it will have to be a Tibetan. He may be old, ugly, or cruel, or someone even more evil than Ali. But he will be a Tibetan. I would be able to understand him. Even the bad things he may do would not be an incomprehensible terror for me. So I could cope with the situation. (293)
Pema's justification of her decision speaks volumes about the chasm of comprehension between the exile Tibetan community and the outside world. But it may also be about the fact that exile Tibetans are expected to avoid assimilation and carry Tibetan culture on their backs in the given bleakness of the political situation back home for them.    
The cultural acculturation of exile Tibetans is, however, inevitable. Frank lee, Pema Choezom, Kardon Tenzin Lhakyi, and Tenzin Bhuti have all been educated at the Tibetan Children Village (TCV) schools, where the curriculum is largely modeled after the Indian schools. Frank Lee and Pema graduate from St. Stephens and Lady Shri Ram colleges of Delhi University respectively. Pema is privileged to have been sent to an expensive boarding school but is made to spend the last two years of her schooling in TCV to improve her Tibetan language proficiency. Khardon and Pema prefer to communicate in Nepali, the lingua franca of the regions where they have lived. Frank Lee, who has an avid interest in English novels and movies, needs Pasang's help in writing the notice of his missing computer in the Tibetan language.
Quite interestingly, the cultural assimilation seen in Another Place is two-way—Raju and Birju, two Indians working at One More Chance, speak fluent Tibetan and have only Tibetan friends. The novel also throws light on how the international traction that Dharamshala receives due to the presence of the Dalai Lama benefits the local economy.
There is no doubt a healthy cultural exchange between Tibetans and Indians, but the world that stands out in Another Place is singularly Tibetan. Places like the One More Chance restaurant, where paglug is played over Tibetan snacks, momos, and butter tea abounds with distinctively Tibetan smells and sounds. Dharamshala, referred to in the novel "the little Lhasa in India," unlike China-towns around the globe, is a place of Tibetans' political resistance and resilience in the face of adversity. Streets and institutions in Dharamshala are given Tibetan names, such as Gangkyi (Gangchen Kyishong) for the area where the main offices and staff quarters of the Tibetan Government are located. Even cultural objects such as the khata, a traditional ceremonial scarf, and chuba and pangden, a colorful apron worn by married women, have greater significance in the novel. Frank Lee, who is also referred to as chuba chaser, despite not wanting to wear the khata on his wedding and farewell chooses to let it remain, which bespeaks his internal conflict and cultural adherence. Mo, a Tibetan form of divination, is also one of the highlights of the novel. Frank Lee acts on the suggestion of getting a mo to find the whereabouts of his missing computer, and surprisingly he finds his computer in Dharamshala within the time period indicated in the mo.
Tibetan fiction in exile is a testimony of Tibetans' constant readjustment to the growing uncertainty of their exile, which from an initial temporary arrangement in 1959 has become a long-lasting condition. For the generation of Tibetans born to refugee parents, exile is their immediate and only lived experience of home, albeit reinforced by the desperate circumstances of their stolen homeland and punctured by the dynamics of their borrowed land, and thus the befitting title Another Place.
Jyoti Deshwal is a scholar on Tibetan literature at the Department of English and Cultural Studies, Panjab University, India.
The Third Karmapa Rangjung Dorje: Master of Mahāmudra. Lives of Masters Series
Ruth Gamble
296 pages, 2020, $21.06 (Paperback)
Shambhala Publications

Reviewed by Matilda Perks
Ruth Gamble's The Third Karmapa Rangjung Dorje: Master of Mahāmudra is the newest volume in Shambhala Publication's Lives of the Masters series edited by Kurtis Schaeffer. Gamble's introduction to Rangjung Dorje (1284–1339 C.E.), his life and work, represents a significant contribution to the field and will likely appeal to scholars and seasoned practitioners.
The book is divided into two main sections: a biography, followed by a translation of selected works. Rangjung Dorje, born into poverty, was the first person to be recognized as a third in a line of reincarnations. Readers who are interested not just in the events of Rangjung Dorje's life but in his role in the history of reincarnation lineages, the Tibetan assimilation of Buddhism, the sacralization of the Tibetan landscape, the remapping of sacred sites from India onto Tibet, the close relationship between dzogchen and mahāmudra, the political rivalry between the early Kagyupas and the powerful Sakya school, and the relationship between these schools and Mongol court, will find much to delight in here.
Gamble's expertise on the subject is foremost in the field (readers interested in the subject will also benefit from her book: Reincarnation in Tibetan Buddhism: The Third Karmapa and the invention of a tradition, Oxford University Press, 2018). She handpicks and concisely presents knowledge-gems gleaned from years of research. She corrects, for instance, the anachronistic assertion that Rangjung Dorje was an early advocate of the shentong over the rangtong views on ultimate reality; clarifies his relationship with the Nyingma tradition; discusses his influence on the Rimé movement of the nineteenth century; and briefly touches on the under-examined history of the terma tradition at Tsurpu Monastery.
The book's second part, the selected works, include Rangjung Dorje's writings on mahāmudra and meditation (which Gamble translates as "cultivation" to good effect) along with some rarities from his Collected Works. One such treasure is a seldom-told story about one of the Buddha's previous lives as a woman and a dancer named Jagatī Śrī (167). The story is extraordinary both for its elevation of a marginalized figure and for the lessons it conveys. For, in this life, the "Buddha-to-be" (to use the author's term) takes the form of a beautiful young woman in order to impress upon her audience the ephemerality of beauty and youth. She provokes desire in order to subvert it.
Another surprising yet delightful group of short texts that are included are of a genre that might be best described as medical and/or botanical. In these texts, Rangjung Dorje details how to extract the essences of various regional plants in order to use their properties both for bodily health and to aid spiritual accomplishment.
As the author notes, the life and works of Rangjung Dorje are vast and this book serves as a compact, erudite introduction to his immense world.
But, in keeping with an enduring truism, this work's greatest strength—its robust scholarship — from another point of view, could also be considered something of a drawback. The book assumes a knowledgeable audience and therefore spills little ink bringing readers up to speed on niche topics well-known to scholars and experts in the field. For example, a footnote on the Samye debate (c. 792–794 C.E.) between Indian and Chinese Buddhists that resulted in the censuring of Chan Buddhism in Tibet does not elaborate on the topic; it sends readers elsewhere when even a brief summary of the event could orient readers who are unfamiliar with it (n. 260, p. 231). Similarly, an introduction of the "five poisons, the three poisons" (163), the "ten grounds and five paths" (165) is left unelaborated. The reader may be left wishing there were footnotes to clarify these categories. These are only small points in the larger context of this wonderful work. Still, the concern is whether there may have been a missed opportunity to appeal to a wider audience here. 
For me, the shining moments of this book are quiet ones; moments when Rangjung Dorje, the human, comes into focus. A potter's son, his mother gave birth to him at night without shelter, exposed to the elements. The story goes that when he was born, he saw the moon and felt happy. As Gamble notes, his connection with the moon is symbolic, auspicious, transcendent, but it also points in the other direction to his parents' meager material means, to his subaltern status at birth (38–9).
When Rangjung Dorje is around thirty years of age, after a period of intense retreat and a year-and-a-half gap in his archive, he begins to write again. He is ill and concerned for his life. He laments his inability to overcome his doubts, despite receiving dharma from the best teachers of his day. He resolves to redouble his efforts to help others and also to let himself rely on others more (86).
Life-writing at its best is fundamentally egalitarian in spirit. In its finest moments, the genre reveals how humans struggle to construct meaningful lives for themselves—a struggle that we can all relate to despite our circumstances. I am confident that scholars and experienced practitioners will delight in this important new offering, and I hope that curious newcomers might give it a try too. 
Matilda Perks is a Ph.D. student at McGill University who studies the history of Buddhist modernism(s) and Tibetan Buddhism outside of Tibet with a focus on the life and works of Tibetan lama, Chögyam Trungpa (1940-1987), and the development of the Vajradhatu community. 
The Selfless Ego: Configurations of Identity in Tibetan Life Writing
Lucia Galli, Franz Xaver Erhard
284 pages, 2021, $160 (Hardcover)

Reviewed by Jed Forman
Stories of the Ego's Struggle with Selflessness
The title Selfless Ego immediately suggests a juxtaposition or paradox. The conflict implied in the pairing, however, is deeper than its seeming self-contradiction. Rather, it describes the presence of a real Tibetan cultural tension, one this eponymous volume takes as topical. On one side, "selfless (bdag med)" denotes the antidote to self-fixation (bdag gces 'dzin pa), one of the primary culprits of suffering per Tibetan spirituality.i On the other hand, "ego" suggests a psychoanalytic framework, where the ego emerges between the pressures of societal mores (the superego) and the urgings of individual desire (the id). "Selfless ego" thus conveys the especially vexed ego-conflict unique to a Tibetan ethos that not only prizes altruism but sees any preoccupation with self—even the individual pursuit of happiness—as ultimately a cause of the eudemonic decline. While the Tibetan religio-cultural spirit implores a type of self-effacement, psycho-sociological forces reassert the ego at the intersection of the individual and society. "Selfless ego" thus does not denote a resolution of this tension. Rather, it reaffirms that conflict, the difficulties of navigating an ego-generative society that also glorifies ego death.
From the viewpoint of literary analysis, the biography is the preeminent battleground between selflessness and the ego. Because the biography is essentially an exercise in identity construction, one can anticipate how Tibetan spiritual proclivities might problematize it from the outset. The biography seeks to build up exactly what Tibetan religious sentiments seem compelled to tear down: morally corrosive valorizations of self. Nevertheless, Tibetan literature does not eschew the biography, and the endurance of the Tibetan biographical genre itself bespeaks the durability of this tension between selflessness and the ego. 
The chapters of The Selfless Ego: Configurations of Identity in Tibetan Life Writing therefore all exam this endemically Tibetan ambivalence around self through the broad heuristic of the biography. Through conceptualizing the biography as a literary device for identity construction, rather than as a genre simpliciter, this volume gives an excellent structural-functional analysis of how biography functions within Tibetan literature. Selfless Ego thus succeeds in offering an analysis of Tibetan biography far more compelling than, perhaps, a loosely topical anthology on biography. Most chapters speak to this genre's use toward certain ends—be they religious, political, sociological, historiographical, etc.—with particular sensitivity to the unique precariousness of the biographical enterprise within a Tibetan milieu suspicious of identity.  
Selfless Ego is divided into two parts, the first concerned with religious biographies and the second culling from secular sources. The editors wisely set the groundwork for their project by leading with Ulrike Roesler's chapter, which is the most theoretical of the group. Roesler construes "Tibetan Reflections on Autobiographical Writing" as a self-conscious recognition of the need to "balance between the norms of humility and self-confidence" (171)—between the humility indicative of selflessness and the self-confidence of a strong ego. Several chapters tackle the particularly volatile role of autobiographies in Tibetan literature, which, thanks to their self-referentiality, must walk the thinnest line between humility and self-confidence. Franz Xaver Erhard's chapter examines Doring Tenzin Penjor's (b. 1750) autobiography, which serves as a paragon of the tension surrounding identity construction. Erhard notes that while autobiographies were "not well-received in the Tibetan Buddhist climate which required a style of diffidence and self-effacement," that the autobiography cum "narrative strategy" was undeniably beneficial in "legitimising the Doring family's but first of all Tenzin Penjor's claim to power and wealth" (329). Rachael Griffiths' account of Sumpa Khenpo Yeshe Peljor's (1704-1788) autobiography chronicling the Lhasa civil war of 1727 reveals how the genre can be marshalled toward political ends. Using his narrative account of the devastation of war, Sumpa Khenpo entreats his readers to seek peaceful solutions in the future. We can anticipate that his proclaimed peaceful motivation may have buffered against any suspicion that Sumpa Khenpo was engaging in braggadocio by writing about himself.
Lucia Galli also explores a compelling subgenre of the autobiography: the diary (nyin tho or nyin theb). Even here we see both of these modes: self-construction and self-effacement. Giving an analysis of Tibetan diary writing through the longue durée up to the present, Galli notes that in traditional Tibetan diaries, "the writer rarely writes exclusively for his or her own eyes" (349). Thus, while the 8th Situ Paṇchen Chökyi Jungne (1700–1744) used the diary to express his passion for Sanskrit and thereby "place him among the great Tibetan lotsāwas (lo tsā bas, 'translators')," his persona was also marshalled in an attempt to recenter Sanskrit studies at the heart of Tibetan scholasticism (348). As Galli notes, such efforts reveal the use of "personal annotations" toward "the creation of a common memory and identity" (349), again valorizing the personal insofar as it aids the group.
Selfless Ego also explores these issues from the standpoint of women's studies. Isabella Ofner examines two contemporary works by female Tibetans in exile, Dorje Yudon Yuthok (19121998) and Diki Tsering (1901-1981), mother of the current Dalai Lama. Using post-colonial feminism, Ofner foregrounds the issue of ego qua tension with society, demonstrating how Yuthok and Tsering's memoirs provide alternate histories in order to combat restrictive Tibetan cultural expectations that permit only a monolithic image of femininity. Hannah Havnevik's chapter examines a similar conflict. Rather than exploring how women struggle to find their voice in a patriarchal society, Havnevik notes how men in that same society ventriloquize female biographical voices in order to support patriarchy. Specifically, she focuses on the depiction ofTrülzhik Tongdröl Dorje's (1862–1922) mother, Tashi Tsomo, in the former's biography, demonstrating that female adherents "achieved praise and recognition as advanced bodhisattvas" via their support of male spiritual practitioners, highlighting a "submission to androcentric norms" (268).
We also read of similar selfless-ego tensions in the lives of prominent spiritual figures. David Templeman offers a fascinating analysis of a short autobiography from Tāranātha (1575– 1634), whose introductory section serves almost as a metanarrative on autobiography. Here, Tāranātha discusses his own ambivalence in writing about himself, insisting that while "stories about suffering and [eventual] decrepitude bring me no joy whatsoever" that he has recounted them at the "insistence of other people, even though there is nothing of great importance in it." Templeman remarks that Tāranātha's demurring here reflects "fear of being seen as either a flatterer or boastful," which "sets a precedent for his further writing" following "a literary model commonly found in Tibetan literature" (191). Thus, we see Tāranātha as emblematic of the type of precarious balance demanded by the biography as identified in Roesler's chapter. Cathy Cantwell's article focuses on the Dudjom lineage and demonstrates how the use of biographies toward identity construction can be a double-edged sword. Sometimes, it reinforces the validity of a reincarnation lineage, especially when there is clear identity continuity and a new incarnation "displays all the anticipated qualities and appears to take up his predecessor's work with zest" (240). However, when there are discontinuities, these can be marshalled by dissenters who may compare "unfavourably the current incumbent's character and qualities with those of the previous lama" (239). Again, we see how identity construction holds a tenuous position in the Tibetan religiopolitical sphere, both able to reinforce and deteriorate the institutional status quo. Sangseraima Ujeed's chapter on Khalkha Dzaya Paṇḍita Lobsang Trinle's (1642 1715) biography gives a similar account of the role of the biography in lineage formation, specifically their "ability to link together masters from the past, present, and future" (236).
There are several other excellent chapters on which there is insufficient space to elaborate, including Sarah Shaw's on the biographical tradition of Ajahn Mun, Cécile Ducher's use of songs (gur) in Marpa's biography, Lama Jabb's on the songs of Dubhe (1966/7-2016), and Charles Ramble's fascinating take on Tibetan biography cum material culture. There is little here to say in the way of criticism. But if pressed, I gesture back to my construal of this volume as primarily structural-functionalist, that is, as a type of Durkheimian methodology that conceptualizes the biography as providing some functional purpose within the Tibetan sociological context. This harbors no prima facie error, but I wonder to what degree it bespeaks a certain hermeneutic of suspicion, a desire to look behind the curtain and see what biographies are really about, as if life narratives are not in and of themselves compelling enough to explain their existence. Suspicion that the biography is not self-justifying may be warranted; biographies always seem for something. But perhaps there are other possible explicans in lieu of religio-poltico-sociological function. Inspiration? Nostalgia? A coping mechanism? Maybe. In any event, Selfless Ego is undeniably a worthy addition for anyone interested in Tibetan literature and a valuable contribution to scholarship on the unique Tibetan formulation of the biography.
Work cited
Śāntideva. "Byang chub sems dpa'i spyod pa la 'jug pa." Bstan 'gyur (sde dge), TBRC W23703, Dbu ma la, edited by Tshul khrims Rin chen, Gyalwae sungrab partun khang, 1985, pp. 1b40a.
Notes
While many readers may associate selflessness (bdag med) with Buddhism writ large, it is important to remember it is equally important in Bön, Tibet's other primary religious tradition.
For example, see the immensely impactful verse, oft-cited in Tibetan literature, from Śāntideva: "All the happiness in the world comes from wanting others to be happy, and all suffering comes from wanting happiness for oneself" (28B).
Jed Forman is a doctoral candidate in University of California Santa Barbara. His research interests include area of Buddhist epistemology, the cognitive science approach to religion, and their intersections with Western phenomenology. His forthcoming publications include a monograph with the Yakherds concerning the epistemology of Taktsang Lotsāwa to be published by Oxford. He also works also as translator for 84000: Translating the Words of theBuddha.
Gendun Chopel: Tibet's Modern Visionary
Donald S. Lopez Jr.
296 pages, 2018, $9.95 (Paperback)
Shambhala Publications 

Reviewed by Kati Fitzgerald
Donald S Lopez, Jr. has published six books on the Tibetan figure Gendun Chopel, including three works of translation (two in collaboration with Thubten Jinpa) and three works of scholarship. This particular text is part of the Lives of the Masters, a series edited by Kurtis Schaeffer and published through Shambhala Publications. This series includes works on the lives of Buddhist masters including Tsongkhapa, Atisa Dipamkara, S.N. Goenka, and Karmapa Rangjung Dorje. Gendun Chopel makes an interesting bedfellow for such a series. As Lopez himself asks, "was this man—who described himself as a 'discerning beggar' and a 'cosmopolitan traveler'—also a Buddhist master, deserving of a volume in this series?" (112). For Lopez, the answer is yes – Gendun Chopel is a Buddhist master not only because of his intellect and his faith in the dharma, not only as a manifestation of 'crazy wisdom,' but also as a philosopher grappling deeply with how and by what means to understand the true nature of reality.
I comment in this review on the sections of the text previously unpublished: chapters on Gendun Chopel in Tibet, India, his return to Tibet, and the Buddhism of Gendun Chopel. Chapter Three covers Gendun Chopel's time in Sri Lanka and is adapted from a chapter previously published in Himalayan Passages: Tibetan and Newar Studies in Honor of Hubert Decleer. The second half of the text contains excerpts of Gendun Chopel's writings, which are reprinted from The Madman's Middle Way: Reflections on Reality of the Tibetan Monk Gendun Chopel, In the Forest of Faded Wisdom: 104 Poems by Gendun Chopel, Grains of Gold: Tales of a Cosmopolitan Traveler and The Passion Book: A Tibetan Guide to Love and Sex. I refer the reader to those texts directly and to the many reviews that already exist of those works for a sense of their breadth and features. 
The book is organized into two main sections: The Biography and The Writings. Lopez interweaves passages of Gendun Chopel's essays, poems, and letters into the biography he constructs, which is mainly chronological. "Chapter One: Tibet" follows Gendun Chopel's early life as the son of a Nyingma master, a reincarnation of Dodrak Tulku, a student at Yama Tashikhyil and a Gelukpa monk at Ditsa, Labrang, and Drepung Gomang. This split personality—at once a Nyingma practitioner and a Geluk scholar—will come to characterize much of how Lopez understands the complex figure of Gendun Chopel. Also central to Lopez's depiction of Gendun Chopel is his relationship with non-Tibetans and non-Buddhists. We see that Gendun Chopel meets American missionary Marion Griebenow at Labrang (12) and the Indian scholar (and Communist) Rahul Sankrityayan in Lhasa (16) during his early years. This latter relationship would be the catalyst for Gendun Chopel's journey to Nepal, and subsequent travels throughout India, Sikkim, and Sri Lanka for the following twelve years.
'Chapter Two: India' focuses on Gendun Chopel's travels, studies, and translations in India. Lopez accesses Gendun Chopel's experiences through his essays, poetry, and letters, taking the reader through the publication of Gendun Chopel's travel guide, the famous Guide to the Sacred Sites of India. Gendun Chopel spends time in Darjeeling and Kalimpong, where his relationships with Sikkimese monk S.K. Jinorasa, Tibetan Christian Dorje Tharchin, and American yogi Theos Bernard would result in a number of translation and publication efforts. Although the results of many of Gendun Chopel's translation projects seem to have been lost, it appears that he translated from Tibetan and Sanskrit into English, from Sanskrit, Pali and English into Tibetan, and produced original writing in both English and Tibetan, frequently mixing Sanskrit, Tibetan, and English terms in his journals and letters. Lopez paints a picture of Gendun Chopel as an intelligent, sometimes prideful and morose, savant. Although specialists might find the lack of bibliographic information and primary source material (translations, for example, refer to Lopez's other texts instead of original sources) slightly frustrating, this text is a readable and approachable introduction to Gendun Chopel as a Buddhist figure. 
Lopez begins 'Chapter Five: The Buddhism of Gendun Chopel' by highlighting how Gendun Chopel describes other religions. Gendun Chopel forms important nonsectarian, inter-religious relationships that, Lopez suggests, were influential for his own beliefs. Gendun Chopel's interest in Islam, Christianity, Hinduism, and Theravada Buddhism was due in part to his personal and institutional relationships. He was sponsored and supported by the Maha Bodhi Society, founded by Anagarika Dharmapala, and spent time in the Roerich family home in Kulu, the Himalayan Research Institute. Both of these institutions were also related in various ways to the Theosophical Society and to a bourgeoning Tantric movement in the United States and Russia. He disparages Christianity and Islam for their violence and blind faith (96-100) while suggesting that the depictions of Hindu philosophy presented in Buddhist scripture are more two-dimensional than the philosophies themselves (94). Although fascinated with studying various world religions and philosophies, Gendun Chopel was not a Universalist – he did not accept that all religions were ultimately the same (93), nor were his reform aspirations based purely on a 'modernist' attempt to separate the philosophical elements of Buddhism from their magical, other-worldly elements (102). Gendun Chopel prayed to Tara, wondered if maybe his arrest and misfortunes in Tibet were due to enraged denma goddesses for bringing non-Buddhist scripture to Tibet (103), and had visions of Avalokiteśvara (68). The Buddhism of Gendun Chopel is both deeply philosophical and experiential. 
For Lopez, Gendun Chopel is a pioneer of an historical method or critical historiography in the field of Tibetan religious studies. His use of extensive sources and archives, corroboration of evidence from histories, archeological sites, material culture, epigraphical evidence, biographies, and foreign sources, proves his belief in 1) the importance of attention to historical detail in the construction of Buddhist history and 2) the importance of the tangible facts of the past for understanding Buddhism and Tibet's place in the modern world. At the same time, Lopez repeatedly quotes Gendun Chopel's famous line, "I am uncomfortable about positing conventional validity" (90, 107, 247-250). Despite his rigor and great effort as a scholar and translator and his criticism of what he viewed as incompetent scholars and translators who came before him, his ultimate truth was the 'inexpressible and inconceivable middle path' (109). That is, Gendun Chopel believed that conventional truths were merely majority opinions and even descriptions of Buddhas and heaven realms were simply machinations of the ignorant minds of men. Ultimate Truth could never be captured or understood through intellectual study, ethnography, translation, etc. In contrast with his academic aspirations, Gendun Chopel viewed Buddhism itself as having a higher purpose. "The purpose of the Buddhist path is to create an understanding of what the mind has never previously known" (109). It is this, ultimately, that seems to convince Lopez most strongly of Gendun Chopel's status as a Buddhist master.
Gendun Chopel was not the perfect Nyingma tulku, the perfect Gelukpa monk, the perfect statesman or diplomat, not even the perfect layman. It is, in part, due to our proximity to Gendun Chopel, our access to sources that reveal elements of his personal life, that allow us to see and critique Gendun Chopel as a complicated and imperfect Buddhist man. "It was Gendun Chopel's fate to confront the madness of modernity like no Tibetan before him, to be portrayed not in the warm tones of the thangka painting, but in the starkness of the black and white photograph. Perhaps we know too much about him to imagine him to be a Buddhist master" (xii). Although Lopez does not go so far as to make the claim, his presentation of Gendun Chopel suggests that biographies of more traditional masters of Buddhism, those whose status as properly Buddhist has been subject to less scrutiny, lack the complexity of Gendun Chopel, not because they were less fraught figures, but because of what persists of their lives. As Gendun Chopel himself commented on the distorting nature of time on the historical record, it may not be that Gendun Chopel struggled more to adhere to Buddhist vows or Buddhist doctrines, but rather that we simply know less about the personal lives of the historical figures of the Buddhist past. The whitewashing of history, along with the strong faith for masters of the past, may be responsible for the vision we have today of perfectly faithful and masterful Buddhists. Maybe Gendun Chopel, with his at-times-blasphemous intellect and very human faults, is simply a more realistic version of how all Buddhist masters lived, contended, and died in this world. The kind of biography Lopez constructs, along with Gendun Chopel's own research methods, encourages those of us who read Buddhist biographies of the past to think critically about sources and conventions of literary genres. Most importantly, Lopez's work provides an example of how to consider the great thinkers of Buddhism as imperfect and complex, and yet still absolutely, fully Buddhist.
Kati Fitzgerald received her Ph.D. from The Ohio State University's Department of Comparative Studies in 2020 and is currently a lecturer in the Department of Theology and Religious Studies at Saint Joseph's University. Her research focuses on contemporary Tibetan religions, with special emphasis on women's religious practice, the lay community, oral transmission lineages, and religious labor. 
Forbidden Memory: Tibet During the Cultural Revolution
Tsering Woeser
448 pages, 2020, $ 31.26 (Hardcover)
Potomac Books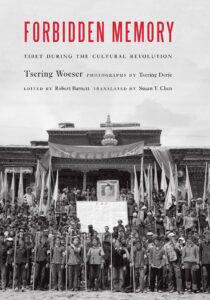 Reviewed by Kamila Hladíková
"Sometimes even just to look back on those times is painful."
Almost fifteen years after the first Taiwanese edition and more than twenty years after the daring project was born, the English language translation of Tsering Woeser's book Forbidden Memory: Tibet During the Cultural Revolution finally saw the light of day amid the first wave of the plague of 2020. Edited by Robert Barnett and translated by Susan T. Chen, it is the third foreign language edition of the unique photographic, oral history, and research material after Japanese (2008) and French (2010) (moreover, the Tibetan version was published in 2009). The original Chinese-language version work is divided into two publications. The first one is Sha jie (杀劫) based on photographic material left behind by Woeser's father Tsering Dorje accompanied by his daughter's thorough explanations and commentaries based on her own long-time research. The title is a chilly pun with literal meaning "kill and loot" phonetically "translating" as the Tibetan word gsar brje གསར་བརྗེ, which means "revolution." In this sense, as it is explained in the opening of both the original book and its English edition, the Tibetan term for the Cultural Revolution (rig gnas gsar brje རིག་གནས་གསར་བརྗེ; Ch. wenhua geming 文化革命) reads in Chinese as "plundering of humankind" (renlei shajie 人类杀劫). The Taiwanese edition was accompanied by another volume called Xizang jiyi (西藏记忆; Tibet's Memory), which includes twenty-three interviews with people, Tibetan, and Chinese, who experienced the Cultural Revolution in various roles, from former Red Guard leaders through manipulated members of Tibetan "masses" to both former and present government cadres and military personnel.
The English edition follows the layout of the original Sha jie – it is divided into five parts covering the breakout of the Cultural Revolution, the civil war between the Red Guards' fractions, the military rule in Tibet, establishment of people's communes, and an epilog called "The Karmic Cycle." Moreover, there are two bonus chapters, "The Return to Lhasa" and "Jampa Rinchen's Testimony". The former is the author Tsering Woeser's personal account of her own complicated journey back to her Tibetan ancestry – following her father's footsteps, she moved on to document some of the disappearing ruins, the last testimonies of the painful history in the "new flourishing Tibet" almost fifty years after the Cultural Revolution. The latter is one of the most touching – or even shocking – testimonies from Xizang jiyi told by an uneducated old former monk who took part in the sacking of sacred religious sights as one of the Red Guards. At one point, Jampa Rinchen, who passed away soon after conducting the interviews in 2003, says: "I have no right to wear the monk's robe anymore" (2006b: 211; 2020: 366).
In her introduction to Xizang jiyi, the collection of interviews and testimonies, Woeser writes: "Isn't there the one and only objective behind bringing back the memories and making conclusions regarding that particular part of history? Aren't we just searching for conscience of a human being – or more broadly – conscience of a nation?" (2006b: 10) And then she goes on asking: "What right do we have to judge?" (2006b: 11) These questions sum up the basic attitude of the writer to the much complex topic, troubling not only politically, but also emotionally. And Woeser – a daughter of a PLA officer of mixed Sino-Tibetan origin – almost constantly wonders: what were the thoughts of her father, when taking the photos of Tibetan people destroying their own sacred temples, attacking their authorities, lamas, and neighbors; what was on his mind as he was making pre-arranged propaganda pictures of a happy life in the communist utopia right after that. In Robert Barnett's words: "[…] much of her effort is not so much the chronicling of abuse as an attempt to understand what led people to become involved in their perpetration" (2020: xxxv).
The book, featuring rare photographic material along with hardly available archivalia and oral testimonies, is an extremely valuable document of the historical period which has until now been kept taboo in Chinese history books. However, it is at the same time a highly personal quest of the author to understand the history of her family and her own identity. In the final analysis, it was mainly "the unending sequence of disruptive revolutions [that] had disinterred the roots of the nation from deep in the soil of the Snowland, scarring the bodies of Tibetans through impoverishment, and wreaking havoc on their inner lives, causing loss of tradition and faith, fissured hearts, and emptied souls" (2020: 310), which defined and directed her life from the first days after her birth in August 1966, just around the time when the Red Guards sacked Tibet's most sacred temple Jokhang.
Transcending the conventional interpretation of the Cultural Revolution in Tibet as a tragic project carried out exclusively by the fanatical Red Guards coming from mainland China, Woeser, far from denying the government's full responsibility for what happened, attempts to provide a deeper understanding of the whole situation, including the participation of Tibetans themselves. In this regard, the testimonies collected in Xizang jiyi – parts of which are included in the text accompanying the photographs in Forbidden Memory – are especially revealing. While the account of the old disrobed monk Jampa Rinchen might represent the apparent mindset of broad Tibetan masses, supposedly the "liberated serfs" in Chinese ideological vocabulary, the memories of persecuted members of both lay and religious elite or their family members next to the accounts of former Red Guard leaders and Tibetan cadres show a different kind of self-reflection. 
Indeed, the most appalling is the fact that many of those who either held power before the start of the Cultural Revolution or climbed higher in their career were still in their positions in the early 2000s when Woeser was collecting material for her book. As elsewhere in the PRC, the "leftist" ideology of the Cultural Revolution was denounced after Mao's death in September 1976, but everything that happened was blamed on the so-called "Gang of Four" led by Mao Zedong's wife Jiang Qing and the "extreme leftist elements" under their guidance. However, in Tibet, the same people stayed in local or regional leadership for decades after the end of the Cultural Revolution, and many active members of one of the two competing Red Guard fractions, the "Alliance" (Ch. Da lian zhi, Tib. sNyam 'brel), which had strong support in the military, have developed a successful political career.
Therefore, it is not a coincidence that when Woeser tried after more than forty years to document some of the places her father photographed, she suddenly felt an "[absurd] sense of temporal dislocation" accompanied by a feeling "that the Cultural Revolution has not finished." (2020: 326) She saw the "traces of the past" in "countless details" of her photographic objects as well as the contemporary Tibetan reality and elsewhere, comparing her aim to "that of Urvashi Butalia in her efforts to comprehend the partition of India and Pakistan in 1947 […] 'through […] personal, testimonial representations, for it is not only the 'facts' of an event that are important, but equally, how people remember those facts, and how they represent them.'" (2020: 322)
The Cultural Revolution in Tibet is a highly "sensitive" topic, not just because of the systematic and brutal censorship of the Chinese Communist Party, but also because of the depth of trauma it left in Tibetan people. The harm it had caused to both material and immaterial Tibetan culture is immeasurable, yet the psychological impact on those who went through it and their descendants maybe even more tragic. And this "sensitive" topic is touched upon in her book with the highest possible sensitivity. Woeser's writing is always admittedly subjective, imbued with the same "strange engrossing beauty" (2020: xxxiv) as are her father's photographs of those atrocities, and with what I would call compassion: a deeply human attitude, trying simply to understand. Moreover, in this particular case, the reader is presented with absolutely rare historical material, which — for many reasons — would be almost impossible for anyone else to collect and publish.
Works cited:
Weise 唯色. Shajie. Sishi nian de jiyi jinqu 杀劫。四十年的记忆禁区 (Forbidden Memory. 
Tibet during the Cultural Revolution). Taipei: Locus Publishing, 2006.
—. Xizang jiyi 西藏记忆 (Tibet's Memory). Taipei: Locus Publishing, 2006b.
Kamila Hladíková is an assistant professor of Chinese literature at Palacky University in Olomouc, Czech Republic. Other than academic articles, she has also co-edited and co-translated an anthology of short stories from Tibet Vábení Kailásu (The Lure of Kailash, 2005), and her Czech translation of Tsering Woeser's Notes on Tibet was published in 2015.
Dogs of TCV: A Collection of Stories
Tenzin Tseyang Gonsar 
116 pages, 2020, $9.99 (paperback)
Independently Published

Reviewed by Kalsang Yangzom
Tenzin Tseyang Gonsar's Dogs of TCV (2020) is a welcome addition to the burgeoning genre of Tibetan Anglophone Literature. A collection of contemporary short stories and poems, Dogs of TCV revolves around the experiences of second and third-generation Tibetans in exile, those who were born in India, and those who then went on and immigrated to the West. Furthermore, the characters in stories have connections to Tibetan Children's Village, also known as TCV, either as former students or staff. TCV, a system of boarding schools created to educate and house refugee Tibetan children, has had and continues to have a formative influence on a large majority of Tibetans living in exile. Connecting the stories to TCV enables them to be read in a context familiar to many, who will find their childhood reflected in these stories.  
The book opens with an aptly titled poem "Refugee"—a word that has come to be a central identity marker for many Tibetans. This poem works as a foreword to the book, placing it firmly within the refugee sensibility, a distinctly contemporary Tibetan way of being, engendered by the twentieth-century geopolitical machinations. The stories, therefore, deal with many aspects of Tibetan refugeehood, ranging from the sweater-selling business to matrimonial ties that facilitate the acquisition of Green Card, from abandonment issues faced by the children sent to TCV at a young age to finding surrogate families among school friends. 
Though the stories are grounded in the refugee experience, they don't overpower the narrative to preclude other universal concerns of love, friendship, marriage, education, etc. "Old Friends that Flow to the East River from Bhagsu via Yamuna" poignantly captures the joy and apprehension of friends uniting after many years. Yangchen and Dorje didn't part on good terms in India and their meeting in New York is a cause for concern for both of them. But the bond shared by the two in their TCV days and the time spent in Delhi while enjoying the freedom of college days, ease some of that tension, and they go back to being nyingshoe or oldest friends. At the same time, the story also touches upon one of the tried and tested methods of immigrating to the West: marriage. Dorje is the last member of his family left in India; his brother, uncles, and aunts have already immigrated to U.S.A., Switzerland, Belgium, etc. And so, he takes his chance with a friend who is willing to go through this "fake" marriage. The casual mention of scattered families is another reality of refugee people, who immigrate to any country in the west willing to give them asylum or where they feel their refugee status will be transformed to fully-fledged citizenship with all the attendant security and stability. 
In the same vein, "Weird Love" is also a story of profound friendships, cemented in TCV but tested by a complex love triangle. Deki, Tashi, and Yangchen take annual trips together, but the trip is cut short this time because of Tashi's coming marriage. The story delves into the labyrinths of unrequited love, unconventional desires, and marital issues. One gets a sense of the narrative's contemporaneity not just through its location in the twentieth-century New Orleans but also through the romantic concerns of the three friends which are explored with a frankness and honesty not seen before. Challenges of interracial relations, same-sex love, extramarital affairs are juxtaposed to the familial and social pressures and duties expected out of them as second/third generation Tibetans living in the U.S.  
A contrast to these human affairs is the eponymous story of the book, which presents an in-depth look at the hierarchies of the dog world in the TCV campus, between the strays and the pets. The story intersperses the personal history of the various dogs with their human counterparts, and we get a glimpse of the symbiotic relationship between dogs and children. The uplifting narrative is a departure from "Unseeing," another story set in the TCV campus that shows the ugly side of boarding school life, especially for the young and vulnerable children, particularly orphans. Sexual assault and bullying are a part of the school's reality that is not openly discussed in the community, and thus, writing about it in the stories is a way of acknowledging the victims and their experiences. 
The poems intersperse the stories and provide a pleasant change of rhythm for the readers, offering them a novel perspective of the world, sometimes light and fun and sometimes pensive. "Momo Love" is a pure delight to read, the pleasure of eating momo compared to the love for one's beloved, and "Mcleod Ganj" presents the café culture in the hill station, couched in Korean food metaphors, a raging trend these days, thanks to K-Pop. Consequently, one can see Gonsar's poetic acumen when reading her poems. However, the stories could do with a stronger syntax and diction which would enhance these wonderful portrayals of a distinctly Tibetan world by providing a succinct narrative. 
The book is, therefore, a worthy inclusion to Tibetan Anglophone literature, locating the Tibetan people and their experiences in the here and now, giving nuanced and refreshing narratives that do not give in to refugee sentimentality and abstractions. The ease with which Gonser sprinkles Hindi phrases and lines from Hindi songs in her narrative prose is a gentle reminder of these Tibetan's second home, India, thereby demystifying the idea of a singular identity based on one's ancestral home. The stories and poems focus on the material reality of existence, survival, and life as refugees or as children of refugees in a capitalist, cosmopolitan world that is not without its own hurdles. Most importantly, the book is an affirmation and celebration of the new creative outpourings of the coming Tibetan generation in the diaspora, written in the English language, and an encouragement for would-be Tibetan writers to express themselves and write themselves in the stories they had wanted to read as readers. 
Kalsang Yangzom has taught English Literature at colleges in the University of Delhi, India. Her research focuses on the study of Tibetan Anglophone literature and its ties to nation, language, and identity vis-a-vis exile and diaspora as well as literary categories such as national and world literature.